When we speak about Dubai, one thing that instantly comes to our mind is luxury. While yes, Dubai is all about luxury, it's all about little things that don't cost more. There are some traditional goods available in Dubai, which can be bought for as low as AED 20, curious already? Well, here are some things in Dubai that you can buy under AED 50. Check out the list now, and you can thank us later.
1. Arabic Lanterns
Dainty lanterns are found almost everywhere in Dubai. Lanterns in traditional Emirati homes are adorned with glass and mirrors and help bring a room to life. Not only do they act as a perfect decor piece, but their intricate detailing and design also make it to our must-buy list. You can buy these pretty lanterns for just AED 30 at Dragon Mart, Karama Souk, etc. 
2. Camel Milk Chocolates
Camel Milk Chocolates not only are widely popular in Dubai, but they are also a must-have thing in the emirate. You can savour vivid varieties of camel milk chocolates like whole milk, 70 per cent cocoa, dates, macadamia, and spiced. They not only taste rich and distinct but also act as a perfect gifting option. The camel milk chocolates start at AED 44 and can go up to AED 165. You can purchase these treats from Al Nassma kiosks at-Dubai Mall, duty-free shops, camel farm, etc.
3. Dubai Spices
One can never have enough of Dubai spices. And you know what's so great about them? Well, they are not only flavourful and authentic but are relatively cheap too. They have the magical ability to convert the dish from bland to mouth-watering. If you love cooking or want to gift it to someone who does, these spices are perfect. You can buy spices ranging from AED 10 to AED 25 at Dubai Souk.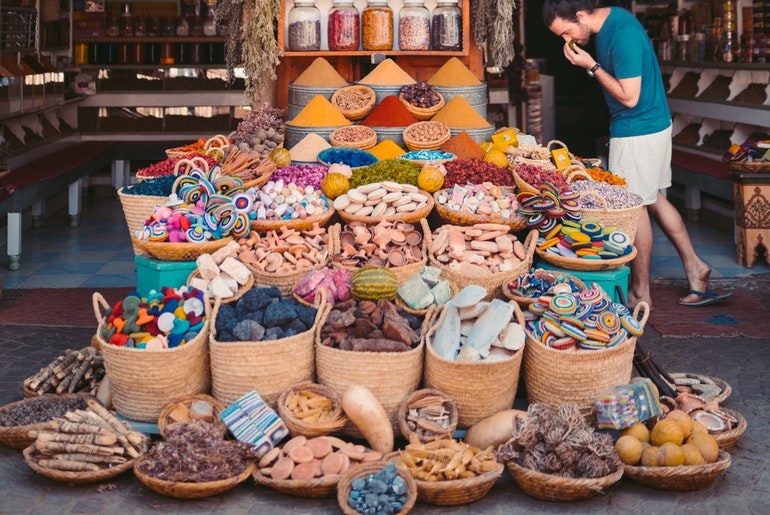 4.

Kava Pots and Coffee Sets:
You may have heard a lot about the traditional Arabic coffee, but more than the coffee, it's the coffee set that's more popular in Dubai. With intricate carvings, coffee, and Kava pots in Dubai are quite popular. They are exquisite, rich and have their Arabic charm. While Arabic coffee may be slightly expensive, but the coffee pots are not. You can buy them for as little as AED 20, well that's just the starting price, but you get pretty good deals at Dubai Souk and other supermarkets. 
5. Incense Holders
Dubai has some fantastic incense holders to offer for shoppers. They are widely used in wedding ceremonies and religious celebrations across the UAE and can be easily bought from multiple stores in Dubai. The starting range is AED 15, which means you can buy a nice holder for AED 30 or so, that again makes it cheap and best. You can purchase these from Spice Souk or malls.
6.

Hookah Pipes
 Hookah pipes are found everywhere across the globe. But nothing cuts it as well as the authentic Arabic ones. Take home a bit of tradition when you make your list of things to buy in Dubai. Even if you don't want to indulge in the actual process of the activity, you can buy a hookah pipe and use it as a decorative piece at your home. These pipes come in different sizes, and you can get a decent one at AED 50, and if you want to splurge more, you can also buy an expensive one. 
7. Lamps
Love, Aladdin? Then you have to buy these Arabian Lamps. These lamps will surely transport you into the Aladdin era. They are inlaid with stones and intricate carvings. Coming in varied sizes and shapes, they are unusual yet pretty things to buy in Dubai. The average price of these Lamps start at AED 45- you can buy them at Karama souk.