Delhi is known for its rich culture and history, but it has a lot more to offer than just monuments and buildings. So if you have visited all the prominent locations like India Gate, Red Fort, Jama Masjid and Lotus Temple; fret not, we have a few more that can be added to the list of top attractions of Delhi.
1. Rajpath 
Rajpath, also known as 'Kingsway' is a ceremonial boulevard that links the India gate and many government buildings. Considered as one of the most important roads in India, every year it witnesses the glorious Republic Day Parade and connects India Gate to Rashtrapati Bhavan. Located in the heart of Lutyens, it is a popular hangout spot for Delhiites during night as well. The area is quite crowded during early morning hours when people step out for walks and runs. 
2. Mahatma Gandhi Memorial
After his death, the Father of the Nation, Mahatama Gandhi, was cremated in Raj Ghat and you can visit his 'samadhi' here. The memorial is a beautifully maintained park, situated next to the serene Yamuna river. Raj Ghat translates to 'King's Bank', and was used a cremation ground for prominent leaders.
Also Read: 'Ghar Jaisa Khaana' At Supermom Rajni's Stall In Ashok Vihar, Delhi
3. National Museum
What could be a better place than the National Museum to uncover Delhi's history and glorious past?  One of the top attractions of Delhi, it is the largest museum in India and was established in 1949. Located in Janpath, it is home to about 200,000 art pieces of both Indian and foreign origin. The museum is looked after by the Ministry of Culture and the Ministry of Tourism.
4. National Zoological Park
Love animals? Well then another top attraction of Delhi that you cannot miss is the National Zoological Park in Delhi. Here, you will get a chance to see Chimpanzee, Hippopotamus, Spider Monkey, African Wild Buffalo, Giraffes, Gir Lions, Zebras, Peafowl, Hyenas, Macaques, Jaguars and more. The zoo is a part of conservation breeding programmes of the Central Zoo Authority for animals like Royal Bengal Tiger, Indian Rhinoceros, Swamp Deer, Asiatic Lion, Brow Antlered Deer, and the Red Jungle Fowl. The zoo is closed every Friday, so we suggest you visit it during the weekend and make a day out of it.
Also Read: The Bhool Bhulaiya In Mehrauli, Delhi Will Surely Get You Lost
5. National Craft Museum
The National Handicrafts and Handlooms Museum is located in a large campus on the Pragati Maidan. It celebrates the rich culture and crafts from across the country. The museum's collection includes 33,000 specimens of various arts and crafts, acquired over a long period of 60 years. Another thing that you can not miss while in the campus of National Craft Museum is having a meal at Cafe Lota. It is a vegetarian restaurant that is known for serving authentic dishes from various  Indian states.
6. National Rail Museum
The National Rail Museum in Delhi houses a large collection of steam locomotive made of iron and steel and also wooden coaches. The locomotives are made to go through constant restoration processes that are helpful in maintaining them.  The museum is also the home to documents, maps, drawings, books, and other documentation that encapsulates more than 160 years of Indian Railway's history.
7. Dilli Haat
Dilli Haat is one of the most popular markets of Delhi and is a one-stop destination if you want to explore cultures from around the country at one spot. Here, you can get your hands on some authentic handicrafts, and try food of various origins that reflect true flavour of states across the country. Some of the things that you can not miss getting your hands on are leather journals, antique silver jewellery, chikan kurtis.
Also Read: Dilli Haat: A Must-Do Pitstop for Meat Lovers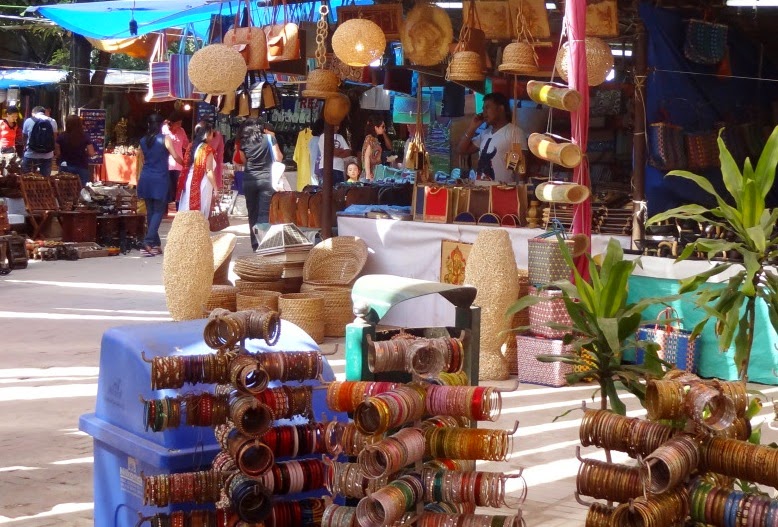 8. National Gallery Of Modern Art
Another place to add to your list is the National Gallery of Modern Art. The gallery is known for being the world's largest modern art museum. The gallery's collection includes works by artists like Thomas Danielle, Raja Ravi Verma, Abanindranath Tagore, Rabindranath Tagore, Gaganendranath Tagore, Nandalal Bose, Jamini Roy, Amrita Sher-Gill and more.
9. Rashtrapati Bhawan
Being one of the top attractions of Delhi, a visit to Rashtrapati Bhawan is a must, whenever you are in the city. It is a majestic building that boasts of breathtaking architecture. The Rashtrapati Bhawan used to be the residence of the British Viceroy back in the day, and now it is the official residence of the President of India. The North and South blocks are located on the either side of the building, which operate as government and defence office headquarters.
Also Read: Struggles Of North Delhi Peeps Who Have Offices In Gurugram/Noida