Our beloved Prime Minister, Narendra Modi has given us some serious travel goals. If he were a professional blogger, we'd all be out of business. Luckily for us, he's just a mighty serious traveler and a compulsive hugger! Don't believe us? We're going to show you proof! Here's a list of the 46 countries our dear man has been to since he became Prime Minister in 2014! If you count the ones he's visited twice, the number goes up to 63. (Who goes to France only once?)
1. Bhutan, June 2014
This image is the perfect example of why you should never have multiple cameras at an event. You can never upload a great profile picture if all your friends are looking in the wrong direction.
Also read: The Utopian Kingdom Of Bhutan : 5 Compelling Reasons To Visit!
2. Brazil, July 2014
When only PM Modi knows all the steps to the classic Vengaboys hit – Brazil la la la la la la laaa
3. Nepal, August 2014
That one friend who's always camera ready! #Relatable
4. Japan, August-September 2014
When you've got something stuck in your teeth and it just won't come out!
Also read: 10 Japanese Foods That You Can't Miss!
5. United States Of America, September 2014
In India, even the smallest pappad is this big.
6. Myanmar, November 2014
And this is how we play fugdi!

7. Australia, November 2014
Kuch kuch hota hai Rahul, tum nahin samjhoge
Also read: Get Off The Grid! Plan A Trip To New South Wales
8. Fiji Islands, November 2014
Take note Priyanka Chopra! This is how its done.
9. Seychelles, March 2015
When you don't think the press is doing a good job and so you just have to take your own Insta pictures
10. Mauritius, March 2015
That one photographer 'friend' who always goes the extra mile to get you a perfect shot #FriendZone
Also read: Mauritius v/s Maldives: The Most Frequently Asked Questions ANSWERED!
11. Sri Lanka, March 2015
When your'e the Prime Minister Of India, but you still have to travel by Air India
12. Singapore, March 2015
Find yourself a guy/girl who looks at you the way Modi looks at wax Modi.
Also read: One Visa Serves All – Malaysia, Singapore & Indonesia
13. France, April 2015
New level in bilateral ties – UNLOCKED!
14. Germany, April 2015
And then Anjali finally left Aman to be with Rahul kyunki pyaar sirf ek hi baar hota hai.
15. Canada, April 2015
When you hate kids, but you're on international television
16. China, May 2015
When bae comes home late so u do a hickey check
Also read: This Flower In China Is The Perfect Rival To Japan's Cherry Blossom
17. Mongolia, May 2015
Today, we will demonstrate how food must be eaten – with your hands!
18. South Korea, May 2015
When the ladies just can't get enough of you
19. Bangladesh, June 2015
How Priyanka Chopra should have dressed up when meeting PM Modi
20. Uzbekistan, July 2015
When you text someone in the same room and you're waiting for them to see it.
21. Kazakhstan, July 2015
When its date night with bae and she asks you if she's looking fat
22. Russia, July 2015
"Lejiye na. Yeh cake humari beti na apne haathon se banaya hai."
23. Turkmenistan, July 2015
Another great wardrobe option for Priyanka Chopra to meet PM Modi
24. Kyrgyzstan, July 2015
When you'e at a family wedding and that one relative asks you if you've got a girl-friend
25. Tajikistan, July 2015
Bro Fist – Level Modi
26. United Arab Emirates. August 2015
Hug me like you'll never let go!
27. Ireland, September 2015
When the most popular guy in class signs your slam book.
Also read: Self Drive 6-Day Itinerary For Ireland
28. United Kingdom, November 2015
Did I tell you about the size of the papads in India? Just ask Obama.
29. Turkey, November 2015
We warned you! Our PM is a man who loves to hug.
30. Malaysia, November 2015
Modi took his hugs to Malaysia <3
31. Afghanistan, December 2015
And spread some of that Modi love in Afghanistan too
32. Pakistan, December 2015
Not cool with a hug? That's okay! Let's hold hands instead.
33. Belgium, March 2016
When you're chilling with your friend but then your crush passes by
34. Saudi Arabia, April 2016
Hugs. Free hugs for everyone.
35. Iran, May 2016
When mom tells you to do whatever you want and you actually go ahead and do it.
36. Qatar, June 2016
When your friends didn't tell you about the dress-code, but you've still got swag
37. Switzerland, June 2016
Switzerland – because even PM Modi grew up watching Yash Raj Films.
Also read: Sleep Under The Stars in Switzerland
38. Mexico, June 2016
When you tell your friends that you've gotten a new job and they're waiting for a 'treat'
39. Mozambique, July 2016
When your mom sends chicken in your dabba and your friends get to know about it
40. South Africa, July 2016
When your friend says, "look candid, I'm taking a photo."
Also read: Make South Africa's Garden Route Your Next Adventure
41. Tanzania, July 2016
Har Har Mahadev!
42. Kenya, July 2016
Never accept gifts from strangers, unless he's the PM of India
43. Vietnam, September 2016
When Modi finally found the national bird of India perched in Vietnam
44. Laos, September 2016
When mom promised chicken for dinner, but served tinde ki sabji instead
45. Thailand, November 2016
Me, in ever 5 star hotel ever!
Also read: Tourism Thailand Has A New Theme And You Are Going To Love It!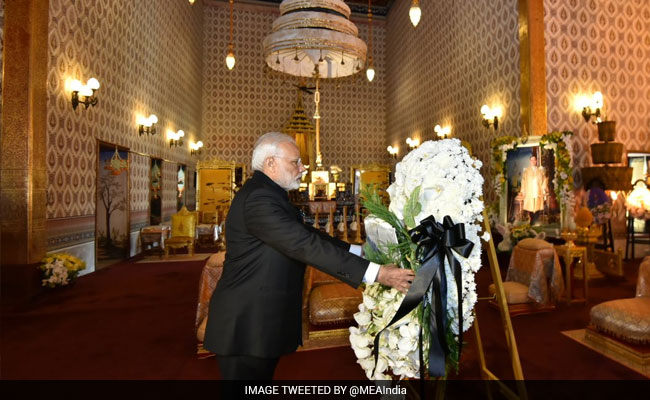 46. Spain, May 2017
THIS BIG!
LIKE Curly Tales on Facebook | Instagram | Twitter
You can subscribe to our newsletters