Nation Towers Mall in Abu Dhabi has recently welcomed up a new 3D Museum of Natural Mystery. Families can now spend a nice time out, and watch everything surrounding them come to life as they scan through the different exhibits. The museum of natural mystery features an interesting interactive gallery.
What's It?
The museum is open every day between 4 PM and 10 PM. Through the use of interactive technology, the paintings around the galleries come to life, and move around the room independently! Kids have a ball of a time, and the whole experience is very similar to the popular family movie, Night of the Museum. The tour guide is a cheeky little mouse, who shows you around the different exhibits, waking up a lot of animals, genies, and dinosaurs along the way. The mouse interacts with the plethora of paintings hung up on the wall, and give everyone around a good laugh.
The virtual show lasts for a total of 3 minutes, and leaves both children and adults amazed at the realness of the whole experience.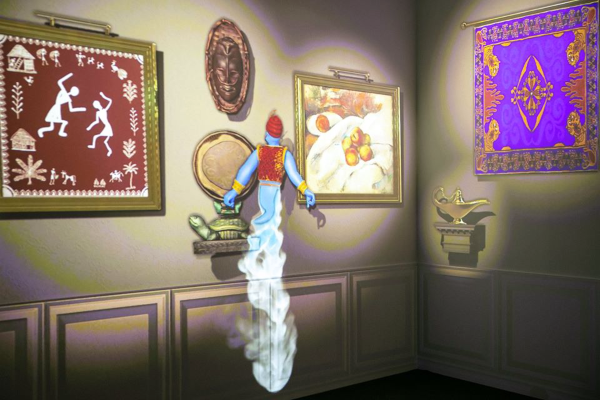 Once the virtual mouse wakes up the genie, he takes it from there and interacts with all the displays in the gallery. Classic European paintings become personified and have conversations with the genie. While the 3 minute experience is entertaining and exciting, it is also quite knowledgeable. It takes children through different art forms, some history, and traditions. Open every day and absolutely free of cost, this swashbuckling experience is not to be missed.
What Else?
The mall also boasts another interesting experience for children. Kids can now travel back in time, or travel into the future inside a time machine. They can watch dinosaurs come to life, and see robots taking over the world! Two people can fit inside the time machine at once, so if the Jurassic period gets too scary, you'll have a hand to hold. This temporary attraction is open every day from 4 PM to 10 PM, but will only last until march 14th. And once again, the experience is absolutely free! You can also choose to purchase a video of your experience and keep it as a memento of your fun day out.
If you'd like to check out another cool 3D spot in the city, check out the new 3D cafe in Abu Dhabi
Deets
Location: Nation Towers, Corniche West
Timings: Daily 4pm-10pm
Contact: 02 333 8288