It's no secret that Bollywood celebs are big foodies. In Spite of having quite strict diets, each one of these BTown celebs enjoy their happy meals in their own ways. And recently it's Arjun Kapoor & Malaika Arora who enjoyed a healthy pizza party and shared glimpses of the same on Instagram. On the latest Koffee With Karan episode, Arjun Kapoor had already revealed how he likes eating but of late is conscious about the fact that his meals are more on the healthier side. And pizza as we all know isn't the best of foods to maintain your diet but looks like Arjun & Mailaika Arora have come up with a solution that allows them to enjoy their pizza dates to the fullest. Malla even mentioned that if the pizza tastes yummy and is equally healthy, then she can gorge on it almost every day. And we can't agree more. Healthy pizzas are superior and how!
Arjun Kapoor & Malaika Arora Enjoyed A Healthy Pizza Date
BTown's favorite couple Arjun Kapoor & Malaika Arora recently enjoyed a cozy pizza date and find it totally adorable. But what caught our attention was their choice of pizzas for the date. Arjun is of late very health conscious so no doubt he opted for healthy pizzas. Sharing about the same, the actor took to his Instagram stories and shared pictures from his pizza date with Malaika with the caption, " Pizza party" with a heart emoticon." Malaika too shared glimpses of the same and wrote, "When pizza tastes this good and is healthy…I can guff every day…"
Well, looks like we all should take notes from this couple and start having healthy pizzas. as well!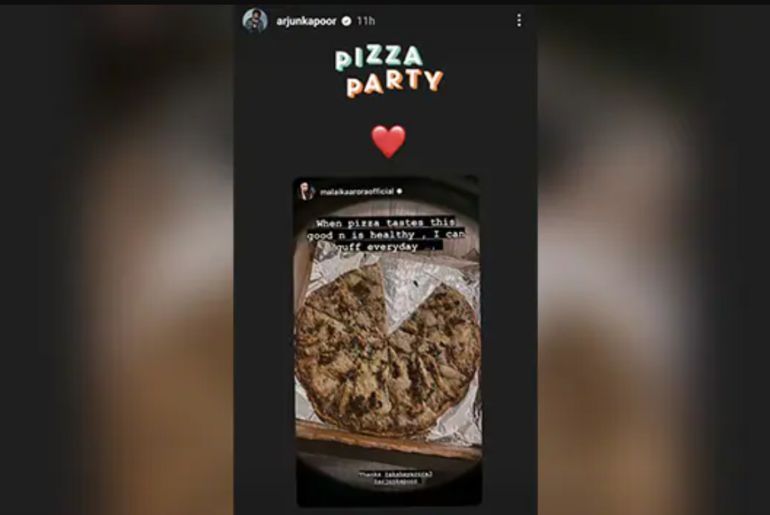 Arjun Kapoor Later Sent Pizza Boxes To Kareena Kapoor And Amrita Arora
Arjun and Malaika's love for healthy pizzas didn't end with their date. Later, Arjun was seen sending pizza boxes to friends Kareen Kapoor and Amrita Arora. Both the actors took to Instagram to thank Arjun for the same. Arjun shared Kareena's story and wrote, "Sending you every week…but share with Saif also." Sharing Amrita's story, Arjun replied, "It's to remind you of the summer holidays!!!" Sending pizza boxes to your friends is the best way to surprise them and we should all take notes from Arjun Kapoor!
Also read: Arjun Kapoor Enjoys Parsi Delicacies Cooked By Tara Sutaria; Here's How You Can Make Them
View this post on Instagram