There are two types of people. One, people who get excited about their wedding and two (my favourite type), people who get more excited about their honeymoon than their wedding. It's family approved travel with your partner at an awesome destination, with literally everyone rooting for you. What's not to love? Now if you're a beach person, looking for a relatively economical honeymoon in Asia – then your first choice is probably going to be Bali or Phuket. You're going to spend hours researching both places, weighing the pros and cons and finally try to zero in on that ultimate honeymoon destination. That's why I'm here to help. I've been to both Phuket and Bali, and there really is a clear winner. Read on!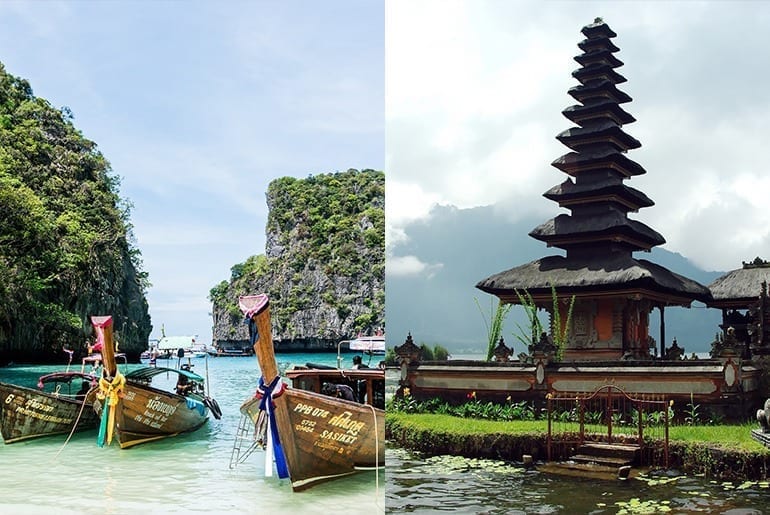 Things To Keep In Mind While Picking A Honeymoon Destination
Find out if your partner is a beach person, city person or a mountain person. If you are selecting Phuket or Bali as a honeymoon destination, it would be ideal if both you and your partner are beach people or are willing to try the beach life.
Try and figure out what kind of holiday your partner likes. Is he/she adventurous, loves to stay in, prefers luxury or is the kind who likes to explore everything on foot. Did you know that sleepcation is a new trend that couples are exploring too?
Always discuss the budget with your partner. Both of you should be on the same page.
Set the mood! Are you both romantic or prefer the outdoor life? Do you'll enjoy social media or complete seclusion?
Food plays a big part of your travels. So always stay updated with the kind of food available and carry food if you or your partner are fussy eaters.
The weather – guys, this is an easy-peasy one. If you like to travel during season, then always find out what it is before booking the place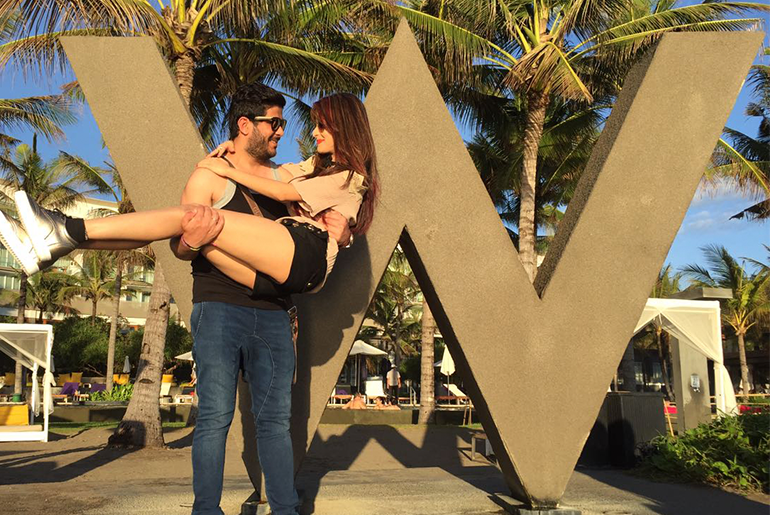 Why You Should Pick Phuket For Your Honeymoon?
If you're looking at Phuket as your honeymoon destination, get ready for luxury resorts, island hopping & beautiful white sand beaches. If you are planning a honeymoon to Phuket, there's genuinely a lot to do. From snorkelling to diving ; visiting Old town Phuket to island hopping ; great nightlife to luxurious beach resorts. But I'm not here to confuse you, so I'm going to make this easy. I'll help you with a pros & cons list and let you pick for yourself.
Pros:
Stunning Beaches: Phuket is literally home ground for a number of stunning beaches all around. You can go for day tours, chill by the beach and just laze around on the incredibly white sands. There's also plenty of water activities to indulge in. A romantic walk on the beach? Definitely tick that off the list.
Island Hopping: One of the things that people love to do at Phuket is go island hopping and it truly is an experience that's totally worth it. You can go with a bigger group or just the two of you.
Luxury Resorts: If you enjoy luxury, Phuket is your paradise! There are a range of luxury resorts to choose from that specially cater to honeymooners and elevate your experience.
Crazy Nightlife: If you're one of those people who love partying it up, then Phuket is your dream come true. There's Bangla Street, tiny hidden dance places and lots more!
Travel Time To Phuket: There are direct flights to Phuket from Mumbai & Delhi in India and the travel time is just 4.5 hours (Mumbai-Phuket). Rates start at low as Rs 9000 which is definitely a huge pro!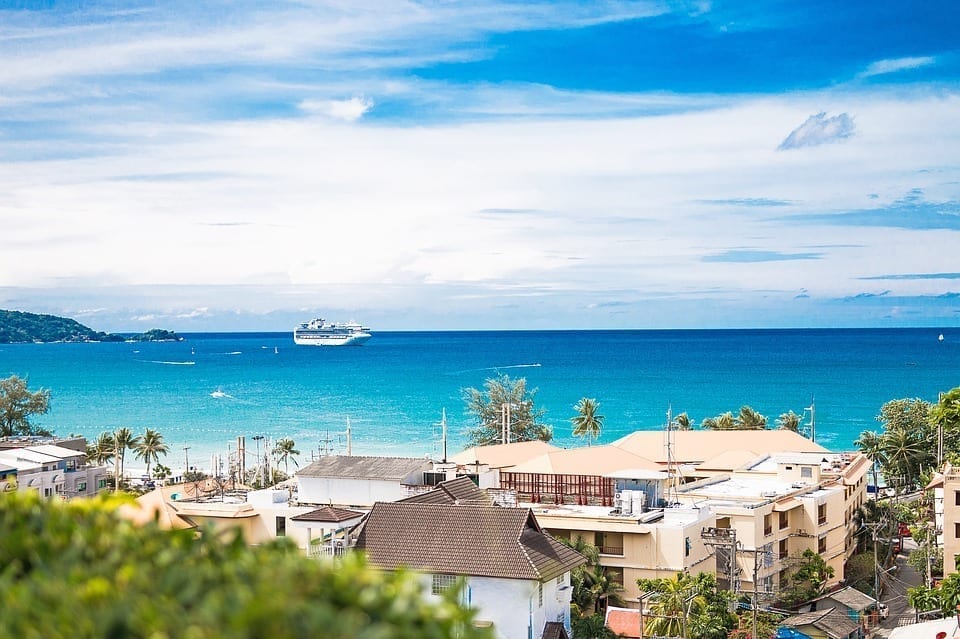 Cons:
The Crowd: With Bangla Street being extremely accessible from Phuket, the crowd could be a little crazy. Thailand is often considered a sex capital and the number of people looking to party it up and one night stands could be a bit of a damper.
No Diversity in Landscape: Phuket is literally beaches, beaches, beaches and more beaches filled with just one stop – Phuket old town. The landscape and type of activities can get monotonous.
The Currency Exchange: You get a lot more in Bali in terms of Indian currency than you do in Phuket. Eg: A luxury resort in Bali is way cheaper for an Indian than one in Phuket.
Please note that the best time to travel to Phuket is November to May
Why You Should Pick Bali For Your Honeymoon?
Bali has resorts across budgets, incredible Balinese culture, and beautiful volcanic beaches.If you are planning a honeymoon to Bali, you are going to absolutely love it! Here's a list of pros & cons.
Pros:
Full of Culture: Bali is full of culture. The Balinese are warm. loving people with ready smiles and love to host people. From their daily rituals to the odes to their Gods, you can see a brimful of culture at every turn.
Beaches + Mountains: Bali has the perfect mixture of both beaches and mountains. You can chill by a beach or head to the rice fields of Ubud (a preferred honeymoon spot). You can also experience the city life at the party lanes of Bali city.
Great Nightlife: Bali has the most amazing nightlife. From clubs to pubs to an entire island (Gili Trawangan) being dedicated to parties, this is something you just cannot miss.
The Balinese Love Indians: If there's one place in the world you'll feel like a superstar, it has to be Bali. The Balinese absolutely adore Bollywood and they'll often call you Preity Zinta, Shah Rukh Khan & even sing Karan Johar movie songs to you. It's literally like having your private set of paparazzi.
Luxury Resorts At Cheaper Rates: As compared to Phuket, Bali will give a much more luxurious resort at cheaper rates. And the massages are phenomenal. Most resorts will throw in a complimentary breakfast as well.
Cons:
No Direct Flights: There are absolutely no direct flights to Bali and your average travel time will be about 10 hours or more.
Flights Are More Expensive: An average return trip to Bali will cost you about Rs 32,000 (on the lower side) as opposed to Phuket which is much cheaper.
Very Spread Out: Bali is pretty spread out as a place. Technically Bali is a tiny part of larger Indonesia but people consider the Gili Islands, Lombok & Ubud as part of Bali. You would have to travel for anywhere between 2 hours (by road to Ubud) to 6 hours (by boat to Gili). It's absolutely worth it but if you're someone who doesn't enjoy travelling a lot, you may want to skip Bali.
Please note that the best time to travel to Bali is April to October
Our Recommendation – Phuket or Bali?
Phuket has its charm and Bali has its beauty, but our pick for a great honeymoon destination is most definitely Bali. It has something for everyone, across all budgets. The people are very welcoming and the Balinese go out of their way to make your honeymoon special. The locations are Instagram worthy and the volcanic beaches beckon to you like no other. All this being said, the weather should be a major deciding factor for your honeymoon. Phuket & Bali are in season at exactly opposite times and could help make your decision easier. Happy Honeymooning love birds!