Bangaloreans! You know the drill to reach the airport. Start many hours ahead of time and pay a bomb to travel to the airport. Well, here's a sigh of relief. Kempegowda International Airport ( KIA) will get a railway halt station by end of August. It's currently in the final stages of completion. This will help both passengers and airport employees. The railway halt station situated at the boundary of the airport will enable South Western Railway (SWR) add a stop for trains running on the Yelahanka-Bangarpet line. Bangalore International Airport Limited (BIAL) will build this and also operate a free shuttle bus service between the station and the terminal. The airport also recently opened up for cyclists every Sunday.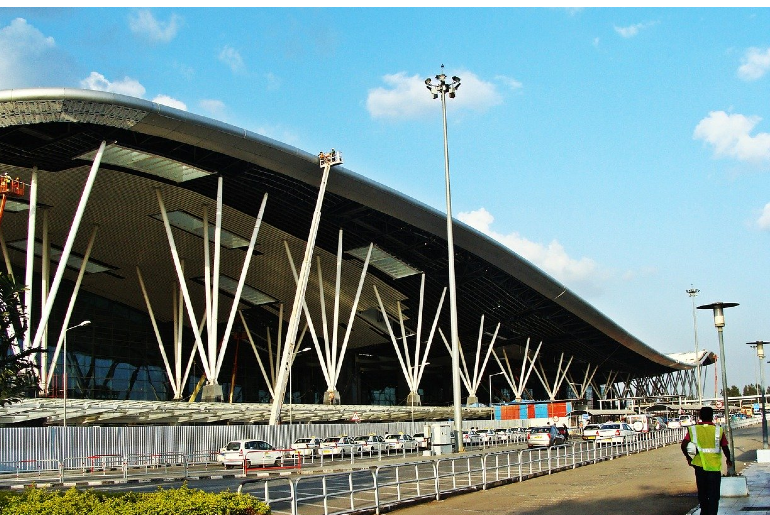 Halt Railway Station & Free Shuttle Service At Bangalore Airport To Be Ready By August End
Bangalore airport is situated 35 km away from the city. And over the years this situation has led to a lot of running jokes around the time and money it takes to reach the airport. According to The Hindu, this situation might soon get resolved by August. A railway halt station shall be built near the Bangalore airport and will be ready for operation. Situated close to the airport boundary this station will assist South Western Railway to add a stoppage for trains that function on the Yelahanka-Bangarpet line. So this means you don't have to take cabs or leave home hours in advance to catch your flight! And these are the new social distancing rules to follow at Bangalore's airport. 
General Manager of South Western Railways, AK Singh states to TNM "By August-end all construction work will be over and once the Ministry gives approval we can function from the next day itself." The station was supposed to be completed by the end of 2019. However, delays in construction, change in design and the coronavirus pandemic led to the postponement. The station can be ready for use by September. But according to TNM BIAL wants to commence operations after beautification and ancillary amenities are ready. The Bangalore airport also plans to build a suburban rail station within its compound in another five years' time.
Also Read: The National Rail Museum In Delhi Will Take You Back To Your Childhood Days
Bangalore Airport To Also Offer Free Shuttle Service
This railway station is built at a cost of ₹3 crores by BIAL. And will also have facilities like ticket counter and waiting lounges. Apart from this BIAL will also run a free shuttle service from the halt station to the airport every 15 minutes. The commute time for this trip is known to be an approximate eight minutes. However, this isn't just for flight passengers, even airport employees staying in places like Kolar will benefit from this halt railway station and free shuttle service.
Also Read: Bengaluru Airport To Get A 108-Ft Tall Kempegowda Statue Costing ₹78 Crores
According to sources from The Hindu, hundreds of airport employees from Kolar travelled to the airport paying over ₹200 per day. Once this halt railway station comes up in August, then will only have to pay ₹25 to ₹30 per day.  Now, due to the coronavirus pandemic, we might not have to take a flight anytime soon. Nevertheless, it's definitely a much-needed development for Bangalore airport and Bangaloreans. Until you can visit the airport, take a virtual tour of the mini Goa feels here.