If you ever wondered how eating out in India would be post lockdown, then Bangalore's Vidyarthi Bhavan might answer that question for you. The iconic dosa joint now has glass panels to separate diners from each other. Vidyarthi Bhavan installed see-through glass panels on tables so as to maintain a social distancing conducive restaurant post lockdown. The hotel on May 29, experimented with a fibre-board partition formula on two tables. The restaurant tried this out and gave them for modifications. The dosa-eatery installed these glass panels on its tables before they opened for dining on June 8.
Vidyarthi Bhavan To Have Transparent Glass Panels On Tables
The over 75-year-old dosa joint, Vidyarthi Bhavan sure knows how to keep up with changing times. The iconic Bangalore restaurant opened its doors for takeaways and deliveries after being closed for a long time courtesy the nationwide lockdown. And it now welcomes diners with social distancing protocols put into place.
The cooks and servers wear masks and gloves at all times. Regular sanitization of the eatery also takes place. But there's more to it. As restaurants in Karnataka gear up to soon open for business, this breakfast place is ready for an upgrade.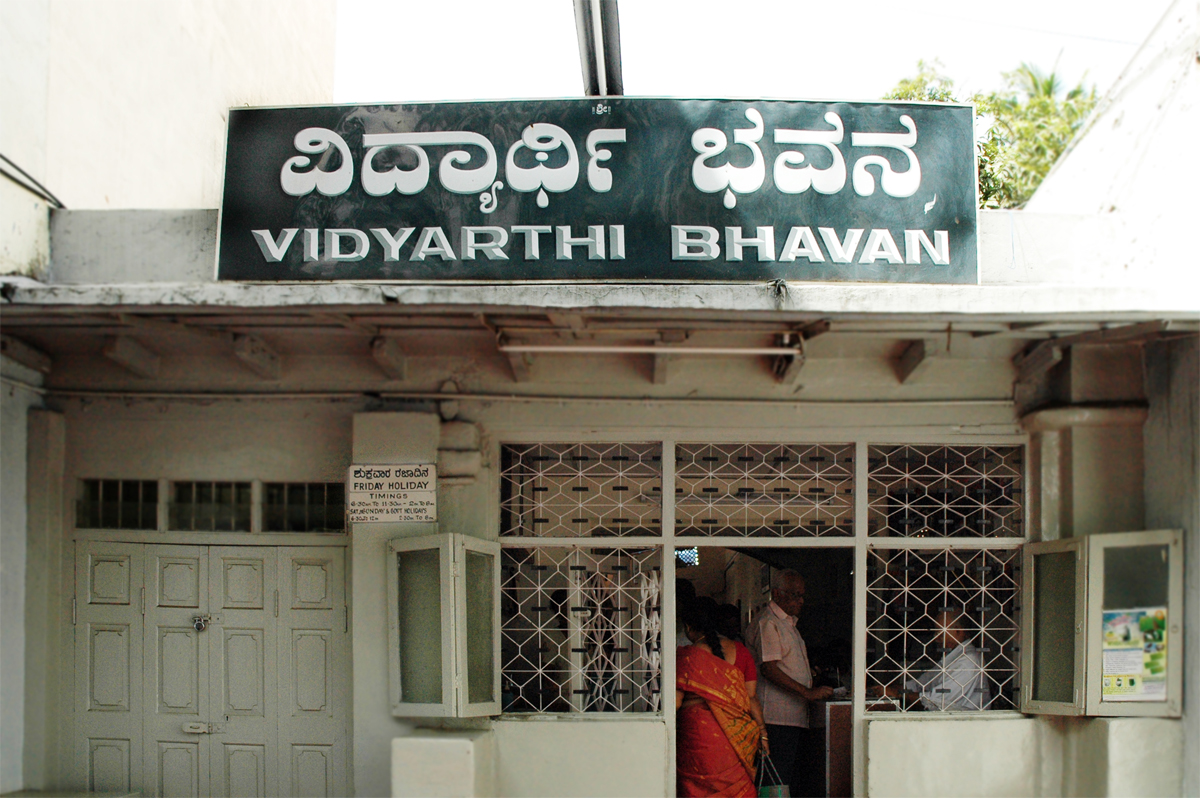 Vidyarthi Bhavan installed transparent glass panels on tables separating the diners from each other. With serpentine queues outside the restaurant and tables packed with customers, huddled together to gorge on one of Bangalore's best dosa, this popular restaurant took charge to implement a social distancing conducive environment post lockdown.
Also Read: Bangalore Airport's New Social Distancing Rules
It Reduced Its Seating Capacity Post Lockdown
On Friday, May 29 Vidyarthi Bhavan experimented with a fibre-board partition formula on two tables. Transparent glass panels were installed on the tables to make sure customers maintained social distancing during dining. But the restaurant awaited SOP from the Health Department before it implemented this. They asked the fabricator to make certain modifications before its implementation. Apart from this, Vidyarthi Bhavan reduced its seating. After all, this is the future of eating out in India, post lockdown
Vidyarthi Bhavan Has Seating That Resembles Workstations
Arun Adiga who runs this legendary Bangalore eatery states to Deccan Herald that cutting down seating arrangement seems viable in the current situation. Vidyarthi Bhavan also created partitions to maintain social distancing between customers. He reveals that the seating resembles workstations in offices. This is the story of Vidyarthi Bhavan. But did you know there's an Australian restaurant that uses number tables for social distancing? 
He further added to us that that on May 29 they conducted an experiment on two tables. The glass panels are currently were given for modifications. They received the new glass panels with modifications. And they installed those on their tables. Vidyarthi Bhavan opened their doors for us hungry customers on June 8.  So now, you can choose to dine here, opt for delivery or even takeaway your crispy buttery dosas! Vidyarthi Bhavan is one dosa joint you wouldn't want to miss as a Bangalorean!