Dubai is always studded with glamorous stars from different film fraternities. This time we had the chance to explore the historical district of old Al Seef of Al Fahidi with B-town hunk, Karan Kundrra. The Bigg Boss 15 fame, television actor, fell in love with Dubai at a very young age. And now we brought him to the old side of the glam Emirates to make him love every part of Dubai. Let's start Habibi!
Karan Kundrra's First Trip To Dubai Was During College Days
Karan Kundrra admitted to bunking his college and going to Dubai and shocking his parents with his travel expedition. But once in Dubai, you can't help falling in love with the culture, people, history and everything that comes along with it. And that's what kept him coming back to Dubai and finally buying a house in the city.
The Al Fahidi Insta-Famous Starbucks Caught The Reality Show Star's Attention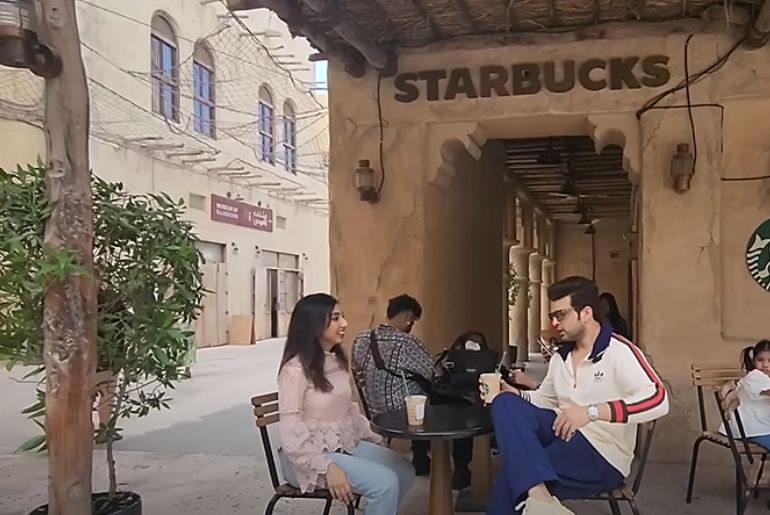 The Starbucks in Al Seef looks like some ancient man designed it attracts a lot of coffee aficionados every time. And Karan being n Tea and Coffee addict himself couldn't stop himself from taking a Venti. The scenic setup of this Starbucks placed right opposite the Museums of Illusions is mesmerizing. Taking a sip, Karan spilled a lot of tea about his early days in the industry. Unlike other actors, he easily swept his way into the Television industry back in 2008. And now has risen to fame by doing multiple projects including serials, music albums, movies and reality shows.
The Journey Of Karan From Kundrra To Kandura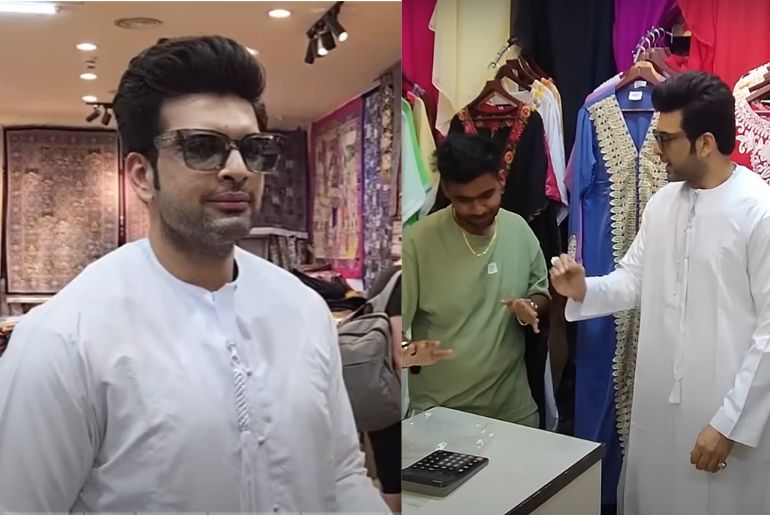 What sounds illegal but isn't? Being in Dubai and not buying a Kandura. Kandura is a cultural garment that is worn by Emirati men in the gulf. The Al Fahidi exploration started with a bargaining challenge given to the star. He miserably failed in snatching the prices down but at last, we had an inside joke about Karan wearing a Kandura and looking like a local. And now we know him as 'Karan Kandura'.
An Authentic Lunch At Arabian Teahouse With Bigg Boss Fame Actor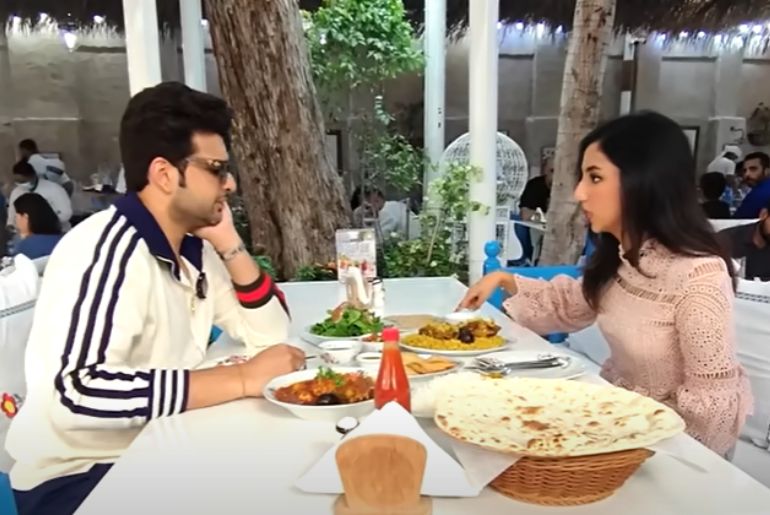 Karan has always explored the glam side more as it comes with its own package. So we made him familiar with the hidden gem of Dubai in the Al Fahidi District. Arabian Teahouse is a very famous eatery and is a local favourite spot. Karan was treated to a lavish and authentic Middle Eastern lunch at Arabian Teahouse. The dishes on the table included the typical Harees, Lahm Majboos and Luqaimat.
Also Read: Guide To Al Karama: From Food To Shopping, Everything You Ever Need To Know
Bigg Boss, Gossips And A Lot Of Food Talk With Karan Kundrra

From asking him about his journey in Bigg Boss to questioning the reality of the show, Karan explained everything while having a bite. He assured us that Bigg Boss ain't scripted and the challenges are difficult and the outer world is a much easy place to be at. He shared about his love for home-cooked meals made by his mother. His Mallu mother and Punjabi father give him the best of both worlds. Fans, take note, he relies on idli sambhar for breakfast. He can survive on Dal chawal and rajma chawal. He also takes a deep interest in Middle Eastern cuisine as he finds it a very balanced meal. He said he would prefer Aloo paratha over sushi any day. Seems like a proper Punjabi Munda isn't it?
So fans, you know what to take along if you want to make Karan Kundrra happy!
Cover Image Courtesy: Media Library