Under 140 Characters 
When it comes to serving your sweet tooth, Becky Bee's in Pune has left no stone un-turned with their Passion Fruit sorbet, Anjeer Caramel & Quark Cheese ice cream sundae. 
What Is It? 
As much as they love to combine the flavors for their desserts, the Passion Fruit sorbet with Anjeer Caramel and Quark Cheese sundae (₹270) is definitely one of a kind. Served with multiple alternate layers of sorbet and ice cream topped with a scoop of ice cream and chocolate syrup, this dessert is bound to satisfy your sweet tooth. Head over to 3 outlets of Becky Bee's in Pune in – Hadapsar, Bibvewadi, and Magarpatta.  
Along with this magnificent dessert, you need to try out dishes from their menu section of 'Europe With America'. They combine classical European desserts and America, of course to give that super yummy taste.
Also read: Make Way For Multi-Colored Smoothies And Fruit Popsicles At Callow In Pune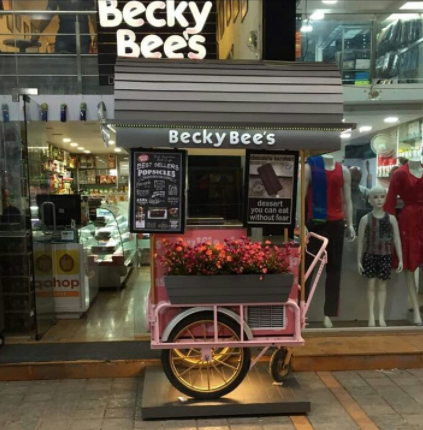 What's In It?
Becky Bee's might be a small dessert joint, but its got all the great stuff. They serve real blend popsicles and some of the unique flavors include pink grapefruit, pisatchio caramel and chocolate hazelnut. They have a separate section for desserts in a glass and drink desserts too. Plus one more section for plain dessert, because you can't have too much of a good thing!
Also read: Dessert Lovers! You Can't Miss Out The Oreo Double Trouble At Rock Stone Ice Cream Factory In Pune
Deets
Address
Hadapsar: 2nd Floor, East Block, Amanora Town Centre, Hadapsar, Pune
Bibvewadi: Shop 18, Gagan Samrudhi, Ganga Dham, Bibvewadi, Pune
Magarpatta: Seasons Mall, 3rd Floor Food Court, Magarpatta, Pune
Approx cost: ₹400 for two people
LIKE Curly Tales on Facebook | Instagram| Twitter
You can also subscribe to our newsletters