Rang barse, bheege chunar wali, rang barse!
Does this ring a bell? Sure it does, we've all grown up listening to this song during this particular season. The season of HOLI. You must already know that holi is celebrated all across the world and especially in India.
If you haven't planned anything yet. Here is a list of places in India where Holi celebrations happen with great fervour and enthusiasm. Check it out.
1. Holi at Dwarkadheesh Temple in Mathura, Uttar Pradesh
183 km far away (2:30 hr to 3 hr drive) from Delhi, Mathura is where Lord Krishna took birth in the Dwapar Yuga. Here, special Holi celebrations are arranged, 40 days before the main Holi takes place. On the big Holi day, the biggest festival takes place at the historical Dwarkadheesh Temple in Mathura.
Being a sacred place for Hindus, Mathura gets a lot of national and international tourists during Holi for celebrations. The Holi procession starts from Vishram Ghat. You might catch a few priests making Bhang, take a glass yourself (but not more). Dhulandi Holi with around 10 vehicles decorated with flowers and kids dressed as Radha-Krishna, it is a sight to watch.

2. Phoolon Wali Holi at Vrindavan, Uttar Pradesh
On the Ekadashi before Holi, the Banke Bihari Temple at Vrindavan celebrates one of the most beautiful forms of Holi, with llowers. The priests throw flowers at the devotees.
On the main day, the temple opens doors to all visitors to play Holi with the God himself. The birthplace of Lord Krishna leaves no stone unturned in making this an unbelievable experience.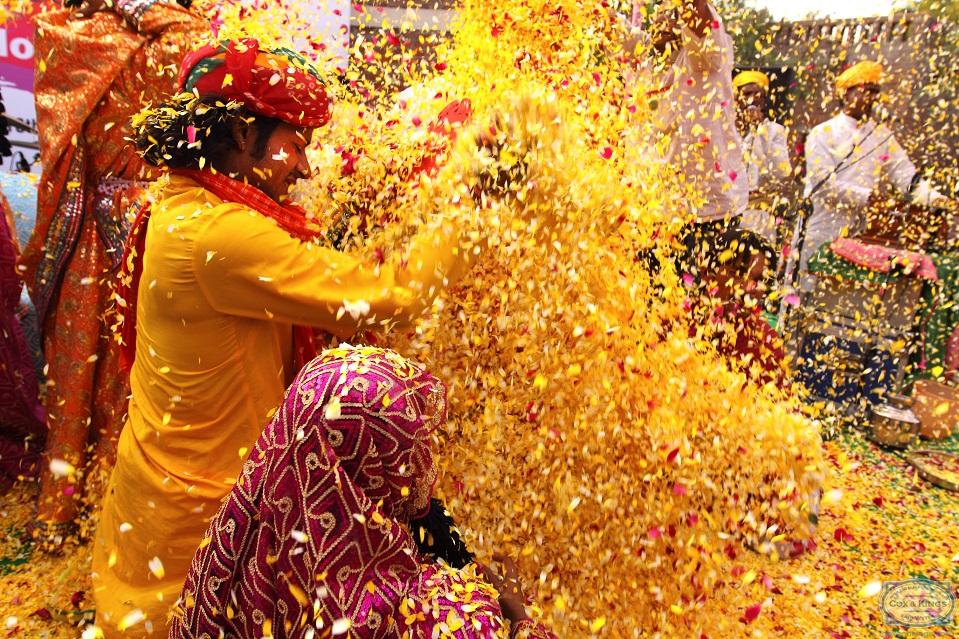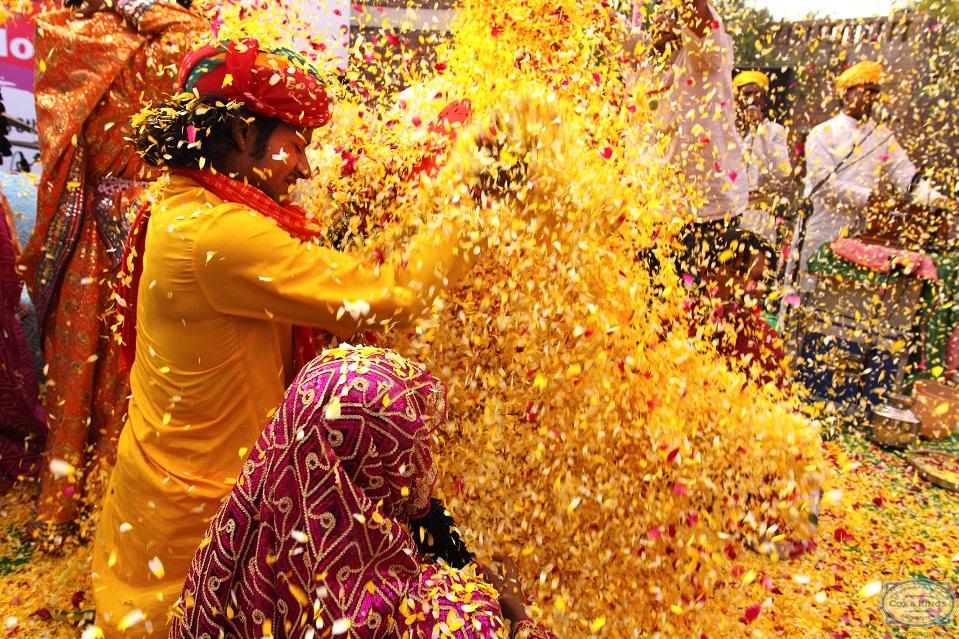 3. Lath Mar Holi of Barsana, Uttar Pradesh
This is a very peculiar style of celebrating Holi. Women chase men and beat them up with Lathis (Sticks) and that's why it is called Lathmar Holi. Both Barsana and Nandgaon celebrate this festival with a lot of zest. It's a huge event and attracts thousands of participants as well as tourists who come to enjoy the fun filled beatings.
4. Purulia in West Bengal
Holi is celebrated here in a very traditional way. A 5 hr drive from Kolkata, the city is just 246 km away from Kolkata. The villagers perform the special Chau dance, Darbari Jhumur, Natua dance along with many other activities for 3 days. Purulia is the best place to celebrate Holi in Bangal.
5. Delhi and Mumbai
Meanwhile, Delhi and Mumbai are places where this festival is celebrated both in traditional as well as modern ways. Holi Festival is celebrated here with modern Djs, bands, bhang, street food and colours. Though safety is a big concern when it comes to celebrating in public places but then it's totally worth it.
Head to these places and enjoy this wonderful festival of colors and life.
Happy Holi in advance"
Wishing all the readers of Curlytales.com much love, colours and life on this auspicious occasion.
Holi Hai!"
LIKE Curly Tales on Facebook | Instagram | Twitter
You can subscribe to our newsletters.