If there's one thing that never fails to astound me, it's the fact that a fried triangular parcel, filled with a spicy mixture of potatoes has the power to make me cry. And it's not because of the spice but because of the fact that something so simple can taste oh-so-good. I know I am not alone in this because how can you not like samosa? Scratch that. How can you not love samosa? Luckily for me and my brethren, there's no shortage of good samosa in the city. What's more, is that there are multiple options and variations so you will never get bored. And my research led me to these places and I can say for a fact that they serve the best samosas in Mumbai
1. Samosa Chole At Guru Kripa, Sion
Ask anyone about where you get the best samosa and there's a very high probability that they will direct you to Guru Kripa in Sion. Their hot and crusty samosas taste absolutely divine when paired with spicy chole and the green chutney gives it that extra kick. The Guru Kripa samosa is the stuff of legends!
Address – Guru Kripa, 40, Guru Kripa Building, Road 24, Near SIES College, Sion, Mumbai
Contact – 022 61736029
Cost –  ₹45 (Exclusive of taxes)
2. Samosa At Tewari Bros., Multiple Outlets
Not only do the mithaiwalas at Tewari Bros. whip up exquisite sweets but their samosas are quite in demand too. Fresh out of the kadhai, eat these when they are piping hot and you won't regret. Not even one bit.
Address – Multiple Outlets
Cost –  Price on request
3. Paneer & Peanut Samosa At The Bohri Kitchen, Multiple Outlets
Whoever said that samosas can only have aloo in them was very wrong. Stuff it with anything and it will still taste sublime. The guys at The Bohri Kitchen believe in that principle and that's how they came up with the Paneer & Peanut Samosa. And it tastes just as good as it's whacky combination.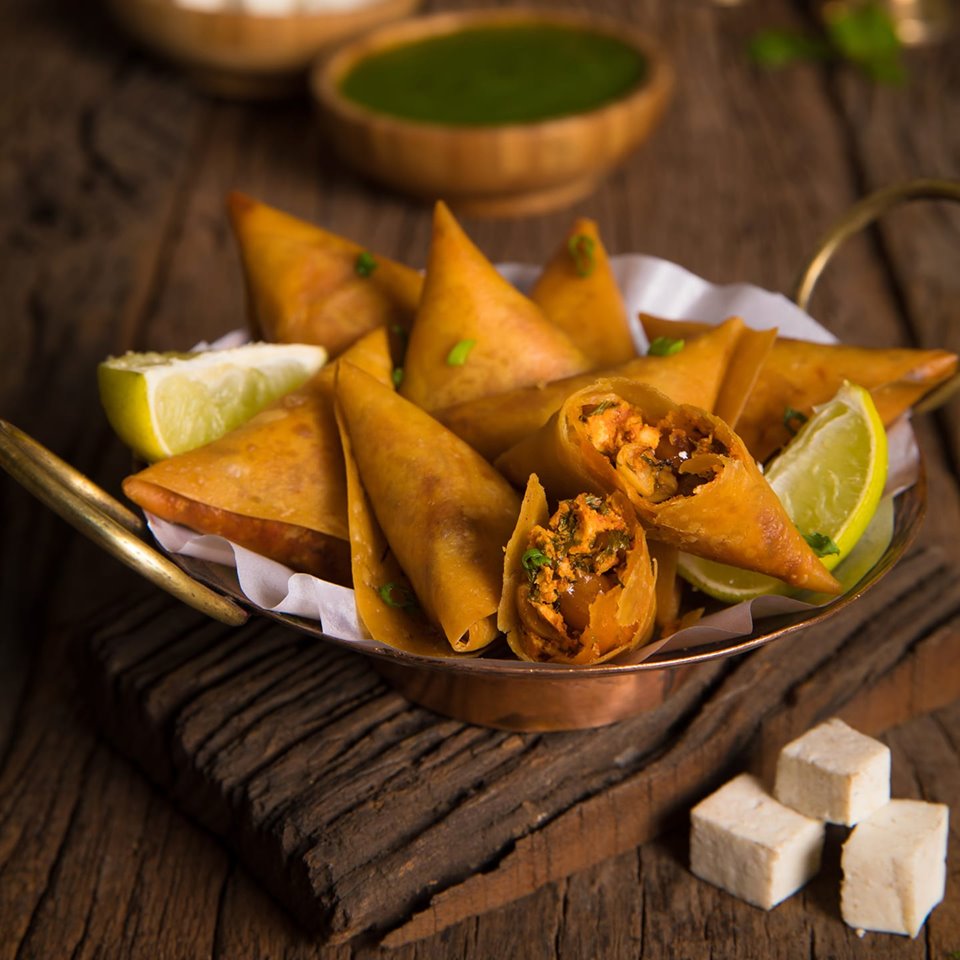 Address – Multiple Outlets
Cost –  ₹250 (Exclusive of taxes)
4. Mawa Samosa At B Merwan
Believe us when I say that you won't find this samosa anywhere else but in B Merwan. The one of a kind samosa is stuffed with mawa and is the perfect counterpart to the savoury samosa. And while you are at it, make sure that you go early so that you can get one of their famed mawa cakes too.
Address – B Merwan, Alibhai Premji Road, Grant RoadEast, Opposite Station, Grant Road, Mumbai
Contact – 022 23093321
Cost –  ₹10 (Exclusive of taxes)
5. Mutton Samosa At Light Of Bharat, Dadar
I stumbled upon this Iranian eatery by accident while strolling through the inner lanes of Dadar and it is a treasured find. Their mutton samosas are a revelation and eating just one won't satiate your appetite. Trust me when I say this, you'll be reaching out for a second one even before you are done with the first one.
Address – Light Of Bharat, 69, Meher Building, Ranade Road, Dadar Shivaji Park, Mumbai
Contact – +91 9022541414
Cost –  ₹35 (Exclusive of taxes)
6. Samosa At Lashkara By Punjab Sweet House, Bandra
Sweets and a crispy hot samosa just go hand in hand. It's like peanut butter and jelly. A classic combination that can't be messed with. So, make sure you grab your favourite choice of sweet along with your plate of samosa.
Address – Lashkara by Punjab Sweet House, 84, Palinaka, Pali Hill, Bandra West, Mumbai
Contact – +91 9833050840
Cost –  ₹40 (Exclusive of taxes)
7. Samosa Chole At Vig, Chembur
Another favourite, Vig has been around for quite some time. They are popularly known for their Dal Pakwan which is considered one of the best in the city but also fry up some really great samosas. And when you combine it with their samosa, it's pretty much a match made in heaven. This definitely makes its way into my list of the best samosas in Mumbai.
Address – Vig, C G ROAD, CHEMBUR COLONY, CHEMBUR (E), MUMBAI -400074, Greater Mumbai Ward-M/W, Greater Mumbai(Maharashtra) -400074
Contact – +91 7744086667
Cost –  ₹50 (Exclusive of taxes)
8. Samosa Soup At Burma Burma, Fort
This has to be one of the most innovative versions of the samosa in Mumbai. It's a samosa served in a soup. I know it sounds crazy but it tastes insane. The samosa comes immersed in a tangy soup accompanied with fresh, chopped spring onions and spicy black chickpeas. This is one samosa soup that you have to try!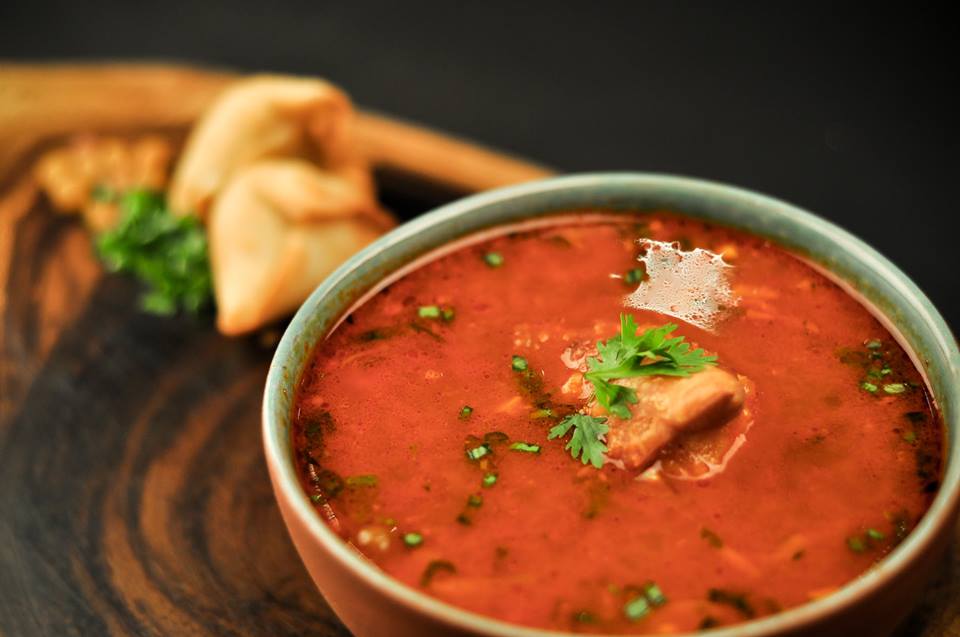 Address – Burma Burma, Kothari House, Allana Centre Lane, MG Road, Behind Mumbai University, Fort, Mumbai
Contact – +91 7506061460
Cost –  ₹330 (Exclusive of taxes)
9. Deconstructed Samosa At Masala Library By Jiggs Kalra
At Masala Library you can always expect to find something extremely unique. And their Deconstructed Samosa is just that. Served on a peepal leaf, the presentation of the dish is extremely nice to look at and will be the perfect #foodgasm post for your Instagram. This is definitely one of the best samosas in Mumbai. At least when it comes to being a deconstructed version of it.
Address – Masala Library By Jiggs Kalra, First International Financial Centre, Ground Floor, Bandra Kurla Complex, Mumbai
Contact – 022 50645640
Cost –  Part of tasting menu priced at ₹2700 (Exclusive of taxes)
10. Hummusa At Bombay Adda
Another wild-card entry is the Hummusa at Bombay Adda. It's named so because of it's filled with hummus and Burghul and makes for an interesting dish if you are on the lookout for something out of the box.
Address – Bombay Adda, Santacruz
Contact – 022 61736121
Cost –  ₹295 (Exclusive of taxes)