Zari-Zardozi is a timeless embroidery artform that adorns purses, footwear and traditional Indian apparel. The art of zari-zardozi nestles in the narrow alleys of the old town of Bhopal. Local artisans create unparalleled works of gold embroidery that reach designer studios across cities. Zari-Zardozi is popular among designers and embroiderers who have revived and celebrated the art over the years. The 'gallis' of Bhopal are the best places to shop intricately stitched zari-zardozi works at budget-friendly prices. Read on to know how you must doll yourself in intricate zari-zardozi work in Bhopal.
Origins Of Zari-Zardozi
'Zardozi' word comprises of 'Zar' means gold and 'Dozi' means embroidery. So, 'Zardozi' actually translates to embroidery with gold threads. Originating from Persia, this art was done on expensive clothing like velvet, silk, organza and chiffon materials.
Encouraged during the rule of Her Highness Nawab Shah Jahan Begum, Bhopal was inherited with the intricate art of zari-zardozi started in 1868. It is believed most master craftsmen of zari-zardozi were brought in from Kanpur, Lucknow, and Delhi and the technique was also introduced as one of the subjects in the curriculum prescribed for girls. The traditional zari work was done using pure silver wire coated with real gold, while the work of zardozi was done with the use of salma, sitara, crinkled badla and semi-precious stones.
The gold thread was eventually replaced with more affordable materials. Due to modern fashion, the art form was suppressed for a while, but fashion designers and embroiderers brought it back and even celebrated it. Today, Zari-Zardozi has spread not just in India but across the world. Its beauty has taken it from wedding to haute couture fashion.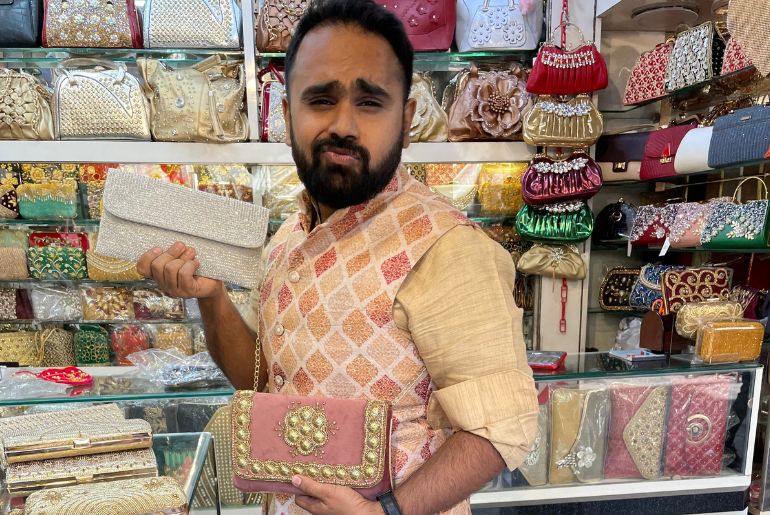 Begums' Affinity To Zari-Zardozi
Begums of Bhopal proudly adorned opulent attire with intricate gold embroidered zari-zardozi work. Costumes and other garments were embroidered in a delicate and sophisticated manner, whereas the heavy embroidered work was confined to the preparation of masnads (floor coverings), kanats (side wall of the tents), palans (elephant covers) and decorative panels.
They used to carry batuas or purses stitched with zardozi to keep their personal belongings. The traditional zardozi pouches are popular till date and even called Bhopali Batuas. During the Mughal period, zari-zardozi patterns were inspired by the Mughal court paintings. Floral motifs embroidered with gold beads and precious stones were magnificent. Over time zari-zardozi designs have been greatly influenced by nature like leaves, trees, birds and animals. It breathes the ecology of India.
To know more about the art, visit https://www.mptourism.com/zari-zardozi.html
Method Of Creating Zari Zardozi
The process of creating zardozi embroidery is laborious and intensive. The 13th century art form involves craftsmen first tracing out the design on a chosen fabric like silk, satin or velvet. A needle is used to poke the fabric and outline the design. Next, craftsmen sit cross-legged around the addaa or the wooden frame to do the the entire zari-zardozi embroidery work. With a variety of tools like needles, wires, threads, hooks and gems, they embroid over the traced pattern. The entire zari-zardozi work takes a minimum or three days to ten days to complete, depending on the pattern.
Where To Get Best Zari-Zardozi Works in Bhopal?
Located in Bhopal's Sarafa Chowk, National Zari House is one of the best places to shop for zari-zardozi works in the city. National Zari House has around 60 years of experience in zari-zardozi. Earlier, the artisans created small purses with intricate zari work with just beads and cut dana.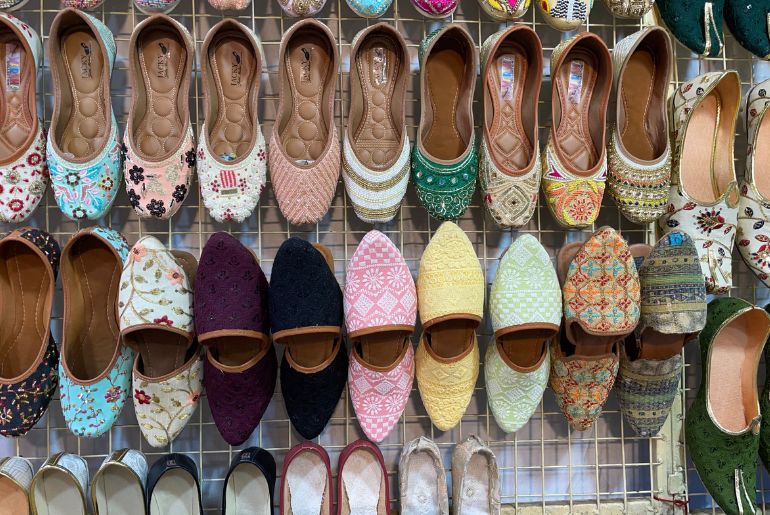 Later they started incorporating silk to give their embroidery work a nice contrast. The blend of Zari-Zardozi and silk gives shoppers the best of both worlds. From designs worn by Bhopali begums to modern styled clutches and apparel for the new generations, there's something for everyone at National Zari House. Apart from the shop, there are several shops scattered around the old city market where you can buy something beautifully made that will become a prized possession for life.
Read more at https://www.mptourism.com/