The most anticipated Bollywood movie, Brahmastra is finally on the screens, and fans are crowding the theaters to watch the magic of VFX coming alive. Way before the movie was released, the magnificent songs made everyone groove to the melodious beats and the music videos are a treat to the eyes. The shooting locations have intrigued a lot of globetrotters to pack their bags and leave to explore these stunning destinations. Want to know where Brahmastra was shot surrounded by mountains, picturesque landscapes, and more? Read for all the deets!
All The Locations Where The Ranbir-Alia Starrer Brahmastra Was Shot At
1. Varanasi
The lead actors in Brahmastra took a trip to Varanasi in the first half of the movie. Well, we won't share any spoilers, so keep reading till the last without any worries. Ayan Mukherji and the crew captured the essence of Varanasi beautifully with the couple strolling through the lanes and ghats and spending time on a boat. In fact, some scenes of everyone's favourite song Kesariya are from the Kashi Vishwanath temple. The crew spent 20 days in Varanasi to shoot at locations such as the Ramnagar Fort and Chet Singh Fort near Varanasi.
Also read: Ranbir Kapoor & Ayan Mukherji Visit Lalbaugcha Raja To Seek Blessings For Brahmastra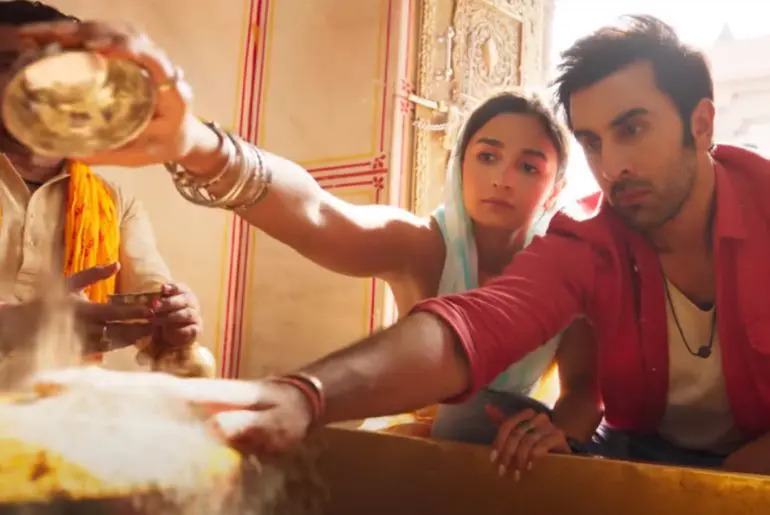 2. Manali
So many visually-appealing parts of Brahmastra were shot surrounded by snow-capped mountains and verdant greenery. Watching the movie and the visuals of the surroundings is indeed a great experience. Right after wrapping the Varanasi shoot schedule, the team flew to Manali. Both the trailer and the movie have some alluring glimpses and landscapes of this Himachal hill station.
View this post on Instagram
3. Bulgaria
As we all know that the preparations and the shooting of Brahmastra started so many years back. In the initial months of the shooting, the crew was in Bulgaria for about a month. Some stunning mountain landscapes in the movie are from Bulgaria.
4. London
Post shooting in Bulgaria, the team jetted off to London to capture some of the most prominent parts of the movie. The way the film has been shot in these places, the result looks an absolutely pleasant surprise.
Also read: As Alia And Ranbir Paint Varanasi Saffron In Brahmastra, Know How To Spend A Day In The Ghats
5. Edinburgh
Brahmastra was extensively shot in beautiful corners of Europe. And among all the destinations, Scotland's Edinburgh holds one of the most panoramic nature's aura and charm. There is no denying that Edinburgh is a visual sight to behold and Ayan Mukherji chose the best scenic delights to capture in the movie. With the picture-postcard castles and greenery surrounding the Scotland capital, Edinburgh needs to be on every nature wanderer's bucket list.
View this post on Instagram
6. New York
Along with India and some parts of Europe, the Ranbir-Alia starrer has some splendid shots from New York. The crew was in New York in July 2018.