The very popular Konkani Sammelan 2022 is fianlly over. The sammelan was held at the heart of Silicon Valley in San Jose. This grand event cherishes the Konkani cultural heritage and people attend the sammelan from all over the globe. On Monday, Deepika Padukone along with Ranveer Singh and their family are seen attending the sammelan. Deepika Padukone was the Chief Guest for the sammelan. The Piku actor is someone who deeply values her culture and tradition. So it's not a surprise to see the actor attend the sammelan with her whole family. Later the couple is also seen enjoying the iconic Shankar Mahadevan concert in the US. Read on to know more tidbits about Ranveer and Deepika and their foreign visit.
Ranveer Singh Speaks In Konkani At The Sammelan, Leaves Deepika Padukone In Awe
Ranveer Singh is one of the best actors Bollywood has. Apart from that, he is also a doting husband. The Gully boy actor leaves no chance to impress and express love in his life. Recently Deepika Padukone was invited as the chief guest of the Konkani Sammelan 2022 in San Jose. Ranveer of course is seen joining her later. the actor even tries his hand at speaking Konkani. When invited on stage, the actor took the opportunity to impress the audience and his wife with a few sentences in Konkani. Deepika being the appreciative wife is seen smiling and clapping for her husband. Totally adorable!
View this post on Instagram
Also read: Hrithik Roshan Snacking On Yummy Burgers Makes Co-actor Deepika Padukone Feel Left Out!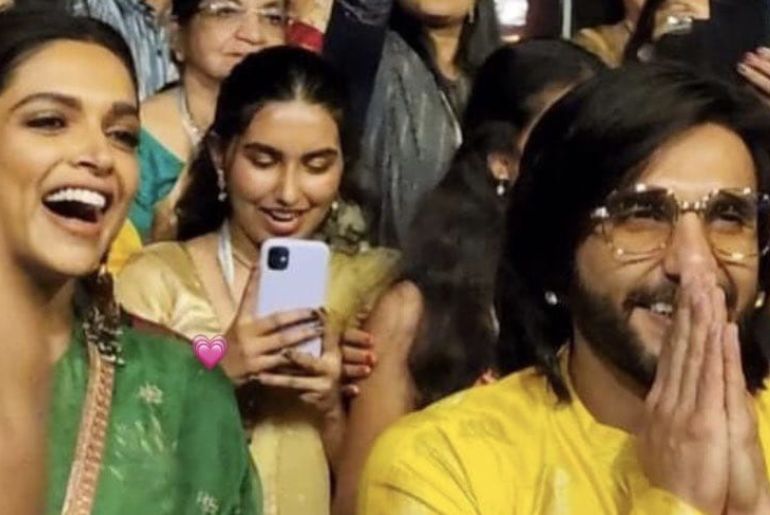 Deepika And Ranveer Dance Their Hearts Out In Shankar Mahadevan's US Concert.
Of late, a lot of viral videos of Deepika and Ranveer are making rounds on social media. The couple along with their family are seen attending a Shankar Mahadevan Concert in the US on Monday. The couple danced their hearts out, clad in traditional attires. Deepika in a green suit and big earrings is seen rocking the Desi diva look. On the other hand, Ranveer adorned a yellow kurta. Later Shankar Mahadevan let his fans have a glimpse of the concert by sharing a video on his Instagram. his caption says, "Ranveer and Deepika!!! You both and the entire family made our show in San Jose so so special. What fun it was to do this impromptu jam with you Ranveer!!! You both are just too adorable"
The video shows Ranveer on stage, rapping the very popular Apna Time Ayega from Gully Boy. Well, looks like the couple totally had a blast together!
View this post on Instagram