You don't have to plan a trip to Bali, Greece or Maldives to enjoy an Instagrammable meal! The Address Beach Resort has now launched a special Floating Breakfast where you can swim, eat and soak in incredible views. Dubai-aites can now enjoy a floating breakfast at the world's highest outdoor infinity pool. Fanceh much, right? Read on for more.
Swim & Enjoy A Luxurious Floating Breakfast At Address Hotels & Resorts
Guests at the Address Beach Resort can now experience an exclusive Floating Breakfast at the world's highest outdoor infinity pool. Book a staycation at the brand new resort and kick off your day as you sway in the gentle breeze above the clouds taking in the panoramic views.
The Floating Breakfast is arranged on a sustainable wicker tray and it's good for sharing. Choose between the continental or vegan options and throw in an extra pinch of luxury by adding bubbly to your experience. The floating breakfast is available only for in-house guests from 15 July – 30 September 2021. Those who wish to book the experience must make an advance booking as well as a pre-payment. Besides, the floating breakfast will be available only for those above 21 years of age.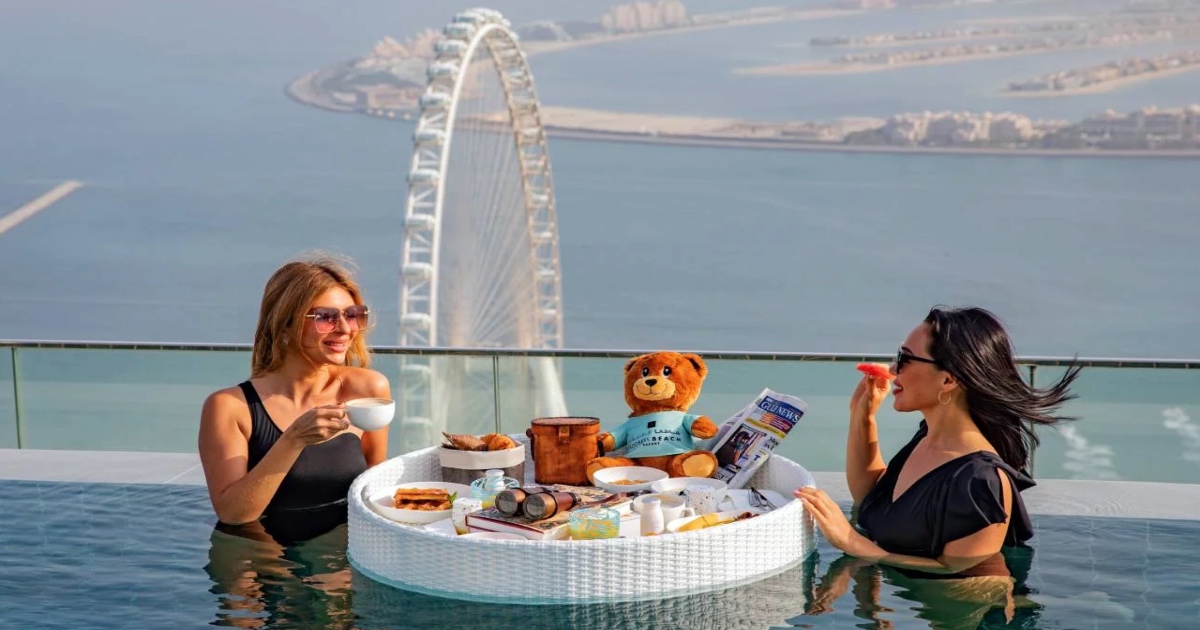 Dubai's Address Beach Resort Sets Guinness World Record For Highest Infinity Pool In A Building
The majestic pool is not only one of the key highlights of the resort but also has a stunning view. It is divided into a 75-m long swimmable zone and offers views across Bluewaters Island, Ain Dubai, Palm Jumeirah, The World Islands, Dubai Marina and the Burj Al Arab. When it comes to the in-house guests, the property now has a rooftop restaurant, open to all. The restaurant consists of an open-air terrace and 12 private enclosed, air-conditioned cabanas.
Also read: Dubai's Legoland Waterpark To Reopen On April 1 With 20 Per Cent Off On Tickets
The Resort Has 217 Hotel Rooms, Suites, Serviced Apartments And More 
So if you want to grab some delicious meal or are planning for a staycation, then Address Beach Resort, which is located in JBR, should be on your list. The resort has 217 hotel rooms and suites, 443 serviced apartments and 478 residential apartments. And amid the pandemic, it has partnered with Boecker Public Health to implement a sanitisation process. At the entrance, guests are checked by thermal scanners and doused in a light mist of sanitiser spray. The hotel staff also wears a mask and makes sure to follow all the protocols.
Deets
Where: Address Beach Resort
When: 15 July – 30 September 2021
Contact: +97148798899