Dubai is almost back to normalcy, but with precautions of course. The city's malls, beaches, parks and all other public places are open and now, after a bug hiatus of two years, Dubai Safari park is open to visitors once again.
A whopping 119 hectares park houses a community of 3,000 mammals, birds, amphibians and invertebrates. Activities like animal feeding, educational, awareness programmes and other events have been added to the list to help visitors have a great time. 
Dubai Safari Park to welcome visitors from 5 October 2020 https://t.co/fwRooz7YnC pic.twitter.com/TweQ7hnCQc

— Dubai Media Office (@DXBMediaOffice) September 21, 2020
Also read: Motiongate Dubai To Reopen In September With 2-For-1 Ticket Offer
The Park Is Hosting Live Tribal Shows, & Other Traditional Performances Until 10 October
In celebration of its successful opening after two years, Dubai's Safari Park, is set to host a series of live performances, free of charge, until 10 October. Visitors planning a trip to the park during this time can enjoy spectacular performances from traditional African drummers, at the African Tribal show, and also watch the performers dance along to the rhythm of the beat and show off their acrobatic skills in the African Village.
The fun continues to the Asian Village, where vibrant performers combine drum playing with traditional dancing, at the Chinese Drum and Dance show. In addition, each day at 4:30 pm, an impressive Park Parade will take place throughout the Wadi Area, showcasing a wild African Tribal Show, and the Chinese Drum and Dance Show, with more surprises along the way.
With all free of charge, live shows taking place until October 10, be sure not to miss out on all the action at Dubai Safari Park.
The Park Has Three Villages, All Of Which Showcase Different Animals From The World 
Dubai Safari Park is home to the UAE's first African elephants, which are also the heaviest in the park, weighing up to 3,000 kg. The park also has an indoor Gorilla exhibit as well as features UAE's largest troop of baboons. There's also a Bird House and Reptile House in the Village with more than 30 distinct species of reptiles.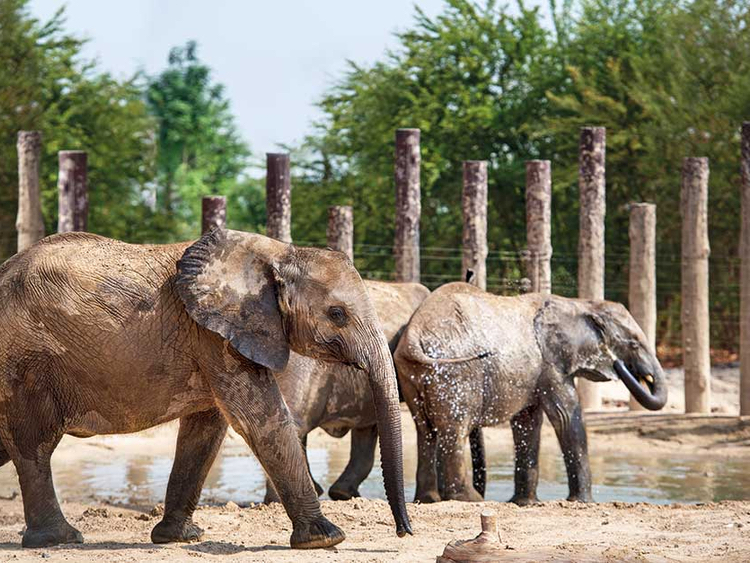 The Park Also Has An Arabian Desert Safari For Visitors 
Visitors can also enjoy the sight of animals from all over the world ranging from giraffes to hippos. A unique Bird Show held at the village displays the glory of colourful birds. It also teaches visitors about the intricacies of the winged creatures. It also includes a bus tour that allows visitors to discover animals from Africa and Asia. The tour journeys through the African grasslands, and encounters ungulate animals of all shapes and sizes, from giraffes to antelopes and zebras. Guests can watch crocodiles, buffalos, lions, tigers, hippos, rhinoceroses, zebras, baboons, antelopes, hyenas, and giraffes.
Besides this, Dubai safari park also offers Arabian Desert Safari. It allows visitors to undertake a trip in an open vehicle to see many species of animals from the Arabian Peninsula. The Tour includes an audio guide that tells visitors about the most famous animals in the local desert and current animal conservation programmes.