Life is returning to normality, as some schools have now reopened for children. And to ensure that children attend the school without any inhibitions, this Dubai school has brought in a classroom dog to provide comfort and support to the students. Gems Metropole School in Motor City has a new staff member – Lotus, a Labrador retriever and here's everything you must know about this cute pooch.
The Therapy Dog Comes To School Every Sunday And Thursday 
The fluffy, adorable four-year-old dog comes to the school every Sunday and Thursday to play with teachers and kids. Principal Nav Iqbal said students are stressed because of the uncertainties caused by the Covid-19 pandemic; hence the school decided to bring in an emotional support dog to improve children's mental health and well-being. On this, Principal Iqbal added,
"The school has recruited the dog as a member of staff. Lotus will volunteer twice a week to support pupils and staff emotionally. It will also help pupils with special needs. Lotus will help calm our children and build bonds. He will bring in an element of happiness for the children."
School Authorities Are Trying To Get Lotus To School Daily 
For the time being, Lotus comes to school twice a week. However, the school is trying to get him daily. For Lotus, he is a rescue dog adopted by Emay van der Walt, a South African inclusion specialist at the school. Lotus is trained to work with children.
Covid-19 has caused a lot of anxiety, and with exams and other things around the corner, Lotus will help students calm down by providing unconditional love and care. When it comes to bringing pets to school, this is not a new concept, at least in the west.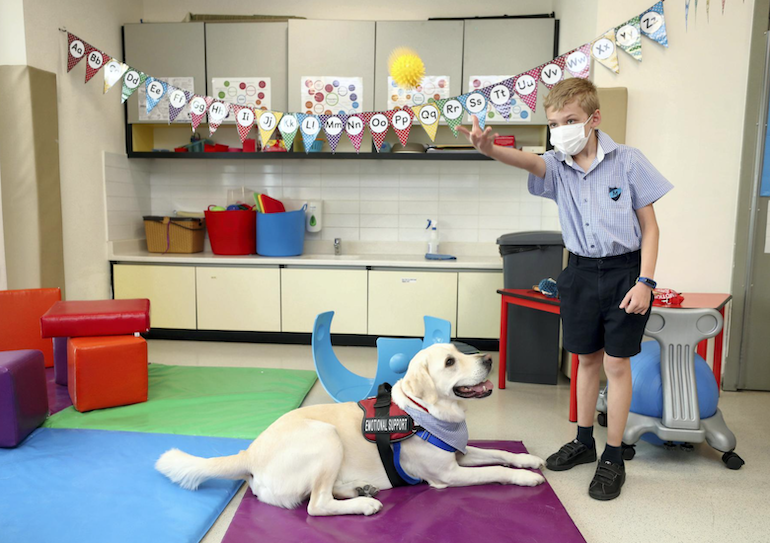 Lotus Is Trained To Work With Children
Many universities in the US have "pet your stress away" programmes, where students can come in and interact with cats or dogs to help reduce stress. And as we know, playing with animals is quite therapeutic.
When it comes to Gems Metropole schools, students play fun games with Lotus. Children sit with their eyes closed, while Lotus walks around the room and barks. They have to guess where he is in the room, and for every correct answer, the dog gets a treat or a pat. Besides this, they also play throw and catch with Lotus. Such activities support sensory stimulation, space-time perception, attention, and concentration said the school authorities.
Well, we are totally in love with this concept, and only hope that other schools in Dubai adopt this system too.