Dubai is one of the emirates, in the UAE that always likes to do things with full pompous and vogue. Be it the majestic fireworks during the New Year's Eve or the supremely famous Dubai Shopping Festival (DSF)- the emirate surely knows how to entertain us through the dark times. And now as a part of the DSF, two light shows involving hundreds of drones are lighting up the night sky in Dubai daily. Here's everything you need to know about this massive drone show.
Also read: In Video: Rihanna Launches Her Skincare Line From The World's Tallest Building, Burj Khalifa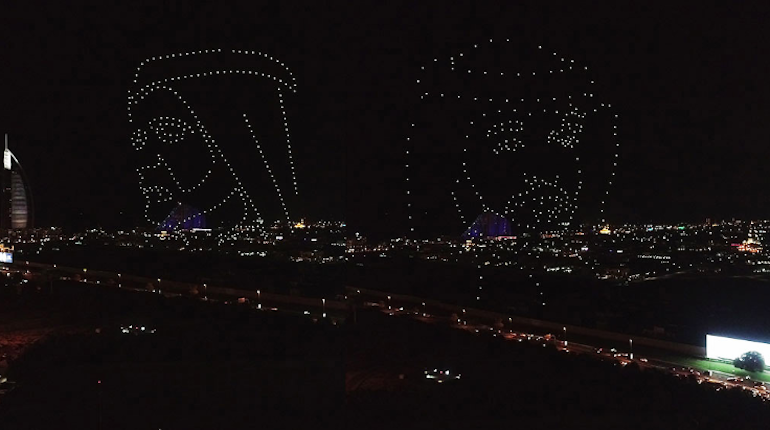 The Spectacular Drone Show In Dubai Happens Twice A Day For Four Minutes Each 
Around 300 drones will entertain the audiences for 45 days to celebrate DSF. Held at 7 PM and 9 30 PM, this spectacular show happens above The Beach, opposite JBR, Bluewaters and the Sheraton Jumeirah Beach Resort. The performance is free to watch and lasts for four minutes. If you think that it is your ordinary drone show, then let us tell you that each show has a theme to it.
Also read: In Video: Cristiano Ronaldo Visits Turkish Chef Burak Ozdemir's Restaurant
Both Drone Shows Are Based On A Theme Which Represents Culture Of Dubai 
The first show is titled as 'Dubai, A City of Adventure', essays different things to do and see in the emirate. It also portrays famous characters Modesh and Dana going on a journey to explore what the city has to offer. Whereas the second show titled 'Dubai, From the Past to the Present', depicts the city's journey from old Dubai to new Dubai, with the official DSF song by Rashed Al Majed, Dubai Kawkab Aakhar, which translates to Dubai is another planet.
Also read: From Gimbap To Hotteok, 5 Korean Snacks Other Than Ramen That Will Blow Your Mind
Doesn't that sound super exciting? Well, with DSF going, make sure you don't miss out on these shows.