Food is an experience. So why not make your gastronomical experience an enriching one? Well, at Bangalore's unique solar-powered cafe, Go Native, you can eat delicious farm to table meals and even shop for a variety of organic handicrafts and retail products that reflect sustainability and promote concious living. Go Native's very first outlet adorned the street of Jayanagar by the entrepreneurs Anvitha Prashanth, Radeesh Shetty and Jenny Pinto in 2017. Over a span of 3 years, Go Native now has 2 more outlets in Bangalore and has been spreading the aroma of its scrumptious vegetarian south Indian food and organic way of life all over the Garden City.
How Did It Begin?
The seed of Go Native was first sown in Anvitha Prashanth's mind when she visited Berlin in 2014. The alumnus of the  Singapore University of Technology and Design visited local farmers markets and grew fond of the farm-fresh produce.  She got hooked on to the concious and sustainable lifestyles of the residents in the city. The idea of eco-consciousness brewed in her mind. Her learnings in Berlin then germinated into a full-fledged cafe and lifestyle store in Bangalore, with her partners Jerry Pinto and Radeesh Shetty. It's built under their enterprise Discovery Village.
Go Native seeks to commence conversations about conservation and reduce carbon footprint. Anvitha Prashant stated that we live in a connected world. So the way we live, what we eat, wear and have fun impacts our health, environment and community. Whichever way we choose to live our lives, we must respect people and the planet. Through Go Native, Anvitha wants to share the pleasure of sustainable living with each and every one of us.
A Step To Sustainability
What makes this cafe unique, is the fact that the entire place is run on solar power. It's also designed to harvest rainwater from the rooftop. Daily kitchen scraps and food waste between 20kgs to 40 kgs are used as organic manure on the owner's farms outside the city. Dry waste like glass is recycled in a responsible manner and dry flowers from the garden are put into a leaf composter on the restaurant's premises.
To curb plastic pollution, glass bottles are used in place of disposable water bottles, minimizing the use of plastic. Go Native has also gone the extra mile by using biodegradable tissues, environmentally friendly bagasse boxes and even providing their suppliers cloth bags to deliver their weekly produce.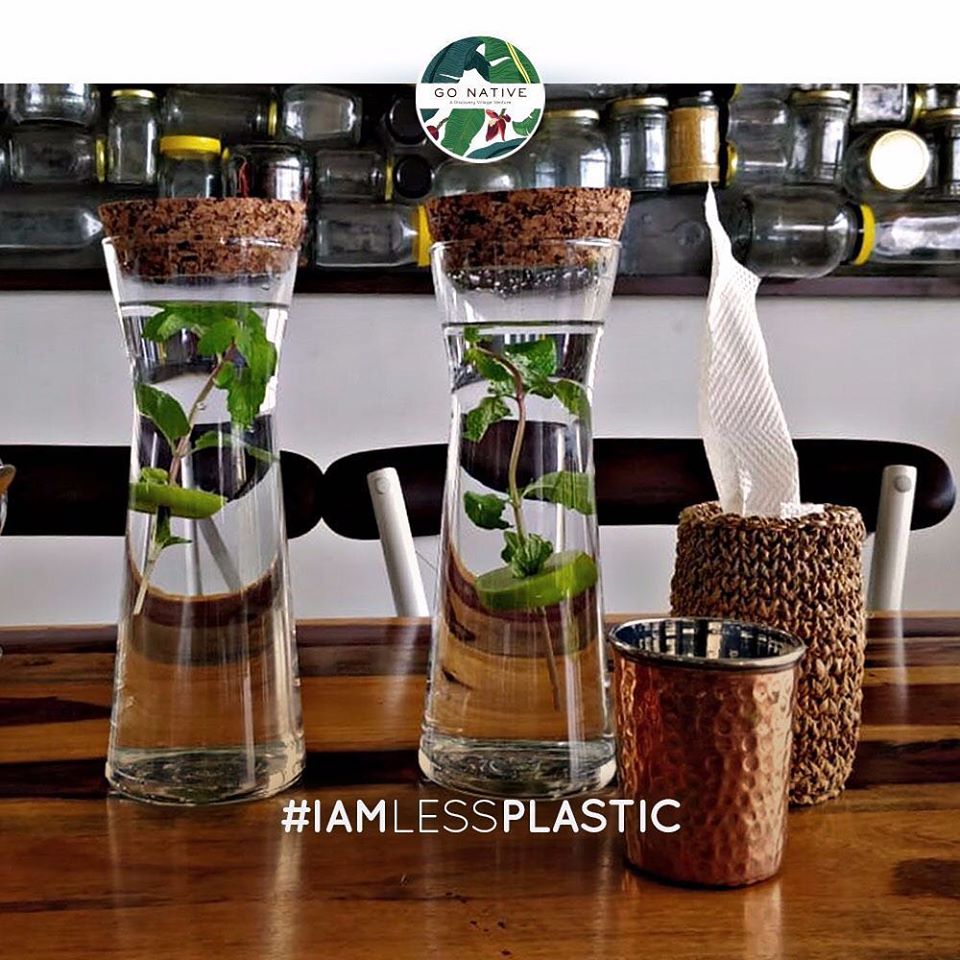 When it comes to the ingredients used in the food, Go Native prides itself on using indigenous pulses, grains, spices and seasonal fruits and vegetables. Ingredients are sourced from chemical-free farms, conscientious of water consumption and soil conservation. If you're curious to know about the ingredients used in your food, you can also browse through it in the retails section of the restaurant. The nutritious, delicious and pesticide-free food is what makes their meals so experiential.
Also Read: Visit Bangalore's First Zero Waste Juice Bar At Eat Raja In Malleshwaram
Rejuvenating Ambience
Go Native is all about going back to our roots. So the first restaurant was started in one of Bangalore's oldest neighbourhoods, Jayanagar. A traditional home was refurbished, retaining the old world charm of the doors and windows. There are many seating options including an alfresco dining area in the garden, indoor seating option in the top floor, or an airy balcony experience.
The ambience is refreshing thanks to the warm lighting, wooden seating, lush greenery and spaciousness. With so many restaurants in the city, people are yearning for a whole different, enriching experience when it comes to food. The decor is minimal yet classy. It literally gives you a charming farmer's market feel. And will just leave you bargaining your time to explore the boutique or get started on your meal.
The Exquisite Boutique
One of the main highlights of Go Native is the exquisite boutique in all its stores. You can shop for a wide range of organic products and handicrafts while you wait to get your seats. The gorgeous store is modelled along the lines of environmental viability. The store houses upscale furniture, eco-friendly lights, handmade soaps, Channapatna wooden toys, organic oils and much more. And if you like to shop for organic products then this is your one-stop destination for all things organic.
From artisanal bread, jams, pickles, rasam powder, organic makeup products to even handloom textiles you can literally find everything here. Go Native also has an unpackaged retail section, where customers have to get their own containers from home to fill it with millets, grains, pulses and other ingredients sourced from local farmers in Karnataka.  So shop til you drop for those gorgeous Kurtis and perfect sari blouses. You will find no dearth of Zero-waste, vegan, organic and natural products from different designers and NGOs here.
Scrumptious Organic Food
Every morsel of food we intake has a significant role to play in our overall well being. So we must be mindful of what we eat and where our food comes from. So why not ditch the rich, fatty and oily leisure food for once and indulge in a nutritious meal of organic pesticide food here? Go Native serves vegetarian, vegan and even Jain food.  Commence your meal on a refreshing note with the Whole Wheat Grain Salad that has a lovely nutty taste thanks to the whole wheat, corn kernels and velvety chopped avocados. You can munch on your salad as you slurp the Mushroom, Potato, Corriander cold soup, which has a lovely dash of garlic.
And if you're a non-vegetarian, craving for a hearty dish, then just order their popular Jackfruit Biriyani. The jackfruit is succulent and tears away easy giving the dish a meaty like feeling yet remaining the vegetarian delicacy that it is. The modern Indian, healthy cuisine here will just leave you asking for more. They have Millet Pizzas, Special Thalis and regional dishes from all over India, with a modern vegetarian spin. The flavours are well balanced and is not too spicy or overpowering. It's light on the tummy and will leave you feeling replenished. Even parathas are given a twist where they are stuffed with banana flower and paneer, so you really don't know what to expect. If you like vegetarian food then check out these 10 Best Gujarati Places In Bangalore For 2020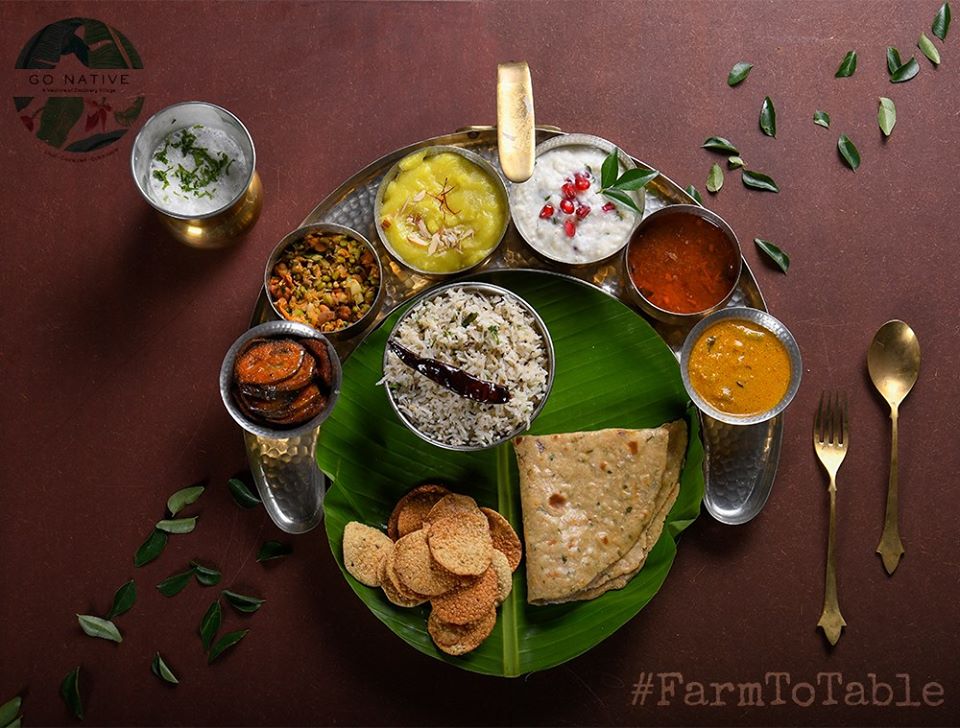 Pair your food with the wellness boosters, fresh milkshakes or even spectacular wines and wine cocktails sourced from within India. And don't feel guilty about indulging in desserts. they are prepared using the sweetness from jaggery, dates, khandsari sugar and seasonal fruits. So end your meal on a guilt-free sweet note with the Gulab Jamun and Avacado Kalakand where the creamy avocado and sweet jamun will leave a lingering taste in your mouth. Satisfy your sweet tooth with these 16 Best Sweet Shops In Bangalore For 2020
A Memorable Gastronomical Experience
Bangalore has many interesting themes restaurants and cafes. But this solar-run cafe serves you food for the soul. Go on a wonderful family outing to have a wholesome experience of shopping, eating and learning about organic food. It will be your little contribution towards supporting local organic produce, which is the need of the hour. Go Native is not just about the food, its about a lifestyle of sustainable living.  Yoga workshops are also conducted in their dedicated fitness zone. Apart from this nature walks, workshops on natural dyeing and pottery also take place during the weekends. So this is your chance to Eat, Pray, Shop, Learn and Live sustainably.after all Studies Say We Eat And Drink As Much Plastic As A Credit Card Each Week
Deets
Address: 64, 10th Main Road, 5th Block, Jayanagar, Bangalore ( Jayanagar Branch)
Timings:  12 pm to 9:45 pm
Cost: ₹800 for two approx
Contact: 080 47483063