2019 went by in a flash and we're in a brand new decade now. That also means there are a lot of new things in store. Abu Dhabi has always had new things to offer and this year, the capital city has a host of new attractions coming up. From the world's largest snow park to a stunning mangrove walk and a massive aquarium, here are eight new attractions coming up in Abu Dhabi in 2020.
1. Al Qana
Soon, there will be stiff competition for Abu Dhabi's corniche. Abu Dhabi will soon be home to yet another massive entertainment destination and it's close to the Grand Mosque. Going by reports, Al Qana the new marine project will open doors to public this year.
Developed by Al Barakah International Investments, the waterfront destination stretches across 2.4 km and will also be home to Middle East's largest aquarium. That aside, the project will also have a cinema hall, dedicated areas for indoor and outdoor sports, jogging and cycling tracks and a delectable range of restaurants. Three and four floored furnished luxury apartments, are also part of the massive project.
2. Club Social
One of the biggest music fest in the region, Club Social will be back with a bang from 12 to 14 March. While the exact location and schedule is yet to be confirmed, we hear there will be two international acts as well as the Battle of the Bands – where UAE's upcoming musicians will compete in front of a a live crowd. Plus, there will be loads of food trucks, entertainment, water sports and much more so you can hang around for an entire day.
https://www.instagram.com/p/Bvlhm4kHkNB/?utm_source=ig_web_copy_link
3. Snow Abu Dhabi
The world's largest snow park is coming to Abu Dhabi. The property is the brain child of Al Farwaniya Property Developers, Majid Al Futtaim Ventures and Thinkwell and will be docked at the Reem Mall. When it opens in 2020, the park will offer one-of-its-kind entertainment and leisure spread across 125,000 sq ft.
The park is said to feature over thirteen rides, spread across several designated zones. Blizzard's Bazaar, Snowflake Garden and Flurries' Mountain are some of the rides guests can expect at this world-class snow park. Right before entering the park, visitors can also stroll around the Blizzard's Bazaar- a store that sells winter clothing, postcards, hats and other souvenirs you can take back. The park will also have a Snowflake Garden, where visitors can play in the snow, and build their own snowman.
Construction for the park is in full swing and once opened, the park will maintain a temperature of -2° C, with a snow depth of 500mm. Lastly, the park will also house 450 stores and 100 dining options as well as a range of entertainment venues.
4. Reem Mall
Abu Dhabi will have yet another fascinating spot for shopaholics. The Reem mall on the Reem island will be a shoppers paradise- decked with over 450 shops. Shopping aside, the mall will also be home to the world's largest snow park, a multiplex cinema, and 85 food and drink outlets  The mall is expected to open later this year.

5. Guggenheim Abu Dhabi
Abu Dhabi will soon be home to an art museum – Guggenheim. Reflecting the Islamic and middle-eastern cultures, the museum is said to be an imitation of the Guggenheim Foundation in New York. Tourism Abu Dhabi, recently confirmed that work is well under progress. However, a launch date has not been finalised as yet.
6. National Aquarium
The largest aquarium in the Middle East- The National Aquarium is all set to open in 2020. The new Aquarium is all set to enthrall the marine enthusiasts with its 10-zone gigantic structure measuring over 7000 square meters. With its expansive structure, it is expected to host about a million visitors every year. Visitors will witness an exorbitant 33,000 marine creatures with 250 species on display, including UAE's largest reptile- a seven-metre long python.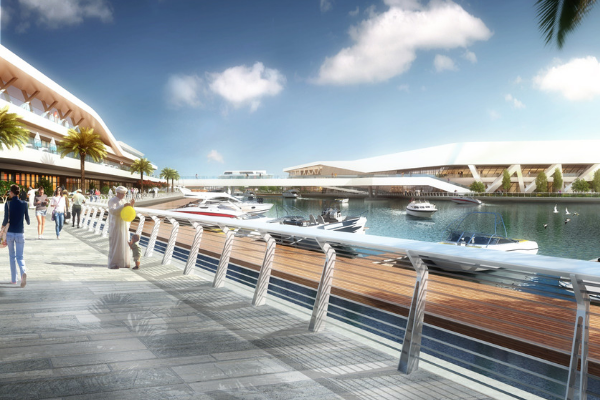 7. Flamingo Observation Tower
This year, you can catch a glimpse of the pink birds at Al Wathba Wetland Reserve from a height, thanks to the stunning new observation deck. For the uninhibited, the Al Wathba Wetland Reserve is a collection of manmade and natural waters, comprising wetlands, salt flats, fossilised sands and dunes. The reserve is home to over 250 species of birds, plant life, aquatic species and dragon flies. However, the main attraction remains the 4000 flamingoes that makes it their home ever spring. The tower is expected to open sometime this year.