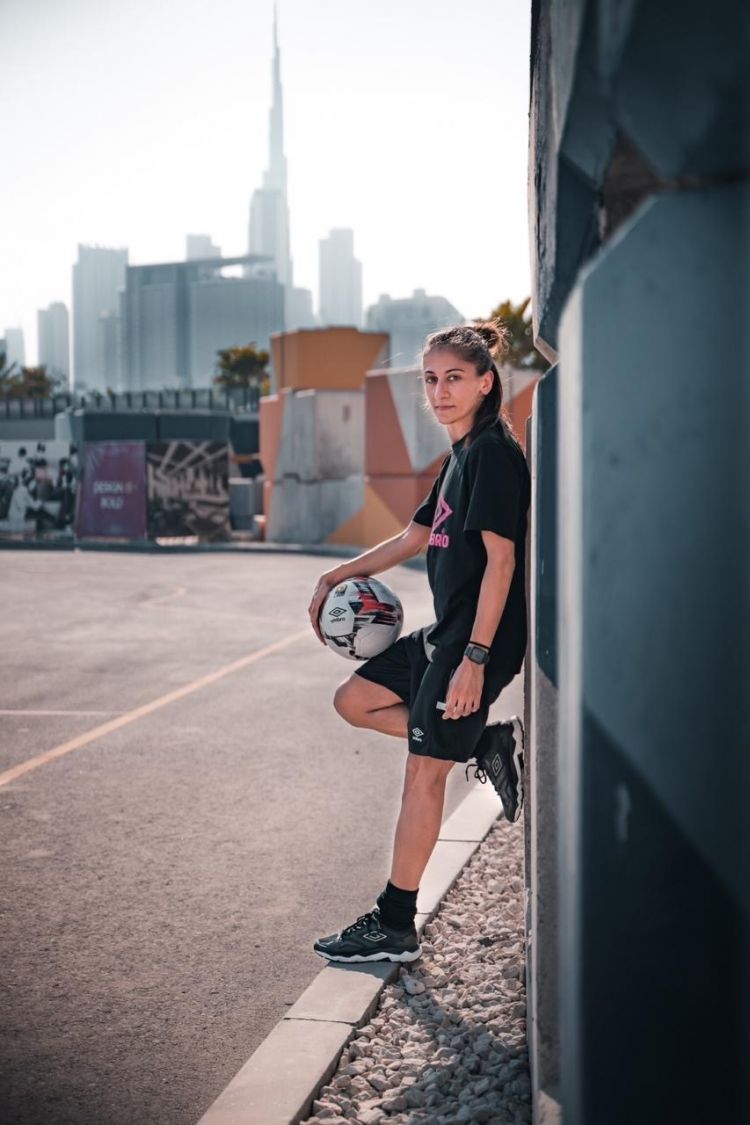 In a society where the idea of girls playing football is still viewed with resistance, Areej Al Hammadi broke the Guinness Record, making the world sit up and take note. Areej broke the world hot stepping record with an impressive 86 ball-control tricks in one minute, surpassing the previous mark of 56, set in March in the UK. She put Emirati women's football on the world map, and also has a name in the annals of history.
Well, getting here was certainly not an easy journey. Curly Tales and Vatika team up to launch the Vatika Voices- an initiative to shed light on women in GCC who have made the world sit up and take note. In a friendly chat with CT Dubai Emirati footballer Areej Al Hammadi shares it all about her journey, passion for the sport and her future dreams.
How Did You Develop A Passion For The Sport?
I grew up in Sharjah and sports was a part of my family as well. The World Cup would always be broadcast on TV. Back then women's football was not popular, we didn't have any girls football teams or academies so I mostly played with family or took part in any tournament that allowed women's participation. My passion for the sport grew with time.
My parents always pushed me to be something and achieve big. This in turn inspired me to try and always be the best at I do. Sport was something I enjoyed and my passion for it grew as I learn how to play and got better at it.
My earliest memory in a tournament was when I was 14 and I really enjoyed it. I enjoyed the competitive atmosphere, as I was also competitive. My university had a football team but practice used to start AFTER the last bus back home to Sharjah, so I couldn't join. I started playing when I moved into the dorms – and that's when it started for me.
When I was in my 20s I participated in community leagues like the Dubai Women's Football Association. I was then scouted for the national team back in 2015 and I have been playing with them ever since participating on a national level and club level with Abu Dhabi Country Club currently. Unfortunately, women's football is not a space that lets you pursue an independent career. So, I also work as a creative project manager at Expo 2020 Dubai.
How Did Your Football Journey Kick-Off?
My football journey began at American University in Dubai after which I moved onto to playing amateur level football for a few years in the Dubai Women's Football Association, a non-profit community organization that organized was a 7 a side community leagues for women in Dubai. In 2015, I had signed up my team for a tournament that the UAE FA had organized and that day I was scouted for the UAE National team. From then, it went from casually training once a week to 5 times a week. I spent two seasons at Al Wahda Club. Currently, I represent the Abu Dhabi Country Club.
My first game was against Lebanon where I was in the starting lineup and we won the game. It was great!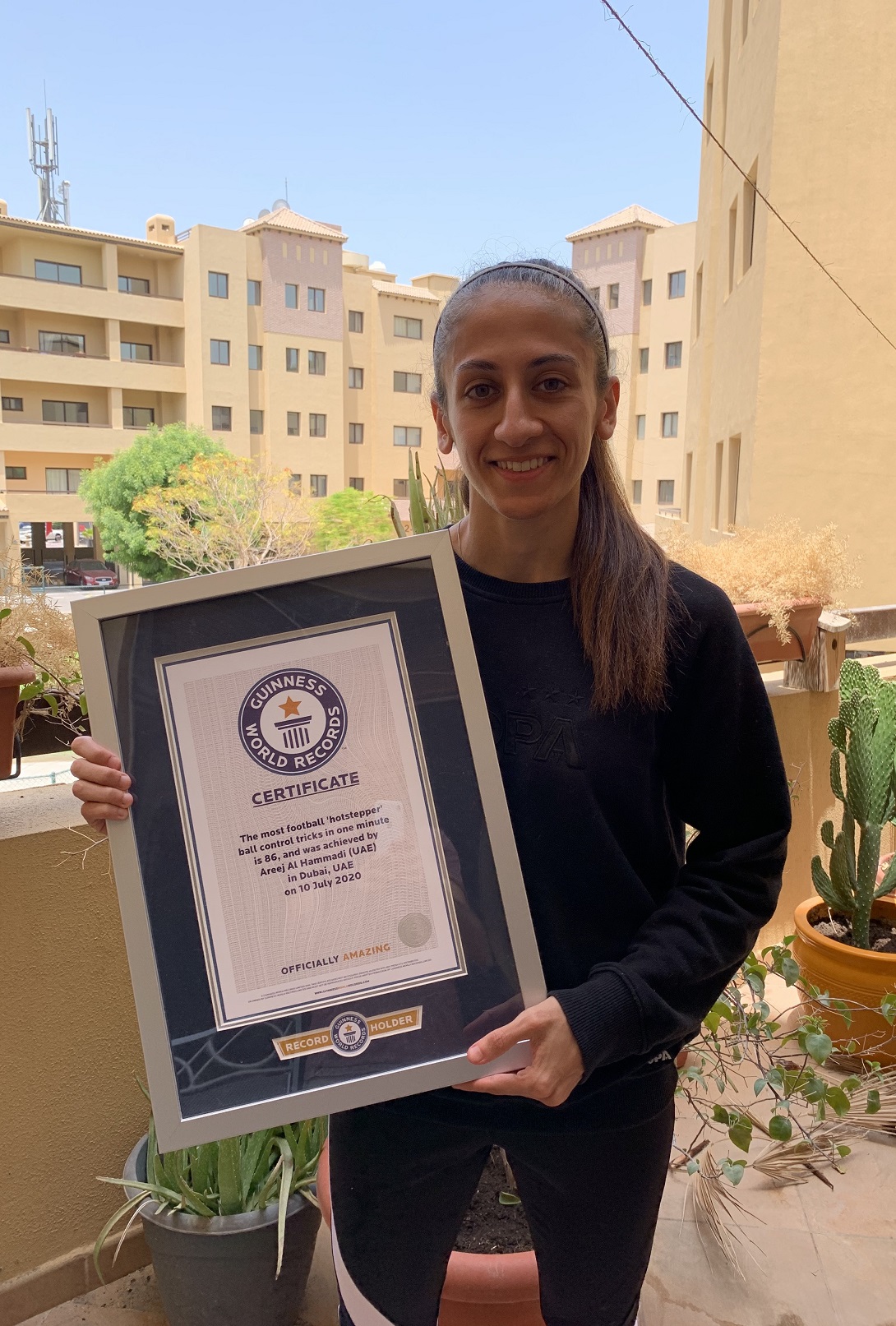 Your Instagram Bio Reads 'Creative By Day, Footballer By Night'- What Does Art Mean To You?
Art is to the mind what football is to the body. Art helps me get various perspectives and derive solutions to problems. On the other hand, sports helps me stay physically and mentally strong. Your artistic side can certainly reflect into sports and that helps in problem-solving because it lets you see things others might not.
Tell Us About Your Guinness World Record Win
As a child, I was always wowed by the Guinness World Records book and was amazed by the achievements. During the lockdown, I was looking for challenges and just wanted to give it a try.
I searched the Guinness database for a record I could break, and was lucky to find one on my favourite sport. This was an opportunity to put Emirati women's football on the world map.
I practiced everyday and made video recordings of my work to analyse my performance. I continued training until I felt I was able to comfortably break the existing record. And finally when I broke the record, it didn't sink in at all. It was only after the news spread that it all sunk in.
How Do You Unwind?
I love playing music and also take up artistic projects over the weekends. I also love hosting social media challenges with my friends. After all, it's important to have fun and enjoy what you do, it keeps you vitalised.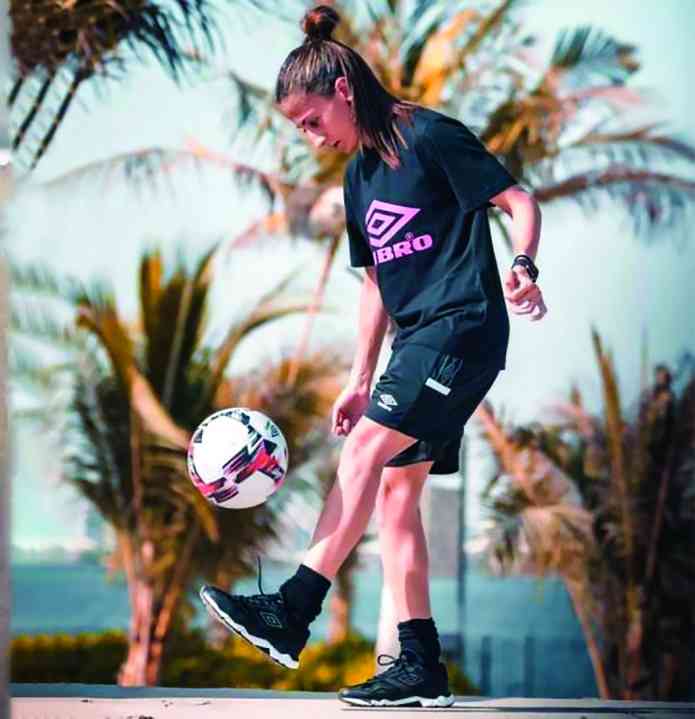 What Was Your Defining Career Moment?
Just being part of the team and singing the national anthem before the game kicks off gives me pride like no other. And of course, winning is a great feeling with your national team. The Guinness World Records title was also a great achievement – being the first Emirati female footballer to achieve a GWR title. It meant putting my name, UAE women's football and my country on the GWR list! It is proof that we do have a lot female football talents in the UAE.
Just being part of the team and singing the national anthem before the game kicks off gives me pride like no other.
What Are The Challenges You Face As A Footballer?
There are still not enough clubs, and not enough people playing. The country still needs more teams and a defined direction. In 2015 there were about eight clubs, but now that number has increased. However, we still have a long way to go especially when we compare ourselves with bigger teams like Jordan, Greece etc. 
What Are Your Future Ambitions?
My dream would be to play in a World Cup.
I also hope to build UAE's women's football representation to the professional level it deserves. Our country has achieved so much in a short span and I dream to see the same applied to women's football too. I would love to see my country represented in the FIFA women's world cup one day. I also want to be a part of that. I want sporting careers to be available to all women, without any cultural friction.