Like every year, the air quality index of Delhi has gone down. Delhi is already witnessing heavy smog due to the crop burning in Punjab, and the smog is only expected to get denser with the Diwali weekend coming up. With the high pollution levels in the city, Diwali is the best time for you to take a clean and green break. Here are the best places to enjoy the season's festivities near Delhi.
Also read: 5 Annual Diwali Activities We Are Missing Like Crazy This Year
1. Tree Of Life, Jaipur
Nestled in the Aravallis, this property is just half-an-hour drive from Jaipur. It has 13 villas spread across seven acres of land, and each villa features a private lawn along with an outdoor pool. Enjoy your Diwali feast by dining at the pool-side restaurant. You can also take your pets along for the getaway as the property has a special pooch area with a bed and food and water bowls. There is also a pet menu that features combinations of meats and veggies. The Tree House Resort In Jaipur Has Cottages Over Water, Glass Floors & Mini Waterfalls.
2. The White Peaks, Uttarakhand
Escape to the mountains and stay in this cottage surrounded by silver oak forests in Uttarakhand. It can be the perfect retreat if you have been looking to escape the hustle and bustle of city life. Cosy up with a book from the house library or find your comfort place near the fireplace. Go for outdoor walks in the morning and soak in the snowy Himalayan views. If all that was not enough to convince you, the price will. You can stay here ₹4,000 per night with all meals included.
3. The Den Corbett Resort & Spa, Uttarakhand
This resort lets you stay close to nature and breathe in all the fresh air. You could either book the treehouse or remain in the den villa if you want more privacy. The den villas and superior suites also come with private pools, and star-gazing beds to take in the night skies. Doubles start from ₹4,500 per night. Here's The Legacy Behind India's First Natural Sanctuary In Uttarakhand, Jim Corbett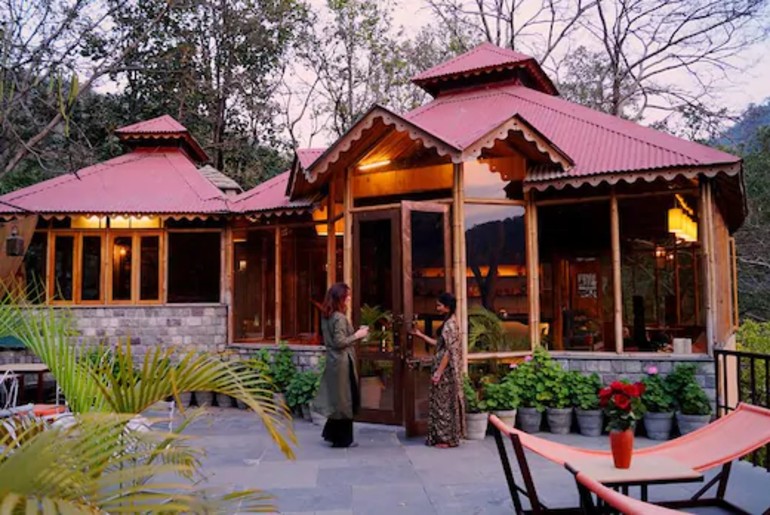 4. MeenaBagh Ratnari, Himachal
Stay in the plastered bungalow of MeenaBagh Ratnari with scenic views of nature. It's an eco-friendly resort which harvests and recycles rainwater, upcycles furniture and has an organic garden for the kitchens. The property is 85km from Shimla and gives you the much-needed seclusion from the maddening crowd of Shimla.
5. The Himalayan Village, Kasol
The Himalayan Village offers you a rustic yet luxurious stay in the hills of Himachal Pradesh. If you are planning to visit Shimla or Kullu, this can be an ideal stay. This is an ancient Kathkunia style resort built with dry stacking stones and wood, devoid of cement. A comfy seating area makes sure you have a wonderful time. Himachal Pradesh Witnesses Large Number Of Tourists; Offbeat Spots & Camping Preferred.
Let this Diwali be a safe and healthy one.