You don't have to plan a trip to Bali, Greece or Maldives to enjoy an Instagrammable meal! The Al Maha Desert Resort and Spa, has now launched a special Floating Breakfast and Lunch tucked in with healthy offerings. Docked in the Dubai Desert Conservation Reserve, this five-star luxury desert resort is the perfect staycation option if you love secluded breaks within the city.  The bedouin-style resort now brings delectable breakfast and lunch trays right into your private pool. Fanceh much, right?

Floating Breakfast
The Al Maha desert resort is synonymous with unmatched luxury. Treat your tastebuds to a royal, floating meal as you soak in the secluded tranquillity of the Royal Arabian desert.
The Bedouin-style resort has unveiled a unique attraction for guests to enjoy in the heart of the desert environment. Guests at the luxury resort can plunge into their private pool and enjoy a special floating breakfast, from 7 am to 10 am, whilst catching a glimpse of the roaming wildlife.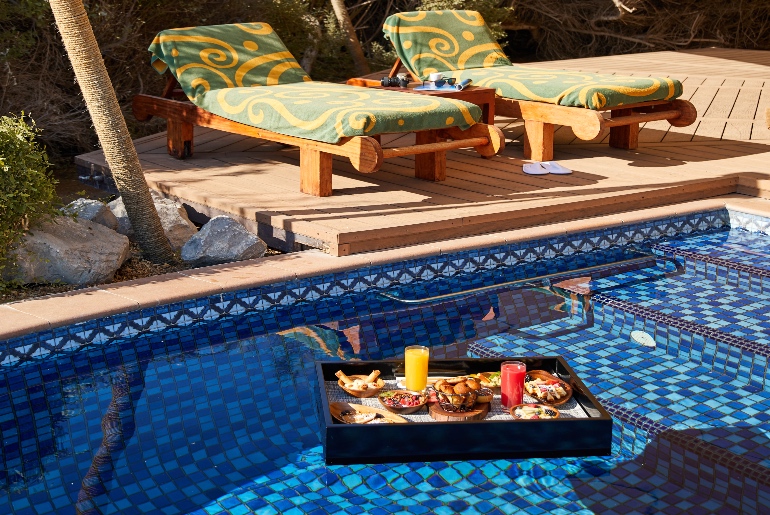 Kick off your day with an assorted selection of bread basket, pancakes, Belgian waffles, handcrafted jams and a fruit platter. Fitness freaks can opt for breakfast bowls, greek yogurt with berries, velvety-soft eggs, or vegetable crudités with fresh guacamole. The breakfast is priced at AED 250 per couple, and AED 850 with a bottle of bubbly.
Floating Healthy Lunch
Late risers can enjoy a meal in the pool too! Bing on an assortment of delicious eats from the Floating Healthy Lunch, between 12:30 pm to 2:30 pm. The healthy indulgence starts with a Cold Mezze Platter and a creamy, smooth Mini Tomato Gazpacho. Offering a choice of vegetarian and non-vegetarian dishes, foodies can expect a selection of nourishing salads, mains and mouthwatering desserts.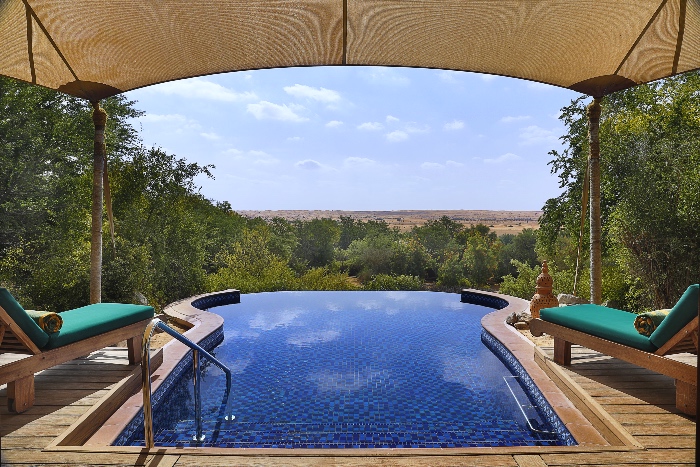 End your floating lunch on a sweet note with the delicious banana and chia pudding or dig into greek yogurt topped with granola and berries. The lunch is priced at AED 350 per couple and AED 950 with a bottle of bubbly.