Under 140 Characters
Ever dreamed of dining while you're suspended in air with a gorgeous view in front of you? Head to UAE's Dinner In The Sky experience. 
What Is It?
What started off as Belgian-based company that provided the marvelous experience of dining in the sky, has now spread to over 40 cities around the globe including Cape Town, Rome, Athens, Kuala Lumpur and the latest being Dubai. Forbes magazine has awarded them the title of giving once in a lifetime opportunity to the audience by inviting them for the meal of their life.
It's not only 'entertainment' in the sky, but also an experience of a lifetime. They have organized meals for corporate launches, promotions, family celebrations and sponsorship activation.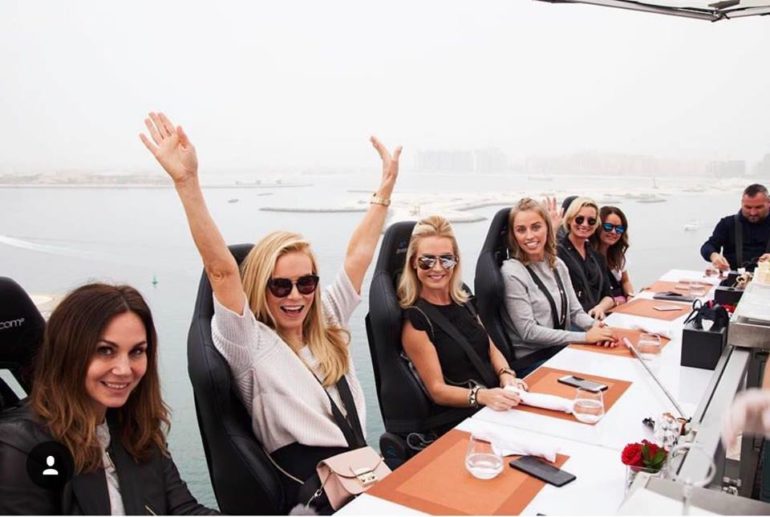 What's In It?
The menu at Diner In The Sky is hosted by the top-notch of Dubai including The Westin and Le Meridien. They have a fixed menu for lunch, afternoon tea and dinner that's catered by these restaurants which is at a fixed price as well. Along with dinner, you can enjoy magic shows and certain events put together just for the audience.
Also read: See Dubai's High Rises In A Luxurious Yacht #InAMinute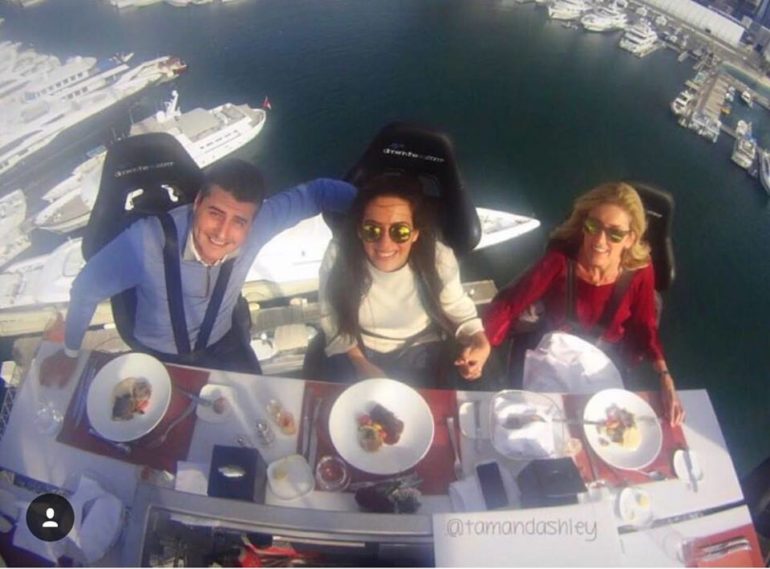 What's Unique?
Dinner In The Sky can be considered as the most unique experience in the history of dining. It is perfect for professional events, private dining experience, cocktail parties, and even family get togethers. 
Also read: Atlantis The Palm In Dubai Is The Ultimate Holiday Destination
What Else?
The facility can accommodate up to 22 people for one session. The dining area is wheelchair accessible as well. It is advised that guests use the washroom before they take their seats because facilities won't be provided while the seats go higher. The seats go up to a height of 40-45 meters and the experience will last for about 90 minutes. In case of untimely rains or irregular weather, the schedule shall be changed or the guests shall be refunded.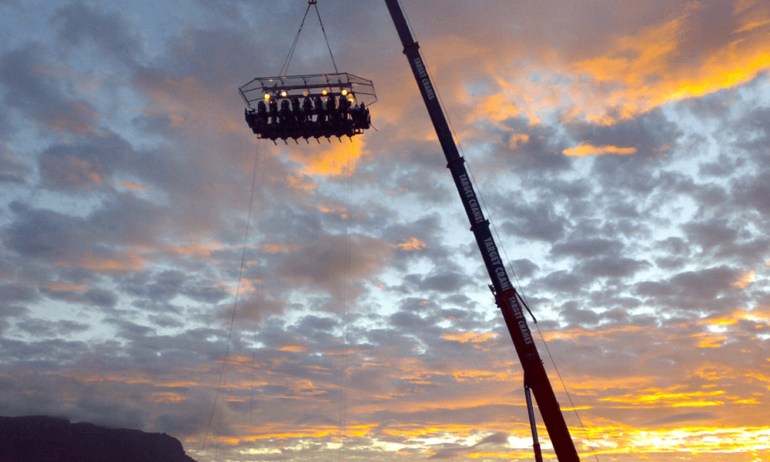 Deets
Approx cost
Lunch(2 sessions): 599 AED on weekdays and 699 AED on weekends
Afternoon tea(One session): 499 AED on weekdays and 599 AED on weekends
Dinner(3 sessions): 749 AED on weekdays and 849 AED on weekends
Find out more here
LIKE Curly Tales on Facebook | Instagram | Twitter
You can subscribe to our newsletters