Dubai reopened borders for international tourists on 7 July. However, with things around us changing by the minute, travellers can expect some changes on their next trip to Dubai. From airport formalities to visiting attractions and accommodations, here's what will be different on your next trip to Dubai.
1. From when can you travel to Dubai?
Dubai reopened borders for international tourists from 7 July. Also, here's how Emirates plans to welcome tourists back to Dubai.
2. What should you prepare for before your flight?
Firstly, all tourists must download the Covid 19 DXB app and upload the required information. All those traveling must also have health insurance and fill out a health declaration form. Passengers must do a PCR test four days ahead of departure date. They must provide proof of the test and the report for testing negative upon arrival. In case they don't, a re-test will be conducted upon arrival.
3. What are the rules to be followed upon arrival?
Upon arrival, all travellers must undergo thermal screenings at the airport. Besides, suspected cases will also be sent for a re-test. Covid-positive tourists must isolate themselves at an institutional facility provided by the government for 14 days at their own expense.
4. What to expect once aboard the flight?
Emirates has now resumed flights between Dubai and 40 other destinations. Once aboard, all passengers will be given a complimentary hygiene kit consisting of mask, gloves, sanitizer, and antibacterial wipes. In order to ensure social distancing, passengers will begin boarding row-by-row from the last to the first in small numbers. Emirates crew will be dressed in personal protective equipment (PPE).
On another note, Emirates plans to resume services to 7 more destinations from July.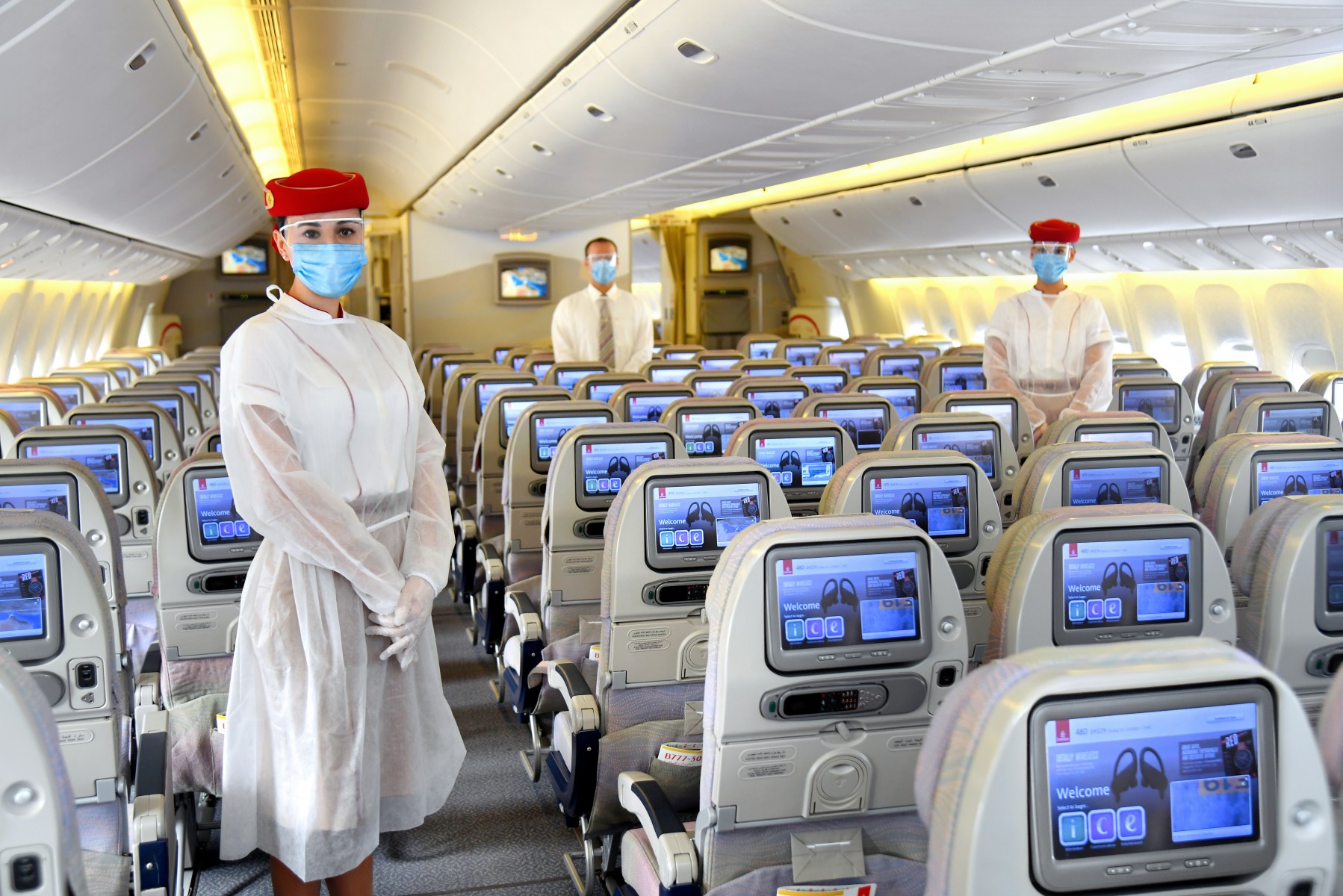 Passengers must check in all luggages, and only essential items such as a laptop, handbag, briefcase or baby items will be permitted on board. Cabin service assistant (CSA) will be deployed on flights over an hour and a half, to ensure toilets are cleaned every 45 minutes.
Pillows, blankets, mattresses, headphones and toys will be hygienically sealed before distributed. Meals will be served in pre-sterilized cutlery and crockery. Passengers must wear masks for the duration of their flight to Dubai.
In other news, Emirates's A380- The World's Largest Passenger Plane Is Returning To The Skies. 
5. What can you expect at hotels in Dubai?
All hotels in Dubai follow strict safety rules. Guests must wear facemask at all times, except when in the pool, eating or exercising. Temperature check will be conducted upon arrival. Further, most restaurants provide contactless menu card as well as serve diners wearing a mask and gloves. Meanwhile, in case you need to quarantine, here are 5 Dubai Hotels You Can Check In For Quarantine Stays.
6. What attractions are open in Dubai?
Dubai is now fully open. All attractions and restaurants are open, but with a cap on the capacity. Malls are allowed to function at 100% capacity. Most restaurants have resumed dine in services and swimming pools, water theme parks, and museums are open with precautions. However, spas are still closed.
All visitors must wear mask at all times, undergo thermal checks before entering public places and follow social distancing rules at all times.