If you've watched the salivating animated film, Ratatouille, you would nod in agreement to how magical cooking, chefs and everything about that world was. A tiny little chef cooking a delicious meal was something out of the ordinary. But here's where that magical experience can actually be a real one for you. Surprised? Well at Le Petit Chef in India located at Celini in the Grand Hyatt Mumbai, you can experience interactive dining, for the very first time. Watch a cute little 3D chef cook an interactive meal for you on your table. This is one heck of an immersive dining experience that is a sensory treat.
What's In It?
Le Petit Chef was a concept created by artists at Belgium based Skullmapping Company. This restaurant was first launched in May 2015. The interactive and unique 3D projects took over social media by storm. People were just amazed to see an extraordinary dining experience that is visually stunning. Le Petit Chef cooks on tables in 5-star restaurants in Russia, Dubai, Singapore, Korea, Spain, France and Japan. And now Le Petit Chef has come to India, bringing with it a unique gastronomical experience. You can witness a tiny 58mm chef cooking your food, on your table using the interactive 3D mapping technology.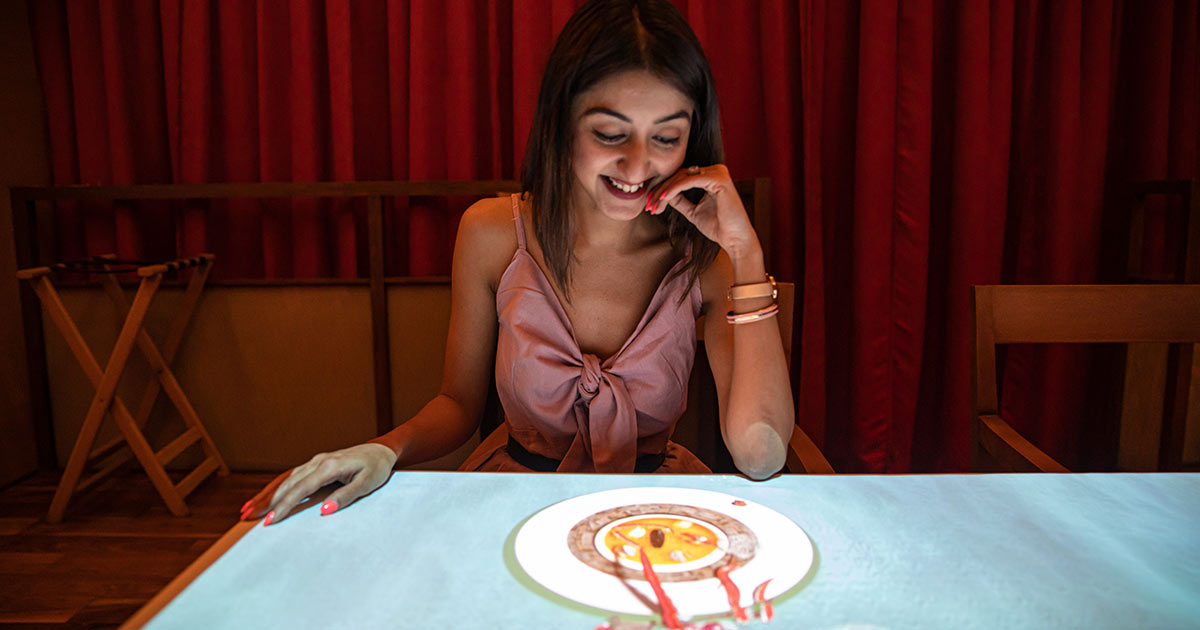 Also Read: Cardboard Cafe In Mumbai Is Made From Just Cardboards!
Interactive Meal At Le Petit Chef In India
When you're here you will be first pampered with a refreshing mocktail or cocktail. Then you can choose from 3 available packages to have your meal. The Vegetarian meal is priced at ₹6999, the Le Petit Chef menu at ₹7999 and the Gourmet Menu at ₹10,999 plus taxes. Once you've chosen your package, have a luxurious 6-course meal along with a drink, which you can enjoy during and after your meal.  Seat yourself in a beautiful room, adorned with rich red curtains, long table with a white table cloth and lovely furniture. The lights would be turned off and the 3D interactive dining experience will take you on a colourful, vibrant, storytelling culinary journey like no other. If you're looking for something unique like this then Indulge In Black Pav Bhaji At This Food Joint In Mumbai
The tiny chef uses cutting edge technology. And you will be immersed in the fun story where you can get a sensory experience of taste, flavours and table patterns. Vegetarians! Do try the salad here, which is refreshing and wholesome. You can witness the interactive chef preparing your salad from scratch right from plucking the herbs from the farm to garnishing it. Apart from the salad, gorge on From The Surf and the Ice Cream. The food is beautifully presented and delectable. It's a tad bit expensive, but this is India's first-ever interactive dining experience, so do give this a shot. You can pamper yourself with exquisite food or even check out these 5 Unique Spa Experiences In Mumbai For 2019
Deets
Address: Grand Hyatt, Off Western Express Highway, Santacruz East, Mumbai
Timings:  12:30 pm to 3 pm and 7 pm to 6 am
Contact: 022 66761149, +91 7045950151