The words 'fashion' and 'design' are practically synonymous with couture and luxury. We are all too familiar with Armani's sharply tailored suits and Versace's avant-garde designs. And when those fine sensibilities are applied to designing larger than life hotels, the results are quite out of this world. These hotels seamlessly meld high design aesthetics with comfort, and add to this are the fashion designers who are the creative minds behind these properties. Here's taking a look at some of the grandest hotels owned by celebrated fashion houses and designers, where we'd love to book our next staycation.
The tallest building in the world, the Burj Khalifa houses Italian fashion designer, Giorgio Armani's hotel. Done up in the signature colour scheme of browns and greys that Armani is so well known for, the hotel exudes sophisticated minimalism. With rooms that offer generous views of Dubai's skyscraper dotted skyline, and a bevvy of gastronomical offerings at the Armani Hashi, Armani Amal, Armani Ristorante and more. And just in case you feel like you are still dreaming when you wake up in your plush hotel room, take a good look at the sugar cubes before popping them into your tea because even these carry Armani's branding. And to add to that, they even serve a cappuccino that is laced with 23-carat gold dust. If this is not the definition of the ultimate high-flyer lifestyle, we don't know what is.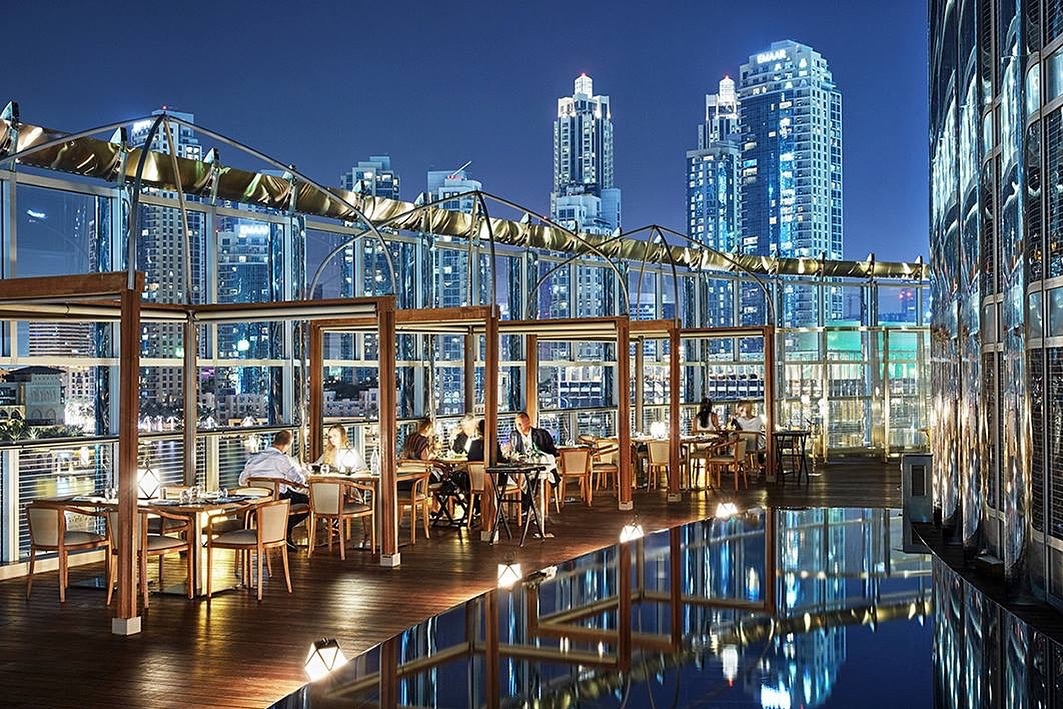 Address: Burj Khalifa, Sheikh Mohammed bin Rashid Blvd, Dubai, United Arab Emirates
Contact: +971 4 888 3888
Avg cost: ₹ 33,430 (varies as per season)
It's no wonder that Bali has been seeing a footfall of roughly 5 million tourists every single year for the past two decades. The Indonesian island that is known for its picturesque beaches, rice paddy fields and azure waters is a hot favourite among celebrities and international tourists alike. Adding to the splendour of the island is the Bvlgari Resort. Set atop a 160-meter-high-cliff near Uluwatu, one of Bali's most sacred temples, the resort overlooks its own private beach and is the epitome of luxury. Staying here means having a private villa of your own and waking up to the sight of the tide turning in. What we love about the gorgeous rooms is that they are constructed of local, hand-cut volcanic stone and come with traditional bamboo roofs, to give you a taste of local Balinese living. As you kick back under the Balinese sun, you can experience Italian hospitality at its best. The marriage of cool contemporary European design and tropical heat makes for the triumphant meeting of East and West.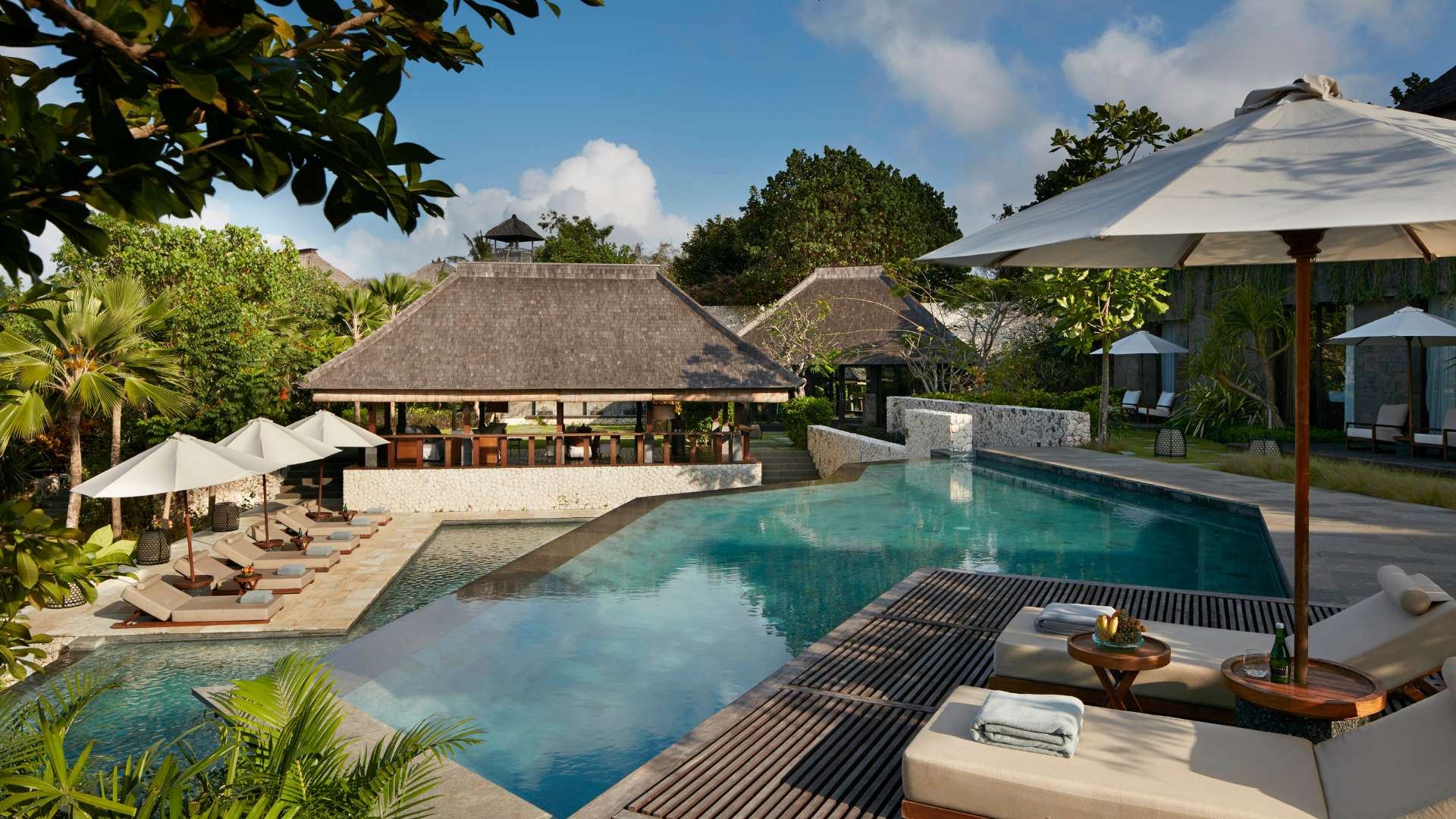 Address: Jl. Goa Lempeh Banjar Dinas Kangin Uluwatu, Badung, Bali, Indonesia
Contact: +62 361 8471000
Avg cost: ₹ 63,100 (varies as per season)
Been dreaming of a Roman Holiday? Located plonk in the heart of the cosmopolitan city of gladiators, fountains, and jaw-dropping architecture is Fendi's very own boutique hotel. A hop, skip and jump away from the Trevi fountain, not only is the hotel a great shopping destination but also a perfect spot to luxuriate in one of the private suites. Indulge in an aperitivo at Zuma, the rooftop hotel as you take in the splendour and history of the city. The interiors are tastefully done in classic Fendi fashion in the form of subdued neutral decor and even houses some of Karl Lagerfeld's original platinum prints of the Roman fountains.
Address: Via della Fontanella di Borghese, Rome, Italy
Contact: +39 06 9779 8080
Avg cost: ₹ 78,925 (varies as per season)
The first thing you notice as you take in the architecture of the Palazzo Versace is the iconic head of Medusa that has long served as the brand's mascot. Situated in the scenic Gold Coast, the luxury hotel which pays homage to Versace's founder, Gianni Versace boasts of exclusive waterfront property and palatial rooms that emanate old-school glamour. Designed to make you feel like royalty, the hotel has culinary gems like Vanitas, Il Barocco and Le Jardin where you can indulge your taste buds in some fresh Australian produce and over the top high-teas.
Address: 94 Seaworld Dr, Main Beach QLD 4217, Australia
Contact: +61 7 5509 8000
Avg cost: ₹ 23,871 (varies as per season)
The fashion industry was shaken from its foundation when legendary designer Karl Lagerfeld passed away earlier this year. However, his spirit and genius continue residing at the Grands Appartements at Hotel de Crillon. The two suites designed by Lagerfeld are situated on the fourth floor and overlook the architectural wonders of the city of Paris including the Eiffel Tower. As a connoisseur of the 18th century, Lagerfeld's personal taste and aesthetics are reflected in the interiors of the suites that are done up with grand light fixtures. The drapes and furniture are also a perfect combinations of French opulence and modernity.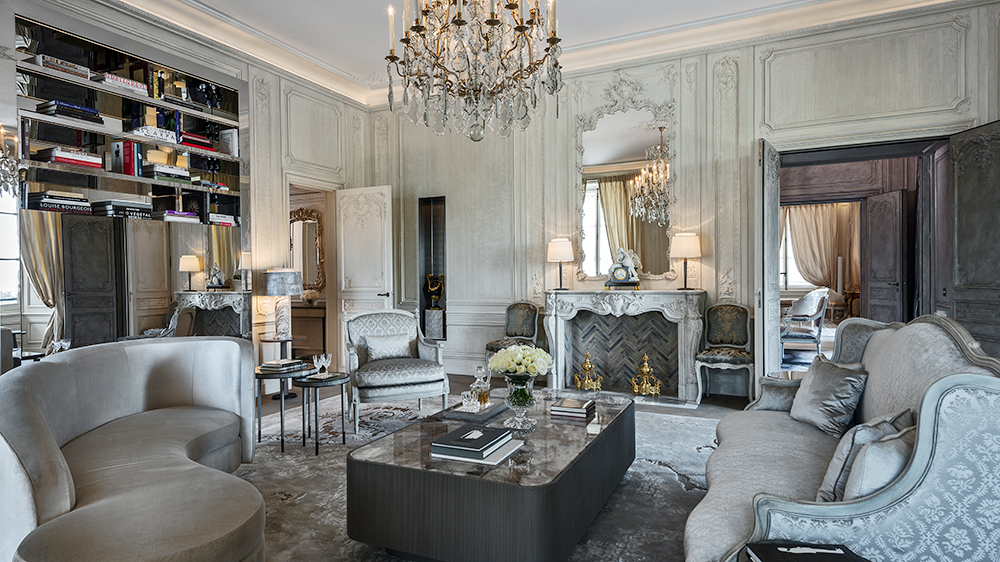 Address: 10 Place de la Concorde, 75008 Paris, France
Contact: +33 1 44 71 15 00
Avg cost: ₹ 11.96 lakhs (varies as per season)
The lush landscape of Punta Cana in the Dominican Republic is home to Oscar De La Renta's first hotel. With 30 suites and 13 bright beachfront villas designed by De La Renta himself, Tortuga Bay is as good as it gets. The late designer wanted the hotel to be unbelievably comfortable and have people come back time and again, and it sure manages to uphold that reputation. Laze on the sandy Caribbean beaches, or play a round of golf at the resort's championship course, or simply tuck into some delicious seafood. Punta Cana is a bit of an unexplored gem and its kudos to Oscar De la Renta for putting it on the map. There's plenty to do here, without really having to step out.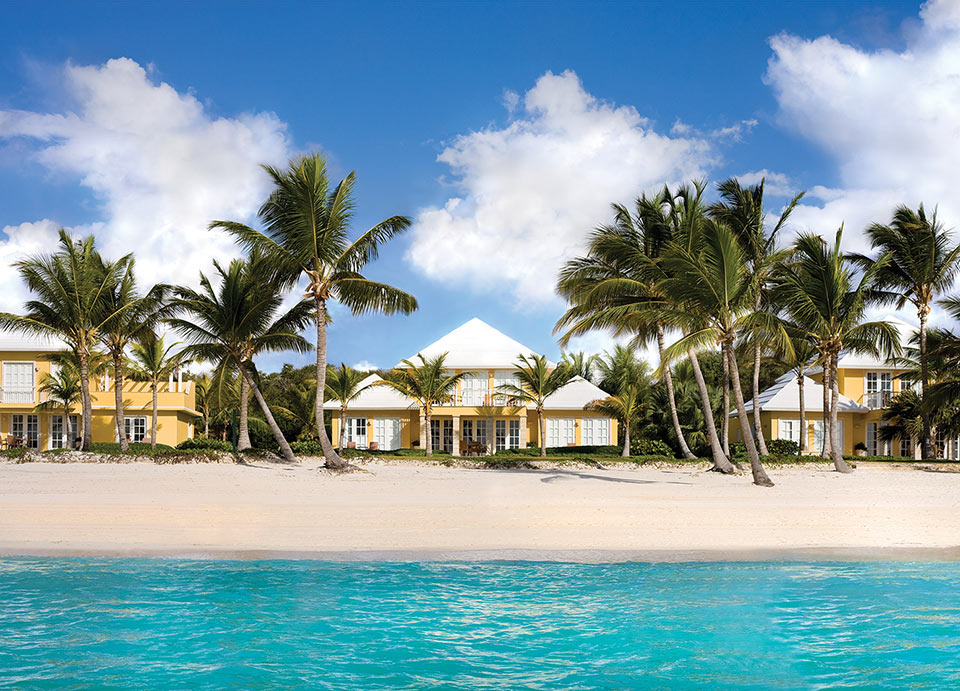 Address: Punta Cana Resort & Golf Club, Higüey 23000, Dominican Republic
Contact: +1 809-959-8229
Avg cost: ₹ 62,167 (varies as per season)
Once a favourite haunt of Coco Chanel who called the suite her home for 34 years, the Coco Chanel Suite at The Ritz is now deemed as one of the most expensive hotel rooms in the world. Having spent a significant part of her life here, it's no wonder that the suite was personally decorated by Coco herself. The colour palette of the room is muted with shades of beige, white and splashes of black. Its refurbishment was carried out by the late Chanel creative director Karl Lagerfeld and boasts of an ornate fireplace, high ceilings and glass chandeliers. So, if you feel like staying in Coco's shrine then it doesn't get better than this.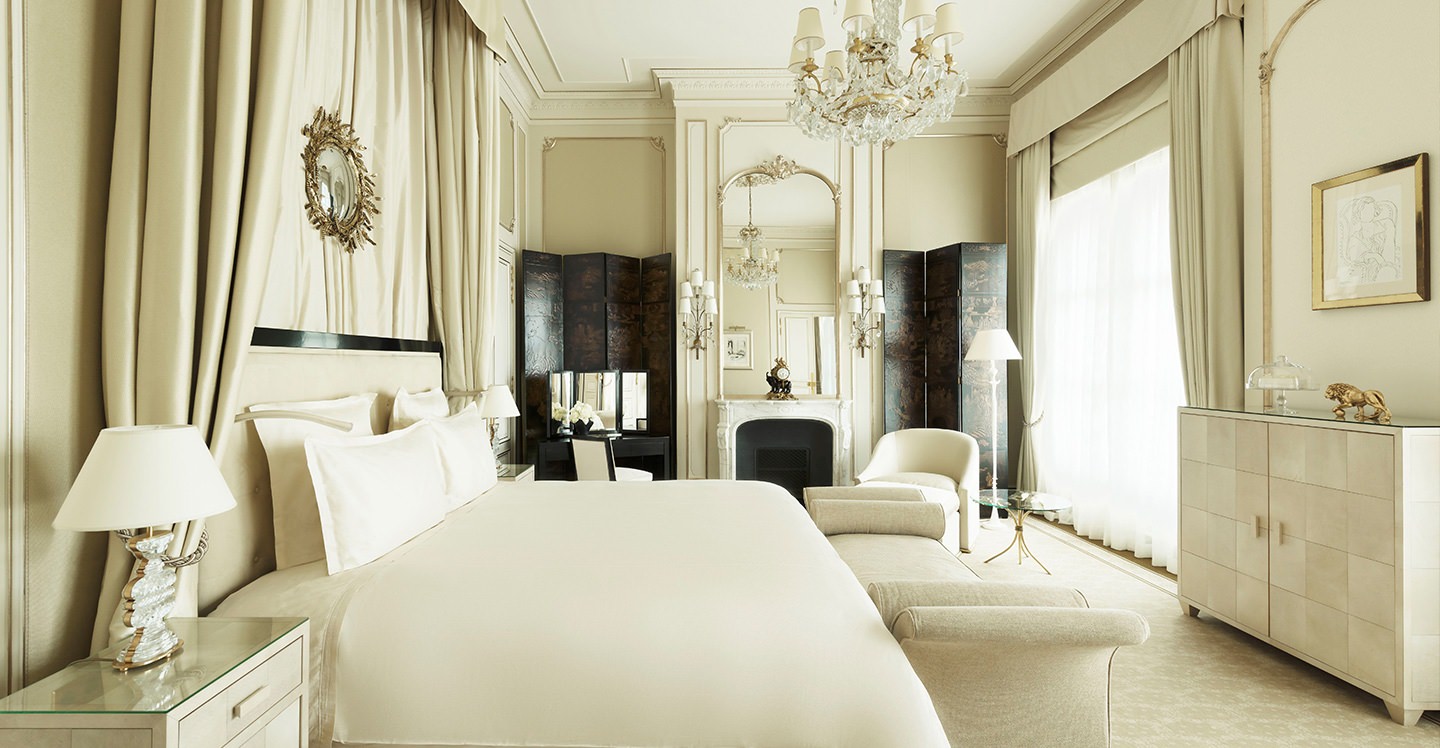 Address: 15 Place Vendôme, 75001 Paris, France
Contact: +33 1 43 16 30 30
Avg cost: ₹ 14.37 lakhs (varies as per season)
Fancy some Parisian glitz and glamour while you are holidaying in the Big Apple? You don't need to look further than The St. Regis then. The Dior Suite which is spread across 1700 sqft has been done up with mirrors and sconces. It also features the Lady Dior cannage across the suite and with 24-hour butler service, it is the place to be when you need some downtime while still being right at the centre of the action, for the suite looks down on the lush Central Park.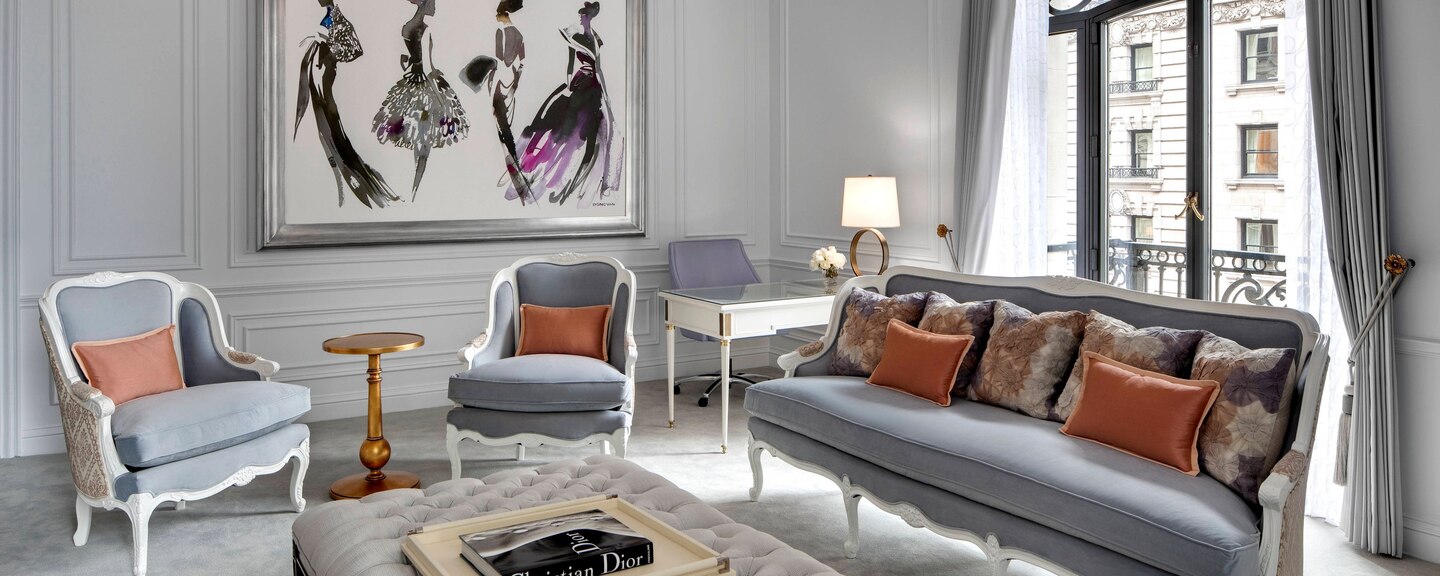 Address: Two East 55th Street At, 5th Ave, New York, United States
Contact: +1 (212) 339-6717
Avg cost: ₹7.83 lakhs  (varies as per season)