Aren't food and travel life's simplest yet greatest pleasures? Honestly, both, in their individual capacities, have the ability to transform life's dullest moments into the most happiest and memorable ones. Whether you're having a bad day or things just don't feel right, one tub of your favorite ice cream can fix the worst of times. Similarly, reminiscing an old travel tale can bring the biggest and brightest smile to your face. Both food and travel hence play such an indispensable part of our lives that imagining a life without them seems rather tough. Do you know More Than 90 Percent Of Travel Destinations In The World Are Now Off-Limit For Tourists?
5 Food And Travel Podcasts You Must Listen To
With the current pandemic scenario, things are seeming pretty grim. And although social media is flooded with some amazing travel and food content, both of them entail such massive sensory experiences that they require a whole lot more than the regular visual content to make us feel good. So we at Curly Tales decided to make you a list of some of the best podcasts that revolve around the two. And no, they're not your usual boring podcasts. Rather, they're raw, inspirational, enlightening, funny, and most of all heartwarming stories about places, people and food. So sit back and relax as we take you through the most magical conversations about food and travel.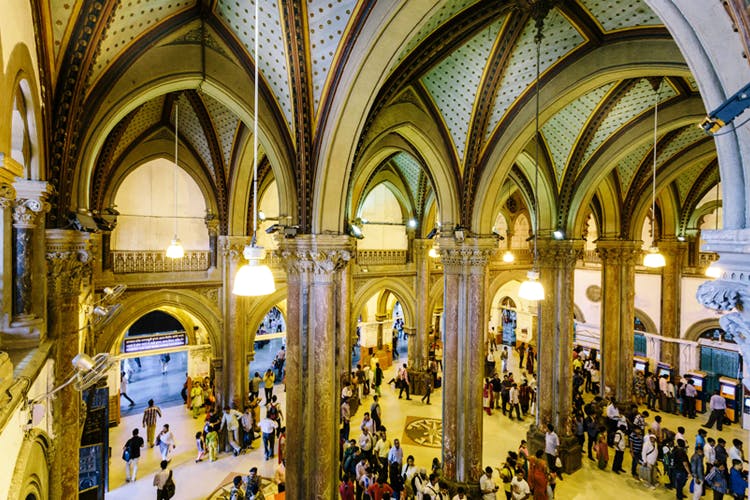 1. Agla Station Podcast
If you're a Mumbaikar and miss travelling by the locals, this one's for you! Hosted by Priyanka Ganwani, the podcast takes you around some of the most iconic railway stations in Mumbai. Each episode delves into the rich history of these monumental stations, and reveals its well-kept secrets, including the hidden food gems that are comfortably tucked around these stations. As part of this stimulating journey, you'll hear the familiar sound of local train announcements, trains leaving the station and of course the general chaos caused by the hubhub of the millions that travel by it. Also, if you've ever wondered how much it takes to keep these monumental stations up and running, these podcasts will make for an excellent hear. The host engages in conversations with commuters, station staff and even hawkers, who share some really heartfelt stories, making this podcast one of the most real and enlightening accounts ever.
Listen to it here.
2. Street Stories – Dalbir Kaur
While most people like to hang their boots post-60, one superwoman believed it was time to follow her passion and start a business all by herself – just for the simple joy of feeding people. Coming from a seemingly good family, with well-settled children, Dalbir decided to open up a dhaba for the love of food and cooking. Street Stories' host, Trishana Goswami, engages in a conversation with this wonderful woman, and tries to understand her passion for cooking. Listen to her and follow her journey, and trust us, you'll be more than inspired to follow yours. Also, the lady makes an ingenious dish called the Kadhai paratha. Never heard of it? Well, you'll only know if you listen to the podcast. So go NOW.
Listen to it here.
Street Stories Ep. 8 Dalbir Kaur (65 Yr Old Runs Her Own Dhaba)
3. Street Stories – Satish
This street story about a vada pav seller and the city of Mumbai will emotionally stir you. It follows the life of Satish, who has been selling vada pav for the past 30 years near Sion Circle. When Satish lost his job that gave him his daily bread for years, he had to face the worst of days. No job meant no food, and his family saw days where they were forced to divide a vada into 4 pieces just to have a day's square meal. Understanding the importance of food for the underprivileged, Satish now sells vada pav for just 5 bucks for school-going and poor children.
Not only does this story capture the spirit and passion of Satish but also showcases the importance of the vada pav, the humble food on which thousands survive in Mumbai.
Listen to it here.
Also Read: #CTCraves: Street Food From Mohammed Ali Road We Are Missing Right Now
4. Sunday Brunch – Virat Kohli
Looking for some lighthearted food and travel banter, look no further. In this series-turned-podcast, one of India's widely-loved cricketers, Virat Kohli, gets utterly candid with Kamiya Jani and confesses his love for food and travel. The Punjabi munda talks about how food formed the focal point of all discussions in his household and how growing up in Delhi turned him into a massive foodie. Virat also talks about his passion for travelling, exploring different cuisines, and also reveals his favorite travel destination and favorite travel companion. Itching to find out who? Then you must hear this one out!
Listen to it here.
4. Sunday Brunch – Sonkashi Sinha
Always wanted to hear a celebrity talk candidly about nothing but food and travel? Well, Sonakshi Sinha is your girl. In this podcast with Kamiya Jani, Sonakshi talks about her first true love – food. And how street food like schezwan noodles, cheese pav bhaji and schezwan cheese dosa formed an integral part of her school and college days. The actor also admits how even during international trips, she is one person to look for Indian food everywhere. Speaking about travel, Sonakshi talks about how her profession has allowed her to explore several parts of India and how stunned she was by India's unparalleled beauty. This one's super chatty and fun, so don't miss it! Also, if you're looking to explore India in the future, these are the Top 15 International Travel Experiences In India.
Listen to it here.
Also Read: This 99-Yr Old-'Phuppi' From Mumbai Is Preparing Food For Migrants
So what are you waiting for? Plug in those earphones and lose yourself in the world of food and travel!