It is that time of the year again, where you hear chants of 'Ganpati Bappa Morya' across streets, aartis, relish delicious modaks and go pandal hopping with your friends and family. We have combined a list of best Ganesh pandals in Mumbai and you must not miss out on these! You will be amazed at the amount of effort these Ganesh Pandals take and hence to appreciate this, go pay your tributes!
1. Lalbaug Cha Raja, Lalbaug
Lalbaug Cha Raja is one of the most celebrated pandal in the city. Every year thousands of people from even the remotest corners of the world come to pay their tributes. It is believed that all your wishes come true and you are granted everything you ever wanted by just coming here. People stand in a long line for hours just to take a glimpse of the idol. You will be awestruck looking at the majestic Ganesh murti and the decor in the pandal. This year's theme is Chandrayaan 2, the pandal is decorated with little space items, little astronaut dummies, and the beautiful colors.
You can reach Lalbaug by getting down at Byculla station, Parel, Dadar, and even Chinchpokli. You can take any local transport to reach here at the pandal.
Also Read: 13 Places To Visit In Mumbai
Address: 3, Dr Baba Saheb Ambedkar Rd, Shree Ganesh Nagar, Lal Baug, Parel, Mumbai, Maharashtra 400012
Here are the directions to reach the pandal.
Also Read: Visit Mumbai's Top 10 Iconic Attractions Now
2. GSB Ganpati, Matunga
GSB – Goud Saraswat Brahmin is one of the richest pandals in the city. They host this festival like nobody else, the Ganpati is loaded with gold ornaments and the decor adds more beauty to the idol. It is Matunga's pride and the highlight of this pandal here are the dance and musical performances, dramas and mime acts performed on the stage. The celebrations here have a touch of Karnataka as the community was founded there. Come here to experience the most authentic way of celebrating Ganesh Chaturthi. Unlike other pandals, GSB's Ganpati stays only for a period of 5 days. The closest station to the pandal is Matunga and once you reach the station you can take a cab till there.
Address: 65, 11, Rafi Ahmed Kidwai Rd, Matunga, Mumbai, Maharashtra 400019
Here are the directions to reach the pandal. 
3. Andheri Cha Raja, Andheri
Andheri Cha Raja is one of the oldest pandals in the city and it was started by employees of Tata Special Steel and Excel Industries. Andheri cha Raja is also known to be 'Navasacha Ganpati,' which means he grants wishes to his devotees. Once there was a strike at Tata Steel Company and the employees prayed for favourable results, and it worked! Their prayers had come true. Ever since that day, this is one of the most loved Ganesha in Andheri.
This one pandal is a favourite of Bollywood celebrities. Every year you will find renowned singers and actors come here and seek blessings. You can take a cab or a bus from Andheri station to reach here.
Address: D-67, 1312, Azad Nagar II, Veera Desai Road, Andheri (west), Mumbai, Maharashtra 400053
Here are the directions to reach the pandal.
4. Chinatmani, Chinchpokli
This year is very special as it is their 99th year! The celebrations are in full swing. Every year when the Ganesh idol comes into the pandal for the first time, there is a whole different level of energy. People from everywhere come to the streets to take a look at the murti, they dance to the beats and it is one of the best feelings. So many people rejoice the welcome of their beloved Bappa. This is one of the best Ganesh pandals in Mumbai and you must not miss out on this. You can reach here by getting down at Byculla, Dadar, Parel or Chinchpokli station and take a cab or bus from there.
Here is a video of this year's welcome ceremony of Chinchpokli's Chintamani.
Address: Chinchpokli, Mumbai, Maharashtra 400012
Here are the directions to reach the pandal. 
Also Read: Top 10 Breathtaking Beaches Of Mumbai
5. Ganesh Galli, Lalbaug
Ganesh Galli is another pandal that you cannot miss out on. The Mandal people make sure they have a very unique theme every year. The Ganesh Idol is very artistic, the structure is majestic and every year the idol is seen sitting on a different animal. The next thing to look forward to here is the decor, both from inside and outside the pandal, it is absolutely stunning! This year it is the 93rd year of the pandal. This one is super close to Lalbaug Cha Raja. You can reach here by getting down at Parel, Dadar or Byculla station and then take a cab from there.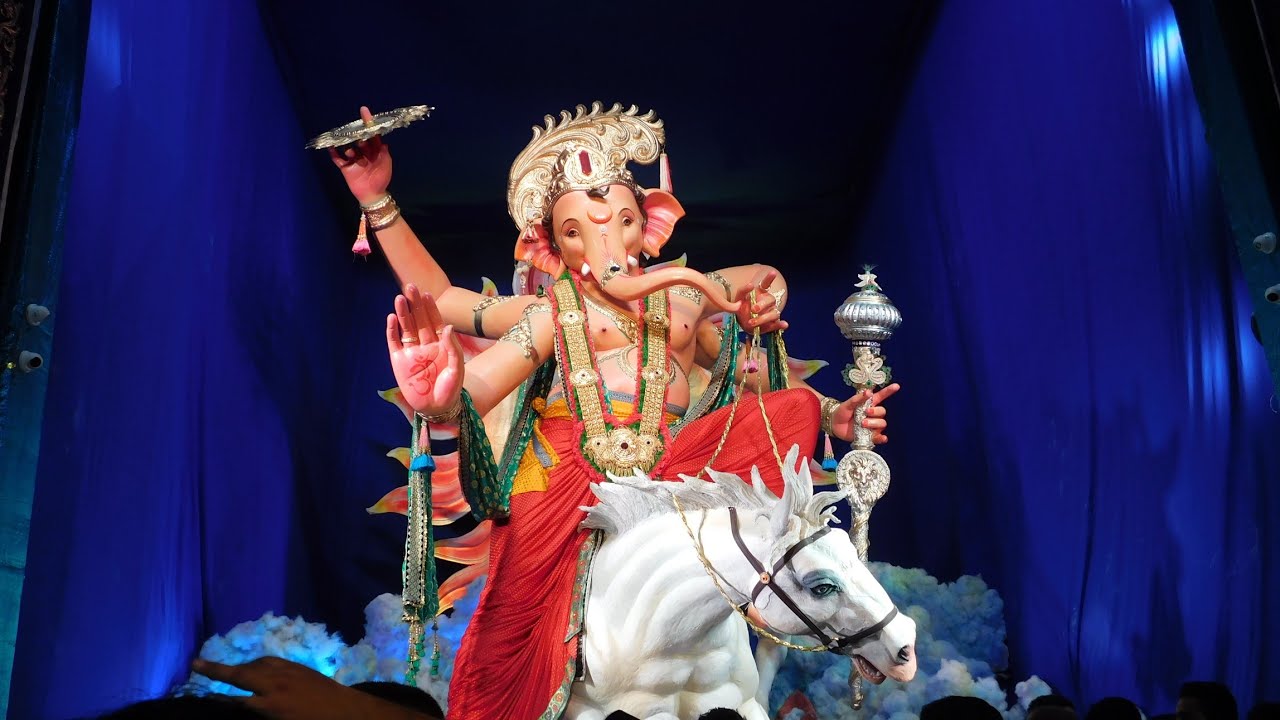 Address: 1, Ganesh Ln, Lal Baug, Parel, Mumbai, Maharashtra 400012
Here are the directions to reach the pandal. 
6. Tejukaya Ganesh Utsav Mandal, Lalbaug
This is a special one! The entire idol is eco-friendly, it is made of bamboo sticks, paper and all eco-friendly items. And the idol is 22 feet tall! They are going green this year and it will be an absolute delight to visit this pandal. Workers have worked for over 6 months to make this idol and the decor around, will also be eco-friendly. It is being said that the base of this murti will dissolve in less than 45 minutes. Do come here and let us know how your experience was. As the pandal is in Lalbaug, the closest station to reach here is Dadar, Parel and Byculla.
Address: Tejukaya Building, Ganesh Lane, Ganesh Gully, Parel, Mumbai, Maharashtra
Here are the directions to reach the pandal. 
7. Khetwadi Cha Raja, Grant Road
Grant Road's Khetwadi Cha Raja is seated on two bulls this year and I'm mesmerised just looking at this massive structure. This is South Mumbai's most celebrated Ganesha and as you can see in the video below, it attracts a lot of devotees. This is a must-visit Ganesh pandal in Mumbai. You can get down at grant road railway station to reach the pandal.
Address: Grant Road Khetwadi Back Road &, 12th lane Sarvajanik Ganeshotsav Mandal, 17, Cambhay House, Shop No. 8, 12th Khetwadi Lane, Mumbai, Maharashtra 400004
Here are the directions to reach the pandal. 
Do let us know in the comments below if we missed out on Ganesh Pandals in Mumbai.