There is so much about Mumbai that we just cannot stop talking about, be it the beautiful architecture, the majestic monuments, the lip-smacking street food, or just the hustle and bustle of the city that never makes us feel alone. Now everyone says that this city never sleeps, but I also believe that this city is like an unstoppable force even at 11 in the night when everyone is returning home or at 4 am when we see the newspaper vendor, Doodh wale uncle and all the people who run small stalls. Let's take time out today to know about the beaches of Mumbai which are in fact the most favored spot to spend time with family or even with friends. Do you know the best thing about the beaches? It is not just the sunset, my friends. The waves, they have this unparallel force I think, when they are nearing they give you the hopes and dreams and motivation to achieve everything in life and when they are moving towards the sea, they just take back all your problems with them. And Mumbai has some amazing beaches to sit back, relax and see life happening in front of you.
Also Read: Sea Turtles Spotted On Mumbai Beach After 20-Year Absence
1. Girgoan Chowpatty
Girgoan Chowpatty is the most crowded beach, every time you go. Here you will have to struggle to find a good spot under the coconut tree. A lot fo Mumbaikars, I mean it when I say a lot, they all come down here to spend a good time with family. The beach is very shabby and unclean, don't go if you are not big on the crowd and their chatter. But here also street food comes to your rescue! Here, you will find the best juice store in town called Bachelors! Apart from their juices, the next best thing is their shakes, sandwiches, and milkshakes topped with ice creams are also recommended.
 Also Read: Drive Down To This Lesser Known Beach In Mumbai
https://www.youtube.com/watch?v=8xfhGrCLdvk
How To Reach Girgoan Chowpatty: The closest station to Girgoan Chowpatty is Charni Road, it is literally a 5-minute walk from the station. The next closest station is Churchgate, from here you can take a cab to Girgoan Chowpatty. There are also a number of buses from Churchgate and a few from CSMT station.
Also Read: The Perfect Weekend Getaway At This Beach Resort Igloo House
2. Versova Beach
Now that Versova has become a metro station, it is very easy to go to Versova Beach! Versova Beach has recently been cleaned and has come back to its glory and it is one of the best places to spend some quality time. Since it is not in the town, the beach is a little less crowded! Here watching sunsets are magical! A lot of locals come here, kids play volleyball or cricket here. It is very well connected to Andheri, Versova, and even Santa Cruz. The fisher of Versova come here early morning to fish and take back a good amount that they can sell the entire day.
How To Reach Versova Beach: The closest station to Versova beach is Andheri, you can take a cab which will take you not more than 10 minutes to reach here. Another option is taking a metro to Versova station, it is within walking distance! There are buses from Andheri station that take you to the Versova beach.
Also Read: I Found A Cheaper Version Of Goa Called Tarkarli!
3. Vasai Beach
The residents of Vasai also call this beach as Mini Goa. As not many people know about this beach, it is super clean! Vasai is far from the main city of Mumbai, it falls in the suburban areas. The beach has tall coconut trees alongside the highway! This secluded beach will give you the most peaceful sunset and a stroll along the beach is very refreshing.
How To Reach Vasai Beach: You can take a train to Vasai, it is on the far end of the western railway. From Vasai station, the local transport like autos will take you here. It is a little far from the station and will take 25-30 minutes to reach.
Also Read: I Went To Diveagar- A Hidden Gem In Maharashtra!
4. Madh Island Beach
Madh Island is a famous spot among youngsters as it is a party location and is also a famous shoot location for Bollywood films. If you are tired of beaches, you can also visit the Madh Fort which is really old and was built by Portuguese in the 17th century. You can also take a short detour to Erangal Village and spend the day doing absolutely the best thing! Munching on some good fish food.
Also Read: We Found India's Only Drive-In Beach And Here Are The Deets
How To Reach Madh Island Beach: You can take buses from Malad to reach Madh, or take an auto or a cab. You can even take a ferry boat from Versova. The drive from town is an easier option, it will take around 40-50 minutes this is still excluding the traffic.
Also Read: Pithrody Beach In Karnataka Lies Between A River And A Sea
5. Dadar Chowpatty
 The best view from Dadar Chowpatty is of the stretch of the giant Bandra Worli Sea Link. The sunsets and evenings at Dadar Chowpatty are absolutely mystical! The entire Bandra Worli Sea Link is lit up beautifully in the evening! There are a lot of places where you can eat around, Dadar is a crowded area and there are a lot of places where you can munch on the street food.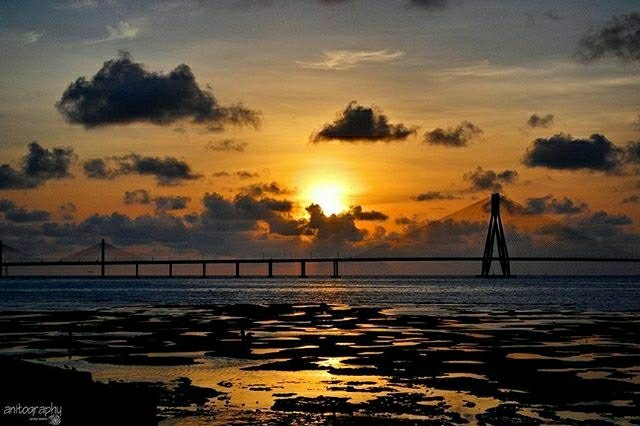 How To Reach Dadar Chowpatty: It is walking distance from Dadar Station, it is around 2kms. You can come to Dadar Station from Central Railway, it is closer to CSMT station.
6. Aksa Beach
Aksa Beach is one of the untouched beaches in the city, it is away from the chaos and hustle bustle. Here you can relax and come for a picnic. Aksa Beach is located in Malad which falls on the outskirts of the city and hence is a peaceful location to spend the weekend. The mesmerizing coastline of Aksa beach lets you experience a surreal evening!
Also, here's a fun time when Salman Khan wanted to take Priyanka Chopra to check out Aksa Beach 😛
How To Reach Aksa Beach: Malad station is the closest to Aksha Beach, you can take the local transport like the buses and autos to come here. It is barely a 15-minute drive from station to the beach.
Also Read: Head To Vasind Near Mumbai For Your Next Weekend Getaway
7. Marve Beach
Marve is another beach in Malad, it is unpopular and also unexplored by Mumbaikar. We always tend to visit places that are the top tourist attractions. But taking a break and coming to a place where you have a lot to explore is really fun. It is known for Ferry services to Essel World and Water Kingdom, the rest of the time the beach is mostly not being visited by anyone.
How To Reach Marve Beach:  You can drive onto the Ferry to Manori Island. Malad is the closest station to Marve beach and can be reached by BEST bus no 272. Autorickshaws and taxis are available for a quick ride.
8. Gorai Beach
Gorai Beach is located in Borivali and the beach is surrounded all over with tall coconut trees and loved by the locals. In the evening, while you are waiting for the sunset you can munch of some good healthy snacks like Bhutta (Roasted corn), Chanajor Garam, a tasty little snack made by adding raw mango and some tomatoes and onion sprinkles. During Ganesh Chaturthi, people come here from Visarjan which is the immersion of Ganesh Idols in the sea water.
How To Reach Gorai Beach: Gorai Beach is accessible from Borivali and Bhayandar. You can take an auto or a bus from either of the stations, it is not more than 15 minutes.
Also Read: A Luxury Caravan Stay At Sai Vishram On Someshwara Beach

9. Manori Beach
Manori beach is located on the northern side of Mumbai. It is closer to Malad and Borivali stations and one can take a ferry to reach Manori. This beach really clean, like Monica Geller clean and I, would definitely recommend going here for a weekend rather than the crowded beaches in town.  It is surrounded by lush greenery on one side and the beautiful sea on the other. A perfect cozy getaway! 

How To Reach Manori Beach: The closest station to Manori beach is Malad and Borivali. It is a 15-minute auto ride from either of the stations. It is just 40 km from the main city of Mumbai and one can easily drive to this place.
Beaches, magical sunsets, and beautiful conversations are what make a perfect weekend.
10. Juhu Beach
Well, Juhu beach is one of the most famous beaches in Mumbai and if I may mention one of the few beaches that are less crowded, which indirectly makes it clean. There are various activities that you can do while you are here, you can take a horseback ride, eat street food and admire the beautiful sunset. It is one of the most known beaches because of the Visarjan (immersion of Ganesh idol into the sea) during Ganesh Chaturthi. During the festival, hundreds of people come to Juhu beach to witness the Visarjan, as it is one of the holy rituals. There is a Chowpatty attached to the beach, you can eat all kinds of street food here. Right from the famous Pav Bhaji to some non-veg starters.
How To Reach Juhu Beach: If you are traveling by railways, there is no direct train that will take you to Juhu. You can get down at Santacruz station as it is the closest. From Santacruz, you can take a cab which will cost you between ₹20-25. It takes 10-15 minutes to reach Juhu from Santacruz.