Are you a spiritually inclined person who is seeking a calming vacation in the heart of Rishikesh? Then a stay in the Geeta Bhawan Swargashram will merge with the symphonies of your soul. Nestled in the lap of the Himalayas right on the banks of the mighty Ganges, the ashram is a holistic place to experience spirituality in its best form. The complex of the Geeta Bhawan has the Laxmi Narayan shrine. The ashram comprises over 1000 rooms and offers free lodging for devotees by the holy river.
Witness Ganga Aarti At The Ashram In The Evening
Geeta Bhawan has spacious halls for meditation and chanting discourses. In the evening, the spectacular Ganga aarti takes place on the ghats next to the ashram. The diyas, the smell of incense sticks and the pious hymns during the aarti will harmonise your soul with the ebb and flow of the river. Guests at Geeta Bhawan can enjoy freshly cooked local vegetarian meals at highly affordable prices. A breakfast with puri, sabzi and other local food items would cost you just ₹30 here. Dinner is available at ₹50 per person and includes chapati, rice, sabzi and dal.
Also Read: 5 Cave Waterfalls You Must Visit On Your Next Trip To Rishikesh
Hoard Handicraft Pieces, Spiritual Books And Ayurvedic Medicines
A broad selection of books on spirituality and wisdom by the Gita Press is available in the book store at Geeta Bhawan.  Visitors can also hoard unique handicraft pieces from a store here to carry them back as souvenirs. Along with these, the ashram has an ayurvedic department too. According to the ashram's website, medicines are prepared in its ayurvedic department by using the Ganges water and special Himalayan herbs. Soul-striking satsangs also take place here that draw devotees from far and wide.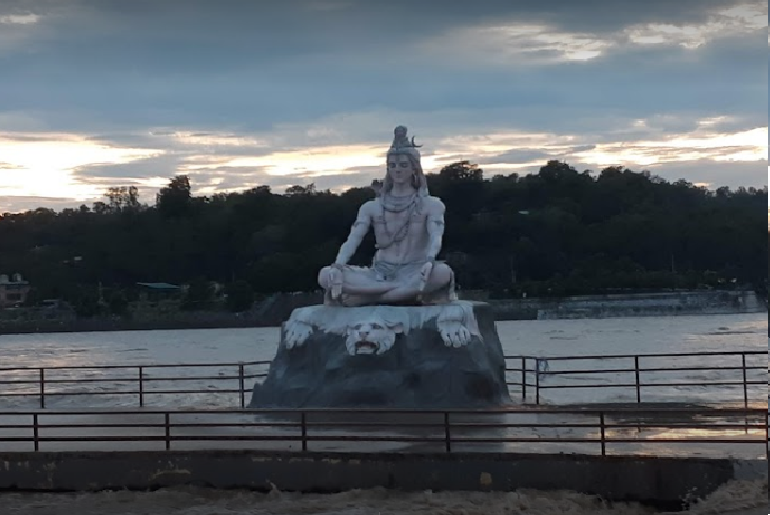 Also Read: This Stunning Cafe In Rishikesh Offers The Perfect Views Of Ganga And Laxman Jhula
Irrespective of whether you're staying at the ashram or not, it is a must-visit place when you travel to Rishikesh. To book your stay for free, click here.