Gudi Padwa is one of the most important festivals for Maharashtrians in India. The festival is celebrated with great pomp and enthusiasm across Maharashtra. Known as a traditional festival, Gudi Padwa marks the new year for Maharashtrian (Marathi and Konkani) Hindus. But what is this festival about? Continue reading to learn more about the food, celebration, history, and other aspects of this festival.
Maharashtrian Hindu New Year: Gudi Padwa
'Padwa' means the very first day, referring to the waxing moon, while 'Gudi 'is a symbolic flag. The festival of Gudi Padwa is celebrated on the very first day of the Hindu month of Chaitra. This coincides with the first day of Shukla Paksha, or the first day of the new moon. 
According to the Gregorian calendar,  falls between March and April. This year, the festival will be celebrated on March 22 (Wednesday).
History Behind This Festival
Maharashtrians celebrate this day as their New year. Many believe that it is the day when Lord Brahma created the universe and time. Gudi Padwa marks this creation. 
According to other beliefs, Gudi Padwa is the day when Lord Rama was crowned as King of Ayodhya after defeating Ravana. Many also believe that this festival marks the victory of Chhatrapati Shivaji Maharaj over Mughal dominance in the Maharashtra region. 
Celebration
People begin their day on this festival by having a ritualistic bath and offering prayers to god. The house has been thoroughly cleaned and decorated with earthen lamps, rangolis, and garlands. People also wear new clothes as it is the beginning of their new year. 
One thing that is notably seen outside almost every window on Gudi Padwa is the beautiful gudis. People raise gudis outside their houses on the right side. 
It is made using a bamboo stick and an overturned copper Kalash or pot. The bamboo stick is covered with a colourful silk scarf with neem and mango leaves around it. They also put a Saakhar Gathi (sugar candy garland) around it. It is raised outside the house after performing a ritualistic puja.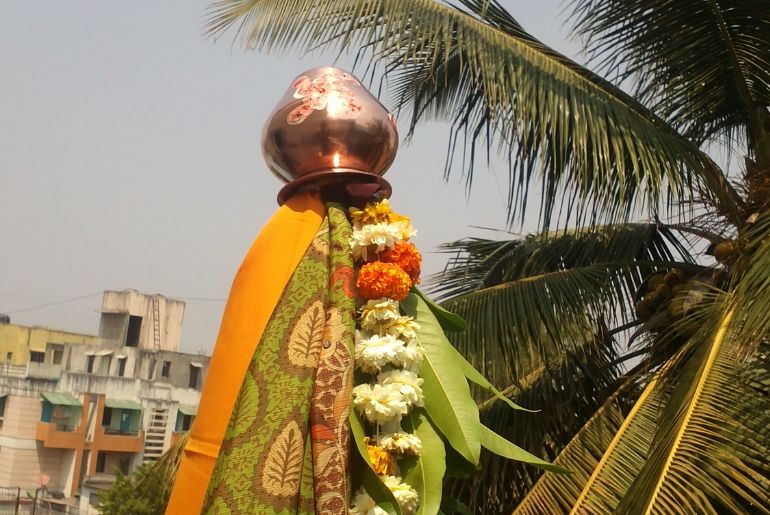 Food
On Gudi Padwa, special dishes are offered to the god and the gudi. Under special dishes, people prepare Shrikhand-Puri and Puran Poli predominantly. Families make sure to have lunch together on this day. Dishes like Thalipeeth, Chana-usal, Sabudana khichdi, Batatyachi bhaji, and sweetened rice can also be seen in Marathi households on this day. 
Also Read: What Is Ugadi, Why, And How Is It Celebrated? All You Need To Know
When do you celebfrate new year? Let us know!
Cover Image Courtesy: Canva