A destination wedding, especially in Rajasthan, is everyone's dream but most people take a step back as these weddings are costly, very costly. To-be brides and grooms ofter think of tying the knot in a destination ceremony but the budget puts and need to the planning. Meanwhile, Bollywood titillates the extravaganza wishes in people too. Well, now you can even get married to the love of your life in a lavish destination wedding in Rajasthan just like you saw the celebrities doing it. All you need is to follow some key tricks and plan smartly. Don't go overboard and take decisions wisely to have the dream wedding of your life under a budget.
1. Choose An Off-Season Date
Weddings happen all throughout the year but there are some months when it feels like entire India is getting married. In the winters, every Indian definitely gets 3-4 wedding invitations as it is a full-on time for marriage ceremonies. As a result, a lot of things like the venue and accommodations will cost more than usual. So it's better to choose an off-season date. You will get everything at the apt price and no need to spend extra pennies like the on-season date.
2. A Short Guest List
Indian weddings can never have enough people. 700-800 guests sometimes feel like just a part of the list. But it is no way possible to have a budget destination wedding in Rajasthan and invite everyone you know. Make sure to have a short guest list. We understand that it is probably the most difficult part of planning a wedding but it is the most cost-effective way to save money and spend while arranging for your dream wedding.
Also read: Here's How Much A Destination Wedding In Himachal Will Cost You!
3. Utilise Your Bargaining Skills
Bargain as much as you can. As you are doing everything on a budget, local shopping is the best option. And you can bargain to the maximum at these shops and markets. Choose the markets that are known for affordable wedding shopping just like Chandni Chowk. Explore shops, bargain wisely, and grab the best things for your dreamy day.
4. Ditch 5-Star Resorts And Book A Heritage Haveli
Don't spend lakhs and crores in a lavish 5-star resort. Destination wedding in Rajasthan is incomplete without the touch of culture and heritage. To feel it, you should book a haveli for your destination wedding in Rajasthan. You will save a good amount and also feel the ethnicity of the state.
View this post on Instagram
5. Minimalistic Decor Options
The decor will burn your pocket if not well-planned. Using luxurious products to brighten up corners will be one of the largest expenses. Strictly avoid that and choose minimalist decor. Minimalist doesn't always mean white and pastel. Use limited things but make sure they are vibrant and colourful. Add small elements in between to add a special charm. Include things that you love and connect with rather than making extravaganza gates, lightings, and stages.
View this post on Instagram
Also read: Here's How Much A Destination Wedding In Rajasthan Will Cost You!
6. Get A Maharaj For Food
Ditch 5-star chefs and book a Maharaj for your special day. Maharaj will be the most caliber one to bring out the essence of the place and culture on your plate. Chefs will cost you humongous and you definitely don't want that while planning your destination wedding in Rajasthan.
7. Get Local Rajasthani Singers Instead Of Top-Notch Performers
Lastly, invite local folk singers and performers for your special day. If you are thinking of having a huge party and calling someone eminent from the industry, you might even have to spend crores. Rather get local Rajasthani singers to brighten your special day with their magical voices and performances.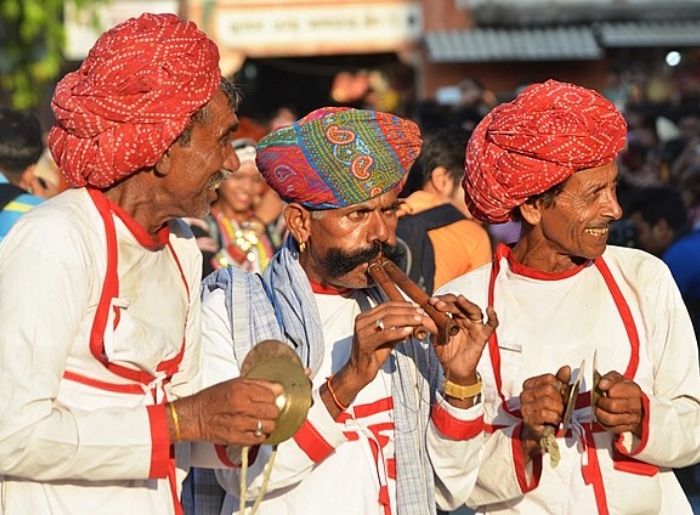 Planning a wedding is difficult, and planning it under a budget is tedious. But right decisions and correct steps can surely gift you the most special day of your life just the way you wanted.