Television diva Hina Khan recently graced her presence on Curly Tales by enjoying a fun Tere Gully Mein episode with Chief Editor Kamiya Jani. The episode gave us numerous fun anecdotes from Hina's life but there was one that caught our attention. Did you know Hina Khan worked as a call centre agent and earned quite well before getting into the TV industry? Well, Hina revealed that she had earned a fat paycheck of ₹45,000 while working at the call centre. Read on to know more about this interesting story.
Hina Reveals About Her Call Centre Job That Helped Her Earn A Fat Paycheck Of ₹45, 000
Hina Khan recalls her time before becoming a TV actor and reveals to Kamiya Jani on Tere Gully Mein that she used to work at a call centre. And that job paid her really well. She says, "You know there were some friends I knew, not friends actually, but girls in my PG who used to work in Call Centre and they used to make good money. I was like this is such a good thing. What do you do? Nothing, we just call people and tell them to pay your debt. I said okay so I need to do just this? I can do it bloody, what is the big deal? I went, gave the interview, and got selected. Imagine over there also, I was the highest collector on the floor. I swear, I remember my first check was ₹45,000. My salary was ₹25,000 but I got Rs 45,000, plus incentives. Because I made such good collections." Hina Khan then jokes about her call centre days and adds, "I used to tell them my sob story that if you will not pay, they will throw me out." Well, a little fun to make your way out never hurt. We get you Hina!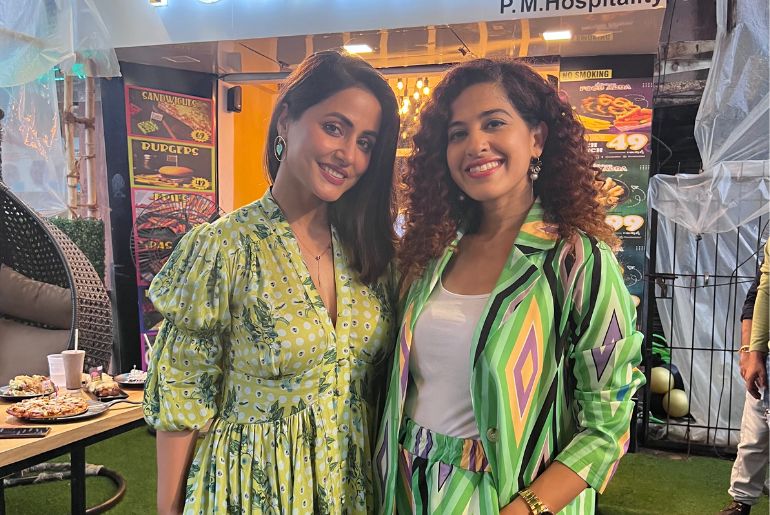 Also read: Hina Khan Recalls Travelling In Mumbai Locals During Yeh Rishta Days When Long Hair Got Stuck In Crowds  
Hina Khan Reveals Why She Loves Goregaon And It's 'Galliyans'
Hina adds that she is happy to be in the Tere Gully Mein Episode as it's a chance for her to go back in time and revisit all her old memories of Goregaon. She reveals to Kamiya that the shops that she used to eat from still exist and she still glances that them once in a while.
Well, we loved the cheesy gossips that Hina Khan shared during the episode. To know all of it and more, look forward to the upcoming episode of Tere Gully Mein only on the YouTube channel of Curly Tales this Tuesday.