Who does not know Hina Khan? The beautiful actress who has been ruling the hearts of so many people ever since her first serial Yeh Rishta Kya Kehlata hai. She worked in the serial for eight long years and then showed up in Big Boss. She is super active on Instagram and her posts give us nothing but travel goals. On this episode of Tere Galli Mein, our Editor-in-Chief, Kamiya Jani met actress Hina Khan and the actress allowed us a peek into her life with amazing stories. 
Hina Khan On Travelling In Mumbai Local
As Hina and Kamiya were heading towards a beautiful restaurant, Kamiya asked Hina about her impression of Mumbai when she first walked into the city. Hina mentioned that she was born in Kashmir and studied there till her 5th standard. Her graduation was completed in Delhi and that's where she auditioned for her first show in Mumbai. She had a very tough time learning to travel with Mumbai locals. Every time she tried to alight off the train, her long hair used to get stuck in the crowd and she would plead the crowd to leave her hair. "Please leave my hair, it's ok, I will not get in." She spoke about how difficult travelling in local trains felt and how she at times has even cried over it. 
Also Read:  5 Best Dandiya Places In Mumbai For The Best Garba Nights
Initial Struggles In Mumbai
As Hina told Kamiya about her hair getting stuck in the crowd of the local train, she mentioned how she will never forget the struggle she had to face. Kamiya spoke about how it is difficult for a girl to come all alone in a city and struggle. She asked Hina whether she had bagged the role before coming to Mumbai or if it came in later. Hina told Kamiya that she was selected in the first round when she came to Mumbai and then there were many more rounds. She was not sure if she would bag the role. She said that her struggle in Mumbai has been way more difficult and the Mumbai local part is just one incident she shared.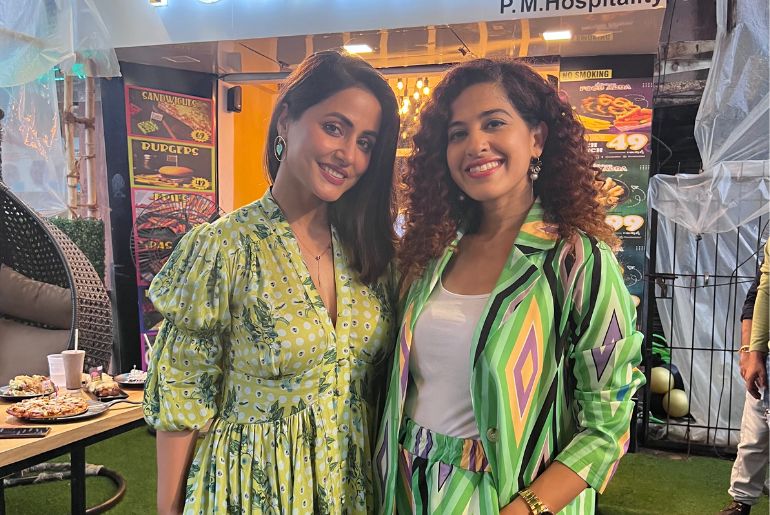 Also Read: Women Playing Garba In Mumbai Local Trains Is Such A Peak Mumbai Thing To Do. Watch!
To know more, watch this new episode of Tere Gully Mein.