Under 140 Characters
Suvarna Sangam is a luxurious home stay at a private island in Karnataka and it's perfect for a romantic getaway with bae for only ₹6000!
What Is It?
Have you ever dreamed of staying on a private island? Well, this time you can surprise bae by booking a stay at Suvarna Sangam. A cozy and luxurious home stay at a private island in Karnataka. What's fascinating is that it's the only property on the entire island! So now you don't have to deal with overbooked hotels, crowds or busy restaurants. This Valentine's Day, it could be just you and your SO spending quality time and enjoying the offerings of the private island.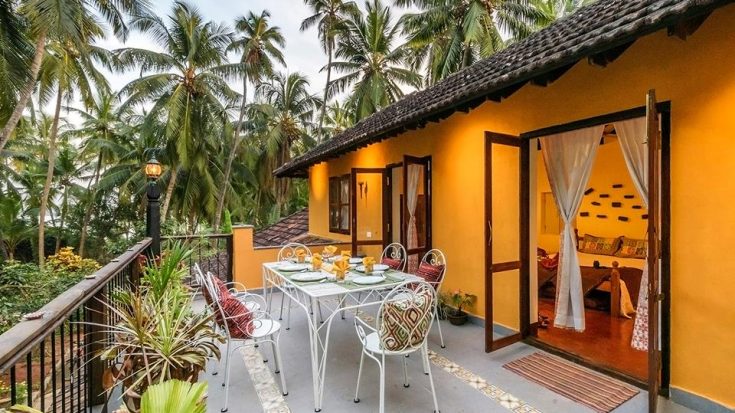 Amenities
Suvarna Sangam is a pet-friendly homestay (because it's gonna be great to bring your bae with your pawfect bae too) that hosts 4 guests with 2 bedrooms, 3 beds and 3 baths. This property is located in a small village of Karnataka, Tonse East on a private island of Suvarna river.
The interiors of the homestay display a very traditional style, but they're coupled with modern day amenities. The homestay boasts gorgeous verandahs, and outdoor decks giving the guests a beautiful view of the river and the calm surroundings. But it doesn't offer air conditioning or WiFi, so when they say secluded, they really do mean secluded!
Located in a natural setting, you won't find many restaurants or cafes near the property, but the staff at the property would be happy to prepare your meals for you. Be prepared to treat yourself to some lip-smacking Mangalorean food.
How To Enjoy Here
If you're staying here, the best thing would be having the entire island to yourself and bae! You can wake up early, catch the sunrise, or simply relax by the river. You can even ask the staff to serve you breakfast by the river and start your day in this mesmerizing way. The island boasts greenery, flora, and fauna, so why not head out to explore? The river has calm backwaters where you can indulge in kayaking with bae.
Mangalore and Udupi are only a few hours away from Tonse, so you can even plan a day trip to these places and explore the local delights here.
How To Get There
By Air – The closest airport to Suvarna Sangam is Mangaluru (65km).
By train – The closest railway station is Mangalore Railway Station (70km). Hire a local cab from the station to get you to Suvarna Sangam within 2 hours.
Deets
Address: Suvarna Sangam, Krishna Kutir Kakkethota, Mudukudru, Near Bajana Mandir, Kalyanpur, Karnataka 576114
Cost: ₹6000 per night – 2 guests, ₹9000 for full villa
Book here