Butterflies are self-propelled flowers they say. It's somewhat true as it's so fascinating to watch them may whatever age you are. What if we tell you another fascinating fact about butterflies? You can now take your children to a Garden which is home to 15,000 butterflies. Dubai's Butterfly Garden should be on your ultimate list of places to visit.
Dubai Butterfly Garden Is Open Round The Year
Home to the maximum number of species of Butterflies, Dubai Butterfly Garden nestles near Al Barsha. Dubai Butterfly Garden is a part of Dubai Miracle Garden. The garden boasts about owning around 50 species of butterflies. Every butterfly here has unique colours, characteristics, and shapes.
View this post on Instagram
Kids and adults can read and learn a lot about butterflies here. There is in detail study material about the different growth stages of butterflies. The butterfly Museum, Educational Center, and Cinema make it an excellent destination for families.
Visitors of all ages have been awestruck by some of the figures and facts about the monarch butterfly, like the fact that despite having wings that can only extend up to 12 cm, it can fly up to 1,500 feet in the air and go over 3,000 miles.
How To Reach There?
Public transportation is also a breeze because it is simple to get to Dubai Butterfly Garden from Mohammed Bin Zayed, Umm Suqeim, and Al Khail roads. If not then you can get a connecting bus that travels here from Mall of the Emirates. It's nearby the Miracle Garden.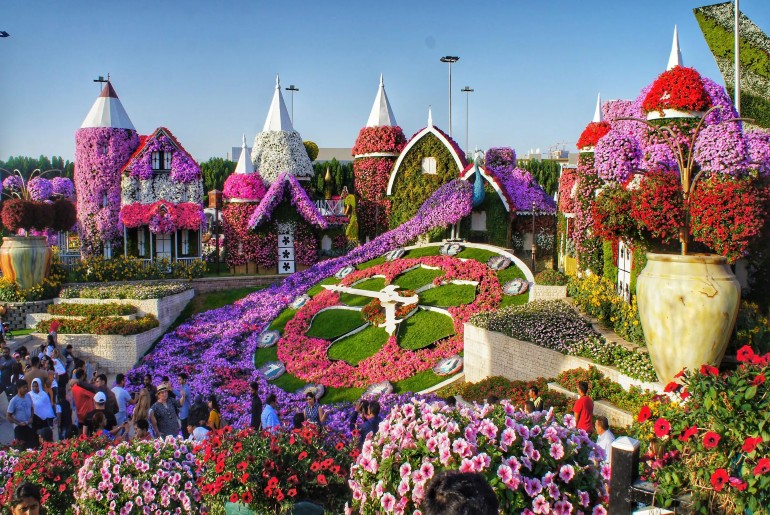 Ticket Prices
The general admission tickets start from the basic rate of AED 55. Workshops and other activities have additional rates. Children under 3 can enter free with adults.
Activities To Do At This Garden
As you explore the many domes, it's simple to lose a number get lost in the garden.  While watching a movie at our theatre, the kids can delight themselves with some delectable refreshments like nachos, popcorn, and gelato. A range of fresh fruit juices is available. Explore the Butterfly Museum to see amazing works of art produced by our gifted in-house artists utilising actual butterflies. Want to bring a unique butterfly keepsake home? So now you can have a memory of this place by buying souvenirs from the store nearby the museum.
Also Read: Dubai Miracle Garden Is All Set To Open For The Season. Make Plans!