There couldn't possibly be any debate without the mention of Hot Chocolates as one of the better drinks than all the Cappuccinos and Mochas of the world. While some like their assortments limited to Tea and Coffee but Hot Cocoa is the only exceptional beverage that has managed to capture that sweet string in our hearts. The only debate remaining after that is which kind of toppings would compliment a Hot Chocolate and make it more tempting and irresistible than it already is.
Generally the ideal image set by Rom Coms on how to enjoy Hot Cocoa is by sitting near the fireplace on a winter afternoon, snuggling into your coziest blanket, reading a book or watching Netflix can now only be considered old school and fictional too. For us Mumbaikars, a drink like Hot Chocolate is for those who want to sit in a café with their BFF and catch on the gossip they've missed since their last meeting.  Well, as our loving contribution and tribute to the goddess of beverages, we have curated this special list of Best Hot Cocos in Mumbai that are a must visit this time of year.
1. Grandmama's Café, Multiple Outlets
Well if we're talking Hot Chocolates it's foremost important to put the best of our pick at the top. The beautiful and cosy Grandmama's café are very possessive about their Hot Cocoas and have a separate curated menu for it to glorify its exquisiteness. One should try the Salted Caramel Hot Chocolate, Cinnamon Orange, Hazelnut Sleep Therapy and their Signature Hot Chocolate Shots that come in Milk, Dark and White. #OhYes
Address:  Multiple outlets
Contact: +91 7400092994, +91 7400092995
Cost: ₹1100 for two
2. La Folie Du Chocolate, Kala Ghoda
If you ever wanted to have that creamy and semi-bitter hot cocoa that leaves your senses tingling to another universe then La Folie is the place you need to be. Their signature drink the Chocolate Chaud is curated with their original foundation of 70% dark Venezuelan Single Origin dark chocolate with a nip of Cinnamon that makes it an irresistible beverage that'll leave you wanting more and more.
Address:  16, Commerce House, Rope Walk Lane, Kala Ghoda, Fort, Mumbai
Contact:  +91 9699993350, +91 9167762379
Cost: ₹800 for two
3. The Nutcracker, Bandra West
This cosy bistro in the mainland Bandstand is well known for its curated selection of Belgian style hot chocolates that are definitely worth a try for an international flavour-boosting experience. When hopping for your next break you must definitely try the After 9(mint), Meltdown (salted caramel) and there's always room for the Classic semi-sweet Hot Cocoa.
Address:  C/2, Diamond Arch Cooperative Housing Society, St. John Baptist Road, Bandstand, Bandra West, Mumbai
Contact:  022 26400432
Cost: ₹1200 for two
4. Birdsong Organic Café, Bandra
This beautiful cafeteria is located in the beautiful marina lanes of Bandstand and is extensively touted due to their organically fashioned Carte du jour. The secret behind their Cup of Sinful Hot Chocolate is the infusion of their special 90% organic cocoa which makes it delicious yet healthy in the finest tactic imaginable. One must definitely this Cup of Heaven when in Mumbai especially for them who love organic productions and the gems that are created with such healthy practices.
Address:  Shop 1-5, Waroda Road, Hill Road, Bandra West
Contact:  022 26422323, 022 26423939
Cost: ₹1400 for two
5. Suzette, Pali Hill
All those cappuccino machines and high-end technologies can't compete with the heart-melting taste of a Home Made refreshment and that's exactly what this adorable Bistro offers you. A warm, dark and minimal milk cream infusion makes it taste like a potion straight outta heaven. This homemade cocoa is capable of bidding goodbyes to all those stress and anxiousness you have been facing since a while now. Also if you are in the mood of experimenting with your cocoa you can also opt for their foamy hot milk topped with homemade Suzette style Caramel.
Address: Near Gold's Gym, St. John Street, Pali Hill, Bandra West
Contact:  022 26411431, +91 8080809554
Cost: ₹1500 for two
6. Moshe's, Juhu
Apart from their famous New York Style Bagels this contemporary café also serves one of the finest Hot Cocoa in town. It's apt fully named as Choco Latte due to its milky consistency which is perfect for all those who aren't into those dark and excruciatingly thick decadence's. With an added dash of nutmeg and cinnamon, it's a whole new style of Hot Chocolate one must definitely give a try.
Address:  Janki Kutir, Opposite St Joseph's High School, Juhu, Mumbai
Contact:  022 26148188, +91 8879677408
Cost: ₹1100 for two
7. Le Café, Chembur
This beautiful café is situated in the heart of Central Line in Mumbai serves one of the creamiest and delightful Dark Hot Chocolate that is so succulent and sinful that you might not even feel sorry for consuming on your Not-a-Cheat-Day. Top class coverture dark cocoa callets infused with cream makes it perfect swill after a not-so-heavy lunch or just for your occasional indulgences.
Address:  1st Road, Opp B.M.C Office, Near Natraj Cinema, Chembur (E), Mumbai, Maharashtra
Contact: 022 67099999, 022 67099977
Cost: ₹1200 for two
8. Trench Resto Bar, 4 Bungalows Andheri
Our list is incomplete without mentioning one of the connoisseurs of the Hot Chocolate catalogue. If you're a die-hard chocolate lover and just can't wait to experiment with every flavour and infusion available out there then you must straight away head out to Trench's without blinking an eye. Their exclusive range of Italian Hot Chocolates comes in 2 sizes namely: Cuddle Cup and Warming Mug. Once settled in your favourite tables chose from the Classic, Mint, Hazelnut, Tiramisu (oh yeah!), Sicilian traditional Torroncino, Caramel, dark, lite, Belgian chilli, Hot cocoa with crunchy magic balls or good old school Marshmallows. Anybody who visits here enters the Alice in Wonderland of Hot chocolates and leaves with a Happy Ending.
Address:  Shop 2, Jawahar ban, CHS Limited, Opposite Kokilaben Ambani hospital, 4 Bungalows, Mumbai
Contact: 9820738186
Cost: ₹800 for two
9. Fable Café, Juhu
Ever wondered how would your Cocoa taste if you infused them with your favourite brand of Chocolates, well look no further because Fable Café will fulfil all your hot cocoa dreams in a jiffy. While gobbling through their exquisite cuisines one must definitely try out their Hot Hazelnut Cocoa, Cadbury Silk hot cocoa which is topped with creamilicious Whipped Cream and garnished over with the all-time favourite Lindt Cocoa Powder.
Address:  Shop 3, Ashiyana Apartment, N.S Road 13, Juhu, Mumbai
Contact:  022 66710088, 022 66952200
Cost: ₹1400 for two
10. Dinshaw's Xpress Café, Oshiwara
For those who are looking for hot cocoa's curated in old school manner then Dinshaw's your one-stop destination. The hot chocolates at this express café are the basics to die for including the S' mores hot cocoa which is served with melted hot fudge and Dairy milk on top, the signature salted caramel with whipped cream and Rainbow sprinkles for the child in you and saving the last for the best is the Nutella & Nutella which doesn't need a brief confab at all.
Address:  6, Oshiwara Shop, Windermere Building, Off Link Road, Oshiwara, Andheri West
Contact: +91 9004530507, +91 9004550606
Cost: ₹800 for two
11. The Pantry, Fort
This cute little café in town area serves one of the preeminent Hot Chocolate in town. This café is perfect for all those food enthusiasts who dwell on choices instead of the traditional gourmet-style assortments. The uniqueness behind the immensely delectable taste is due to the addition of 70% pure dark Belgian cocoa blended in it to make it taste splendid. Coming on the choices of this particular item one can choose the type of milk infusions, or try the vegan alternative for a diverse taste i.e. Almond Milk.
Address:  Yeshwant Chambers, Military Square Lane, Near Trishna, Kala Ghoda, Fort, Mumbai
Contact:  022 22700082, 022 22678901
Cost: ₹1400 for two
12. Tea Villa Cafe, Multiple Outlets
Tea Villa cafe might be well-known for its teas but that doesn't mean that their Hot Chocolate is far behind in the pecking order. We love their chocolaty drink which feels like a warm hug and comes with a generous dose of chocolate powder on top.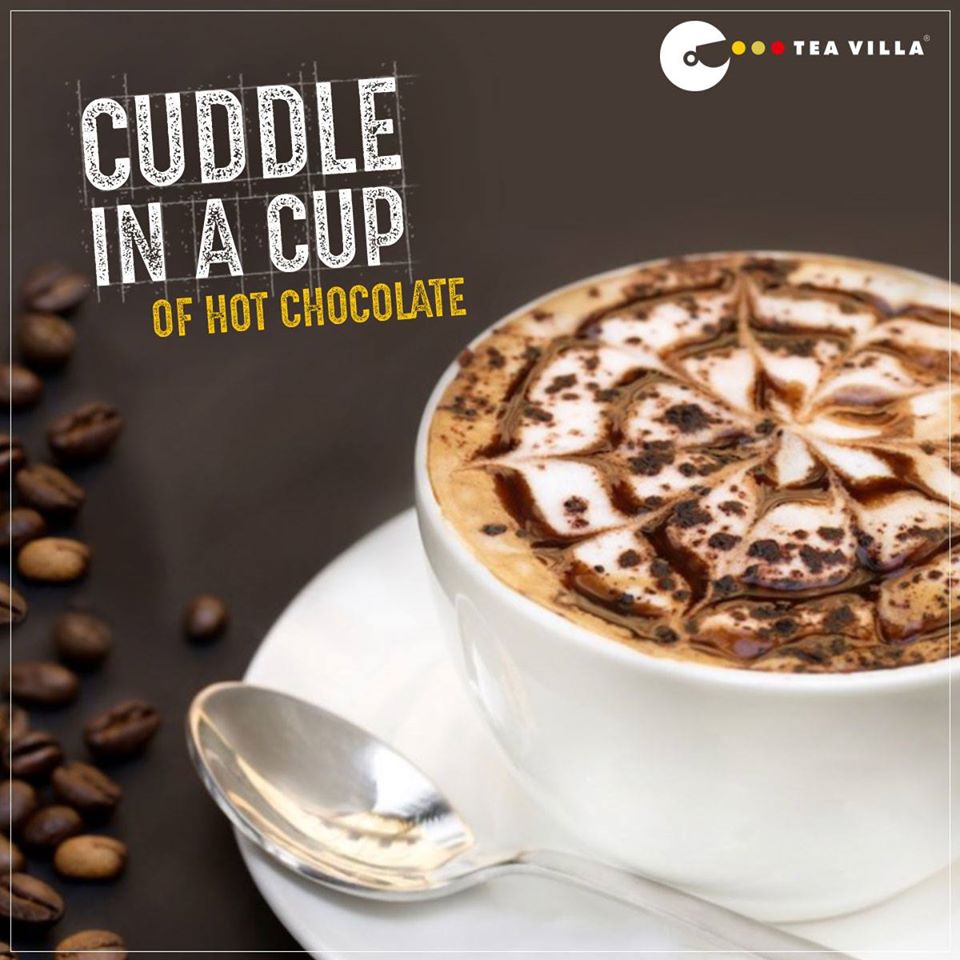 Address: Multiple outlets
Cost: ₹1000 for two
13. Starbucks Coffee, Multiple Outlets
Our mornings might start with a Starbucks coffee run but as soon as the winter season kicks in, the coffee goes out the door and the hot chocolate is in. Served with fluffy whipped cream on top, this one is a treat.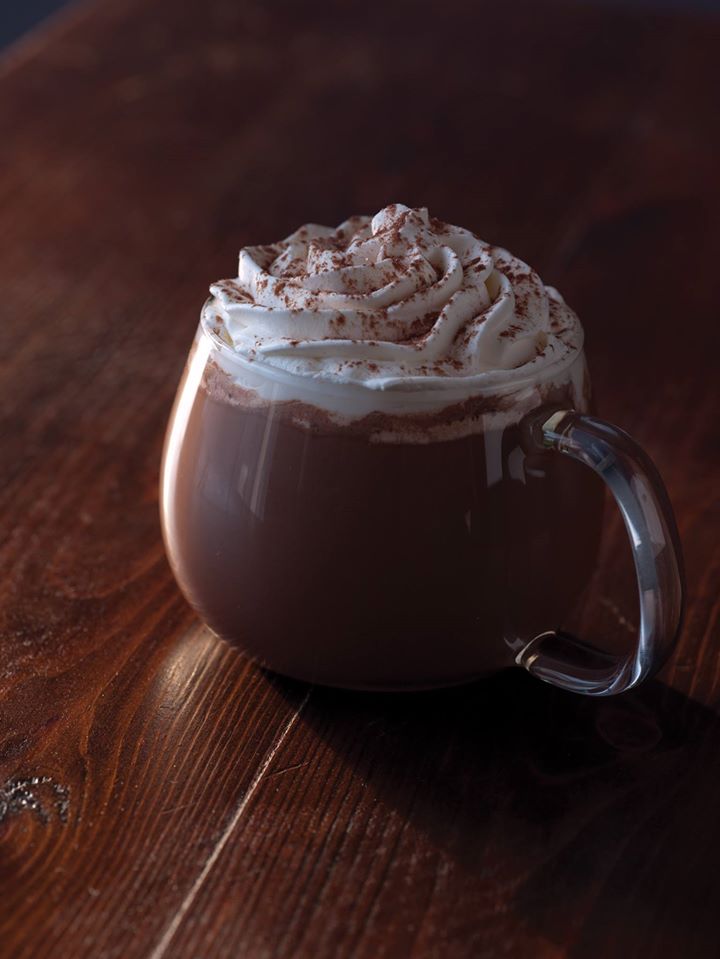 Address: Multiple outlets
Cost: ₹700 for two
14. Theobroma, Multiple Outlets
If you like starting the day with a pain au chocolat at Theobroma then the Hot Chocolate here serves as the perfect companion to it. The hot beverage goes really well with the crusty pastry and is the only overdose you need.
Address: Multiple outlets
Cost: ₹600 for two
15. Aromas Cafe & Bistro, Multiple Outlets
Another popular all day-diner, Aromas has a sneaky hot chocolate on its menu which tends to go unnoticed. But we are here to tell you that you really need to try this one out. Pair it with a bite of pasta and it'll be a meal to remember.
Address: Multiple outlets
Cost: ₹1000 for two
16. Magari, Kandivali
If you look at the picture here, you can see just how sinfully dark that hot chocolate is. I don't think we need to hype it up anymore. You need to go there yourself and give it a whirl.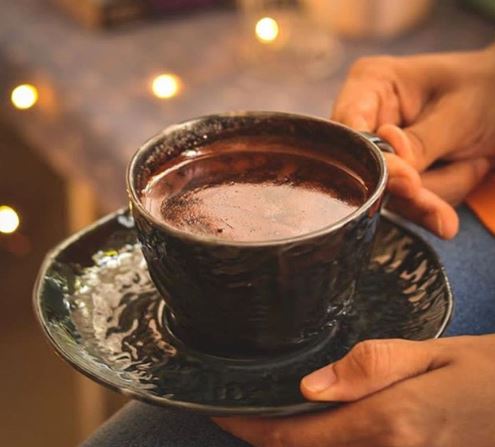 Address: Magari, 86/853, Siddhivinayak CHS, Petrol Pump Lane, Near Pancholia School, Mahavir Nagar, Kandivali West, Mumbai
Contact: +91 9372497573
Cost: ₹750 for two
17. Chantilly, Bandra
Known to make some of the best desserts in town, we particularly love the Nutella Cheesecake here. Come winter, we make sure to get our dose of hot chocolate here. It makes for a great date spot too.
Address: Chantilly, Shop 6, Shaktiraj CHS, Near Gold's Gym, Pali Hill, Bandra Wes
Contact: +91 7370808080
Cost: ₹350 for two
18. Kala Ghoda Cafe, Fort
This tiny cafe is one of the most popular ones in South Bombay and it lives up to its reputation. The Dark Chocolate Waffles here are to die for and taste even better when paired with the delectable hot chocolate. Served in a tall mug, this drink will fill you up with warmth.
Address: Kala Ghoda Cafe, 10, Ropewalk Lane, Kala Ghoda, Fort, Mumbai
Contact: 022 22633866
Cost: ₹1000 for two
19. Silver Beach Cafe, Juhu
If you are looking for a great date spot in the city, then you can't go wrong with Silver Beach Cafe. Overlooking the sea, this is one romantic set up. Instead of going for the wine, how about you switch it up with mugs of hot chocolate instead? Trust me, you won't regret it.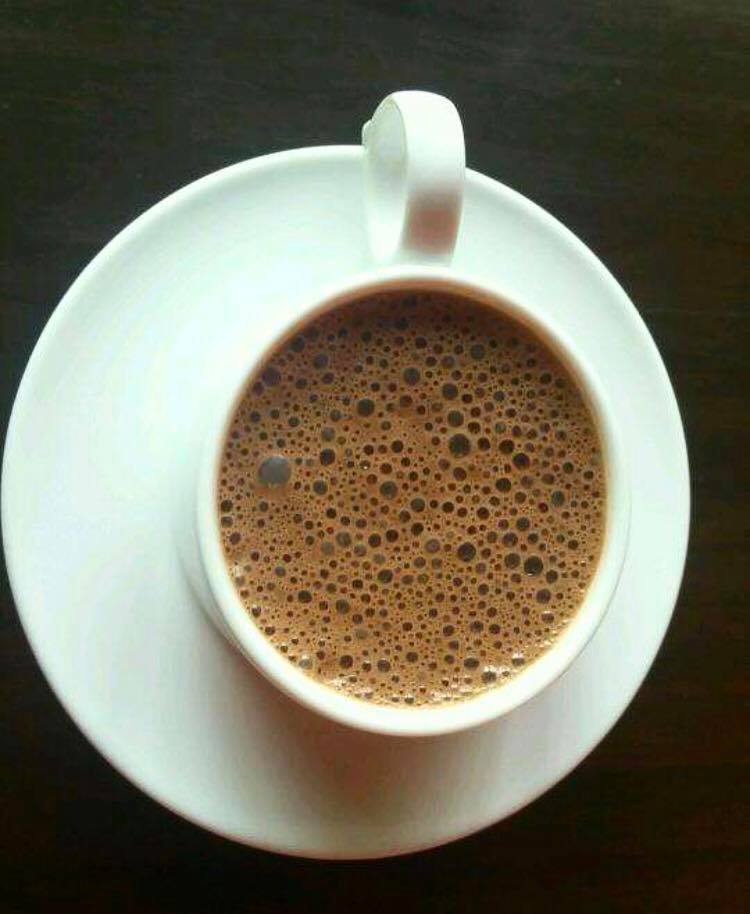 Address: Silver Beach Cafe, Jaldarshan Building, Gandhi Gram Road, Near Hare Rama Hare Krishna Temple, Juhu, Mumbai
Contact: +91 9819966495
Cost: ₹2300 for two
20. Bombay Salad Co., Bandra
Always a great option when you are looking out for healthy eating options, even the desserts here are fit for the fitness freak. Made with almond milk, they taste just as good as the real deal.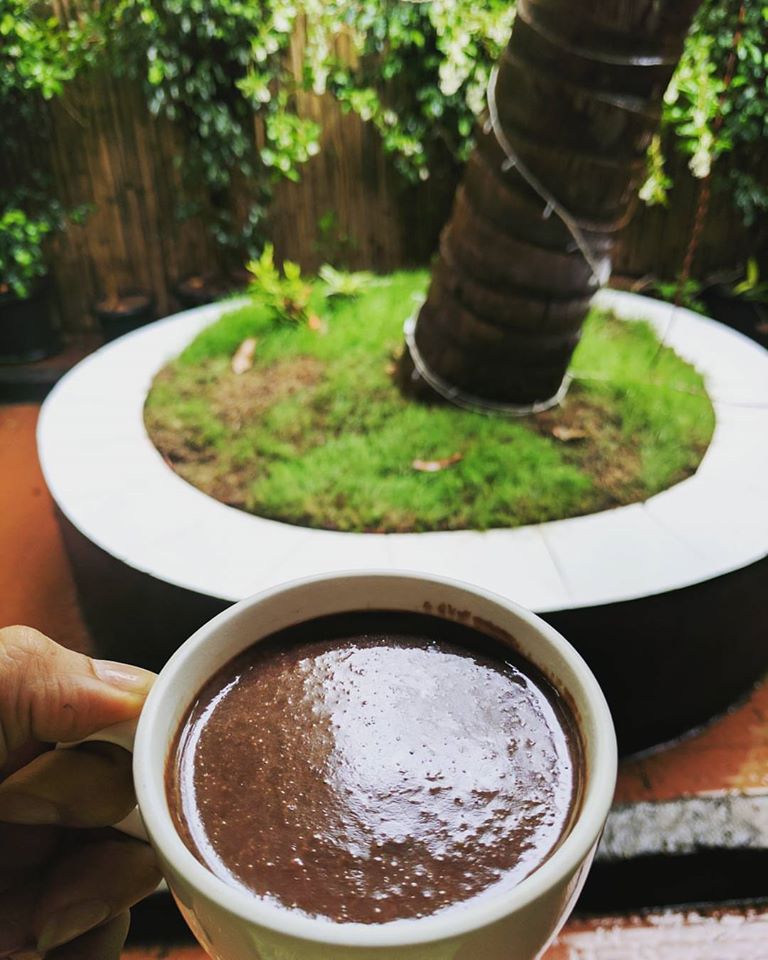 Address: Bombay Salad Co., Shop 1, 16th Road, Linking Road, Bandra West, Mumbai
Contact: 022 26000270
Cost: ₹900 for two