A new eatery has popped up right in the heart of Kolkata, near the city's most famous South City Mall at Prince Anwar Shah Road. It is conveniently located in the second lane after the mall towards Jadavpur. Being recommended by a friend, I recently checked into the place and the moment I stepped inside it, I was bowled over by the quirky interiors. There were creative doodles, graffiti and more all over the walls. The ceiling too was bedecked with smart captions. All in all, I utterly fell for the jovial vibe of the place. Read on to know the deets.
The Chicken Platter That Had My Heart!
Cafe Bellywood, a Bollywood themed cafe, is one of the newest eateries in South Kolkata. The cafe blends two favourites of Indians, Hindi films i.e. Bolly, and good food ( read Belly). The walls of the cafe have artworks depicting famous Bollywood stars and characters. There are stunning paintings of Shahid Kapoor ( as Kabir Singh), Deepika Padukone ( as Mastani), Amitabh Bachchan, Ayushmann Khurrana and more. The best part is, it serves absolutely mouthwatering dishes in wholesome quantities, that too, at unbelievably low prices.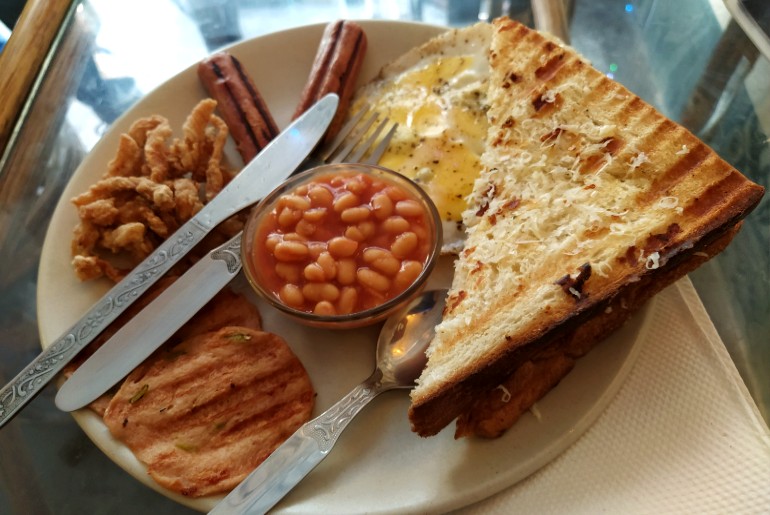 I ordered a Chicken Platter, which was essentially an English Breakfast and had a cheese-loaded sandwich, chicken sausages, crispy salami, crispy chicken and baked British beans. Each and every item of the dish was fresh and utterly delish. And guess what, the entire dish was priced at just ₹180. Clearly, I wasn't expecting so much at such an affordable rate.
For All Those Who Love Pork…
I am a die-hard fan of English Breakfasts and have tried them in various places. This was the most pocket-friendly serve I came across. The eatery also serves a Pork Platter containing a sandwich, pork sausages, pork salami, bacon, scrambled eggs and more at ₹220. Also, though these are essentially breakfast platters, they are available all throughout the day. They Say Kolkata Is Flawed, But Here Are 11 Reasons Why I Still Find The City Stunning
View this post on Instagram
Also Read: This Kolkata Tea Stall Serves A Unique Chocolate Tea Topped With Little Hearts & Choco Chips
Jaggery Tea, Pan Fried Chicken Wings, Hot Chocolate Brownies And More
Other must-tries at the cafe include Pan Fried Chicken Wings, Pasta, Fried Rice, Noodles and also Brownie With Hot Chocolate. The starting price of sandwiches is only ₹70 here. What's more, you can try piping hot tea and coffee variants at rates as low as ₹30. You can also grab cold delights like Chocolate Shake, Oreo Shake and Kitkat Shake. The menu will leave anyone spoilt for choices. The guys offer a special Gur Cha ( jaggery tea) at ₹40. Also, if you're visiting the place with your boo, you might tuck into their veg and non-veg couple meals at just ₹349 and ₹399. Can anything get better than this?
My Fish Is My Fish, None Of Your Fish….
If you stare at the ceiling of the cafe, end to end, it's full of famous Bollywood dialogues. But they have been smartly changed to speak about food. Some lines that caught my eye were.. "My fish is my fish, none of your fish"… "Ek chutki namak ki kimat tum kya jano Ramash Babu?"…. "Mein khana chahta hu, peena chahta hu, sona bhi chahta hu, bas uthke office nehi jana chahta." The lines surely came out of a witty mind.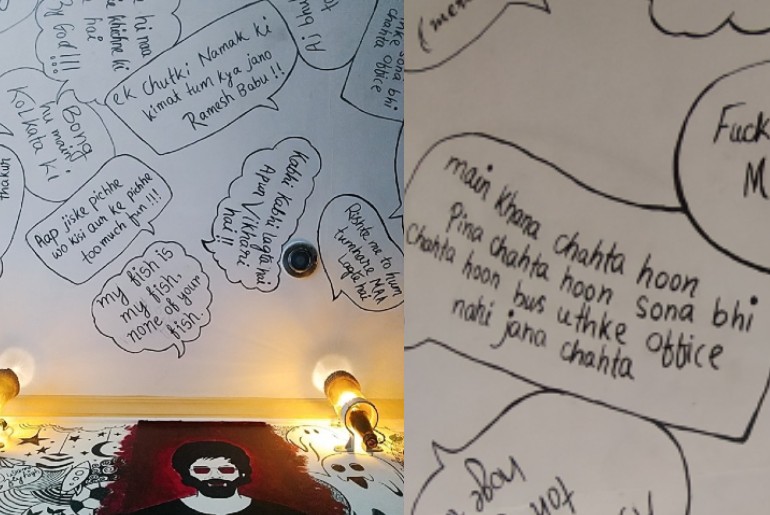 Also Read: Snag Alcohol-Based Ice-creams From This Dainty Ice-cream Parlour In South Kolkata
The cafe has two cosy chambers now, and as told to Curly Tales, the guys are going to expand it further in the coming months. So, once you're in Kolkata, call up a buddy and head straight to Cafe Bellywood and thank us later!
Address: 6/9, Prince Anwar Shah Rd, Poddar Nagar, Jodhpur Park, Kolkata, West Bengal 700068