Darjeeling in the Eastern Himalayas is one of the most picturesque hill stations in India. The mountainous town overlooks the third largest mountain peak in the world, the splendid Kanchenjunga. Apart from the mountains, the Queen of Hills has much more to offer. Darjeeling is home to lush green tea estates, dreamy railway stations, cosy mountain cafes and also India's highest high altitude zoo. Prasad Nakhawa had a solo backpacking trip to Darjeeling from Mumbai and he has shared his amazing travel story with team Curly Tales. Here's Prasad taking over to narrate his journey:
A Detailed Darjeeling Itinerary
To give you a brief perspective, Darjeeling comes under West Bengal state and Gangtok in Sikkim state and these two cities mark the start-point of the North East region. Frankly, a 12-15 day visit to this region may in itself feel too short considering the magnitude of this region and the numerous vivid landscapes and experiences this place has to offer! During my 12 day stay, I could roughly cover 60% of the entire region.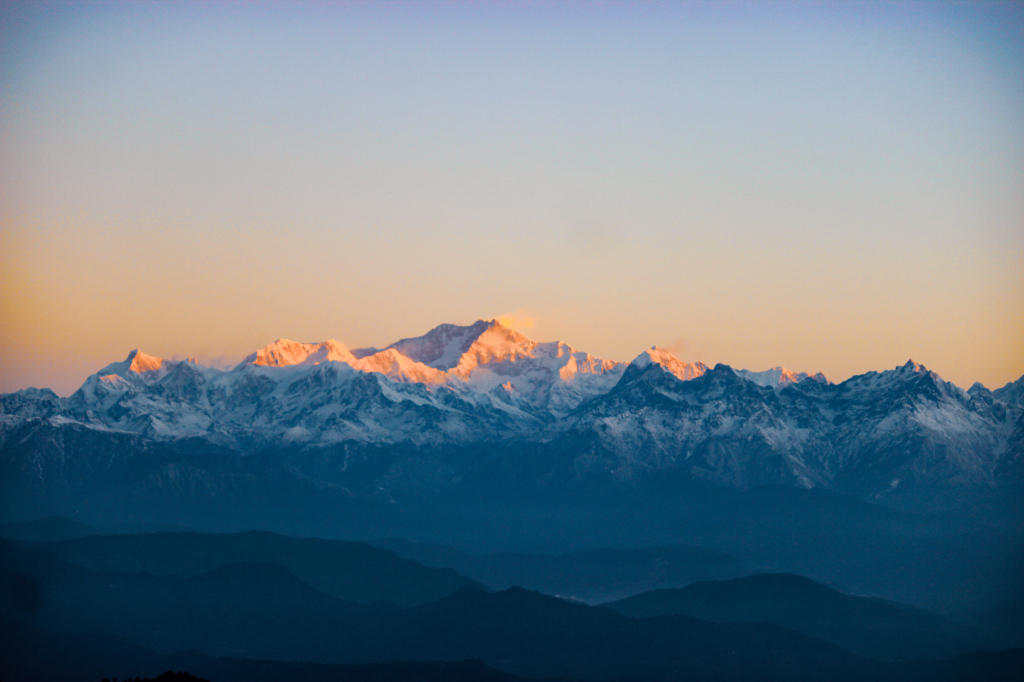 So here's my experience from this trip and itinerary for all those who are planning for a short/long trip or it's a choice between Sikkim and Darjeeling or both. I'll be covering day wise itinerary including how to travel, where to stay, what not to miss etc.
The order of my travel route was Mumbai – Bagdogara (nearest airport) – Kurseong – Darjeeling – Mirik – Gangtok – Namchi – Bagdogara – Mumbai. The best time to visit Darjeeling is from April to July. It's beautiful during winters too but you end up missing out on many of the tourist attractions as the roads are closed due to snow.
Day 1: Mumbai – Bagdogra Airport – Kurseong
Boarded the flight from Mumbai at 8.40 am and reached Bagdogara airport at around 11.30 am. Leaving behind the skyscrapers of Mumbai and landing into lush green landscapes definitely had left my mind in a better space. As you get out of Bagdogra Airport, you can head straight out and take an auto/share cab to Siliguri and ask the driver to drop you at the shared taxi stand. This will cost Rs 100-200. From Siliguri Taxi stand, look for a shared jeep (if you are on budget and travelling solo) go to Gangtok/Darjeeling. A shared ride to Darjeeling/Gangtok from Siliguri should not cost you more than Rs. 200/300. The journey will take up to 5 hours.
I took a share cab till Kurseong from Siliguri station as it was my first destination of the trip and took me around 2 hours to reach. I had to wait for around 1 and half hour to get a share cab as there is limited fleet available to Kurseong. Ride in the share cab is very uncomfortable as they fill in around 12 people in 8 seater cab, so be prepared for that if you want to save some bucks. But the entire route is so beautiful through the mighty mountains that you end up forgetting how you are travelling.
Pro Trip: If you want to travel comfortably and have good budget in hand, best option is to book a share cab through www.wizzride.com portal. They operate cabs directly from Bagdogara airport till Darjeeling, Gangtok and nearby famous places. It's pretty comfortable as they have limited seating (4 people in 1 Innova). It would cost you around 550 bucks. P.s. I got to know about this service later on otherwise I would have definitely opted for it.
I reached Kurseong at around 4 p.m. I must say, it's a hidden beauty. A hill station also known as 'Land of White Orchids' and is a sub-division of Darjeeling district. Historically, in 1835 it was handed over to the British by the King of Sikkim.
View this post on Instagram
As this place is not too touristy, there are no hostels, so I had booked a homestay (Newang Makaibari Homestay) which was around 10 mins by cab from the main city, located in a remote village surrounded by tea estate. Beautiful family welcomed me to their quaint house and offered me freshly brewed black tea from their tea estate. Trust me, it was the best black tea I ever had.
Best part about staying in a homestay is that you get to experience their local culture, food, language and the lifestyle. To me the best way to understand and get to know everything about a place is by understanding the roots of that place.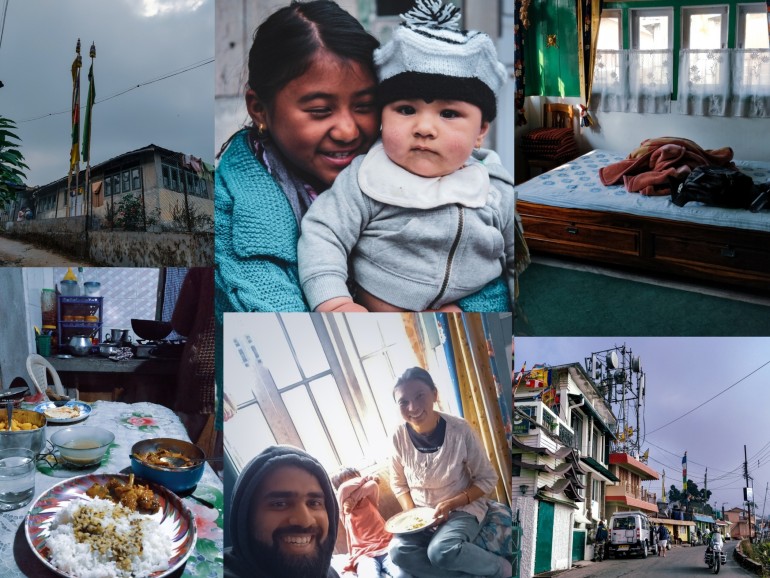 The Stunning Viewpoint, Eagle Craig
I reached at around 5.30 PM in Darjeeling and the sun was almost set. It was quite dark. I walked for about 20 mins to reach the Hideout Hostel where I was staying for the next 3 days. I settled in and without wasting any further time, I ventured out straight to the Mall Road. One of my favourite places in the hills, yes, the market area in mountains are famously known as the Mall Road. So, what makes it so special? Quint age-old cafes from British times, small local shops selling Tibetian stuff, roadside food stalls, and chilled windy weather. Man, I can actually imagine myself at the mall road, as I write.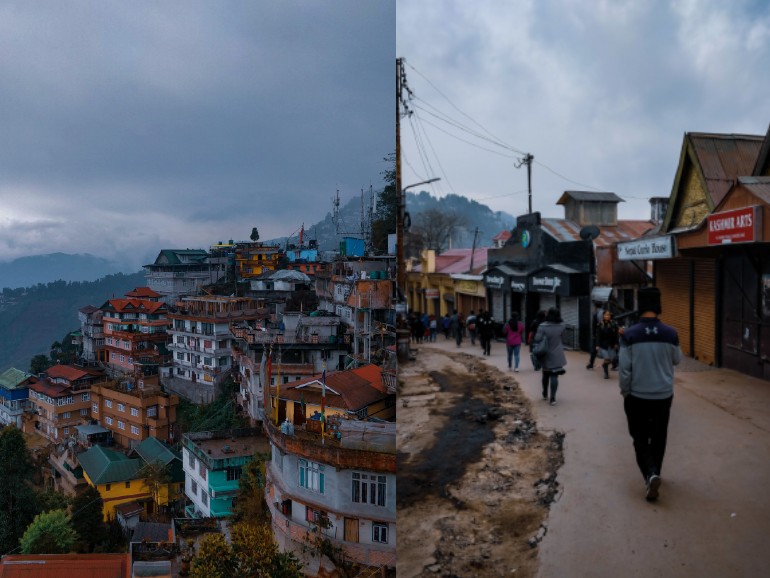 While I was wandering on mall road, I already started planning my next day in my head. The first thing on my list in Darjeeling was Tiger Point where you get to see the mesmerizing view of Kanchenjunga Peak, which is at its full glory when the sun rises. The sun rays hitting the peak and it turning in to orange shade is the most satisfying thing to witness. And this phenomenon occurs at around 5.30 am to 6 am in the morning and if you want to witness it, you have to get up by 3 am, leave from Darjeeling by 3.30-4.00 am and reach the tiger point by 5 am to find the best spot to stand and see the magic, Kanchenjunga in its full glory.
Darjeeling Sightseeing: The Barfi Shooting Spot
I got up at 3 am as planned. Went to the taxi stand, probably I was the first one to reach. There were various private taxi operators who were charging around 2,000 for the trip. But I looked for a share cab and found one. He asked me to wait till he finds 4/5 more people to accompany else he won't go. I waited, waited and waited and in around 1 hours' time only one or two guys turned up who were looking for a share cab. By the time it was already 4.15, and the cabbie guy suggested to try my luck the next day as it won't make sense to go there after the sunrise. So I went back to the hostel, a bit disappointed but with the hope to find some more people the next day who can accompany me.
After taking some rest, I came back to the mall road for the breakfast at famous Keventer's café where one of the scenes from Barfi Movie was shot. After my morning coffee and breakfast here, I was all charged up to explore the surroundings of beautiful Darjeeling.
Note: I explored major attractions in Darjeeling on foot. If you are in a group, would suggest hiring a cab for a day that can show you in and around Darjeeling including Tiger Hill in the morning. They would charge something in between 3-5K.
Padmaja Naidu Zoological Park 
This is the only specialized Zoo in the country and is internationally recognized for its conservation breeding programs of Red Panda, Snow Leopards, Tibetan Wolf and other highly endangered animal species of Eastern Himalaya. A must visit when you are in Darjeeling. Darjeeling Zoo Is India's Largest High-Altitude Zoo!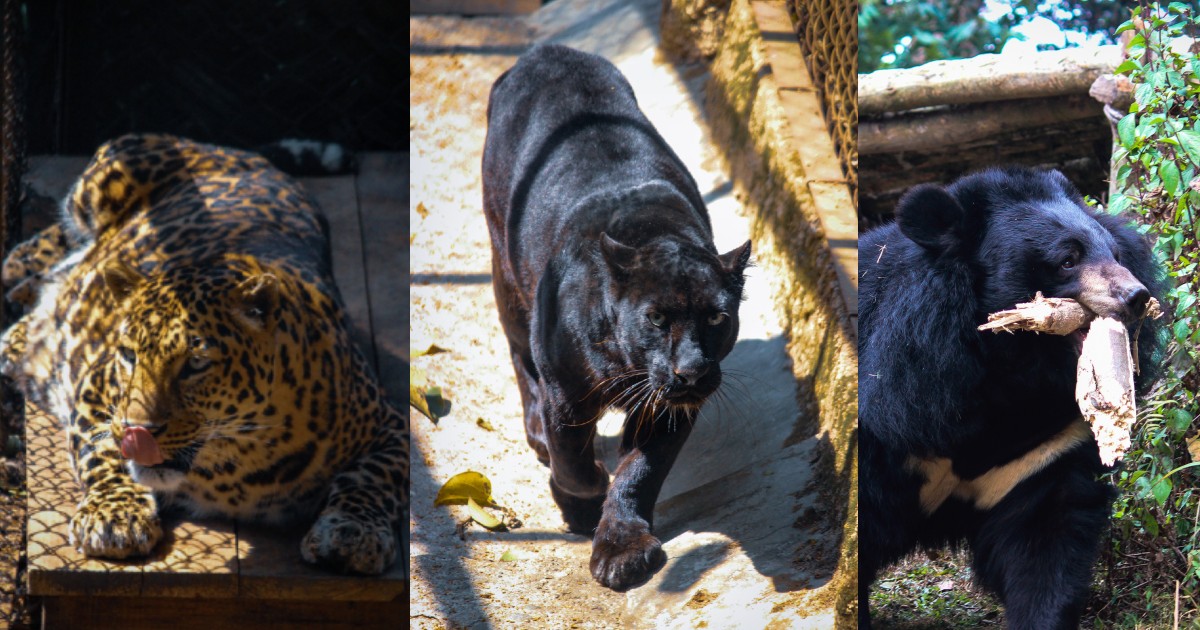 View this post on Instagram
Also Read: We Stayed At This Cosy Homestay Near Darjeeling During Pandemic & It Was Worth Every Risk
Himalayan Mountaineering Institute & Museum 
Situated inside Padmaja Naidu Zoological Park, the Himalayan Mountaineering Institute (HMI Darjeeling) was established on 4 November 1954 to encourage mountaineering as an organized sport in India. The first ascent of Mount Everest in 1953 by Tenzing Norgay and Edmund Hillary sparked a keen interest in establishing mountaineering as a well-respected endeavor for people in the region. The museum is beautifully maintained which will tell you the glorious stories about the mountaineers and their achievements and will give you goosebumps.
HMI regularly conducts Adventure, Basic and Advanced Mountaineering courses. These are very comprehensive courses. They are also highly subsidized to encourage mountaineering as a sport.
Witnessing The Panoramic View Of The Mountain Estate From The Rangeet Valley Ropeway
If you love panoramic views and want to see an aerial view of Darjeeling and its tea estates, Rangeet Valley ropeway is the place to visit.

Lush Green Happy Valley Tea Estate 
After your breathtaking ropeway ride, take small steps down to St. Joseph's college and take a share cab to Chauk Bazaar and get down at Happy Valley tea estate. Here you will get to experience end to end process of how tea is made and after the tour of the entire tea making process, you will be taken for tea testing with 8-10 types of different teas for your taste buds.
Tibetan refugees in Darjeeling set up this place after they followed Dalai Lama and escaped from Tibet. They followed the principle of self-help so that they could become self-independent and rehabilitate themselves in India.
You will need a whole day to explore all these places. Enjoy it at your own pace but also don't forget that these places get shut by 4 PM as sun sets early in the East. After a satisfying day, I spent some time at Chauk Bazaar. Chauk Bazaar is the main market of Darjeeling where you can shop for souvenirs, winter wear, shoes etc. Also you can get share cabs from here for various long-distance places like Siliguri, Gangtok, Pelling etc.
Japanese Buddhist Temple
Also known as the Japanese peace pagoda, it is located in the exteriors of the main city and takes quite an uphill walk. It's better if you could hire a cab to reach there. It's quite a peaceful place. A must visit if you have time in hand.