What comes to your mind when I say 'Odisha'? Especially if I say 'travelling to Odisha', does anything come at all? Maybe some of you know about Puri since it is one of the four pilgrimage sites of Char Dham (four abodes). But apart from that, most of us don't consider Odisha as a travel destination. I recently visited this eastern Indian state on the Bay of Bengal as a part of my quest to understand my country and its people a little better and got amazed in multiple ways. 
Honestly speaking, I didn't have any expectations at all. I decided to travel there with a blank mind. But thanks to my stars that I got to experience serendipity. It was one of the most hectic solo journeys that I have taken so far, as there was a lot to see and experience. But every single moment of tiredness was totally worth it. While taking leisurely strolls there, I kept on wondering why this place has not been promoted enough as a travel destination, and this thought led me to share my journey with you all so that you can consider travelling to Odisha at least once whenever you plan a vacation. Without further ado, let me take you on my magical expedition to Odisha!!
Konark Sun Temple
The famous Sun Temple is a UNESCO World Heritage site and is popular for its unique architecture. Dedicated to Sun God Surya, the architecture of the temple left me awestruck. The wheels of the chariot are exceptionally beautiful. Such jewelry-quality miniature details!! Visiting such a place always makes me feel as if I am back in the historic era. If you are a history buff, then you should include Konark Sun Temple in your itinerary. 
View this post on Instagram
And for my shopaholic travel buddies, the two lanes outside the temple are lined with innumerable shops. You can buy local handicrafts, bags, fridge magnets, showpieces, clothes, jewelry boxes, and so much more. Keep at least an hour for shopping if you are someone like me who loves buying souvenirs from every part of the world.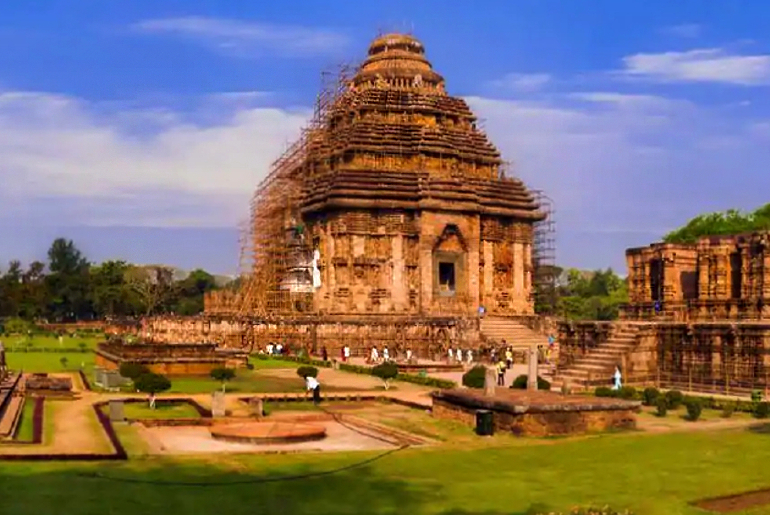 Chandrabhaga Beach      
Situated just three kilometers east of the Sun Temple, my first thought after seeing this beach was "Woah! It is more beautiful than a lot of Goa beaches." Visiting this beach was not in my initial plan but since it was not far from the Sun Temple, I decided to go there and spend some time. But I ended up being there for a few hours as I was left awestruck by its splendor. I had never heard anything about Chandrabhaga Beach before in my life but here I was, soaking my feet in the salty, crashing waves, saying goodbye to all my worries (at least for some time). 
It is Asia's first beach to get the Blue Flag certification as well, which means it is environment-friendly, clean, and equipped with amenities of international standards for tourists. Visiting Chandrabhaga Beach will change your perception of the beaches of Odisha. I highly recommend visiting this less-frequented hidden jewel and staying there till sunset at least. It's gorgeous at that time of the day! And while going back, don't forget to indulge in street shopping.     
View this post on Instagram
Buddhist Archaeological Site, Kuruma
While researching about the best places to see in Odisha, I read about this place on several travel websites. Being a follower of Buddhist teachings, I decided to include Kuruma in my plan as I am always curious to know more and more about this wonderful life philosophy. Before I say anything else, let me tell you straight away that you should skip this place even if you are finding it in every Odisha blog. Why? Because…
Reason #1: It is not easy to go there. You will be lucky if you get an auto and you have to reserve it till you are in Kuruma as it is a small village and there is no public transport. So, it's a costly affair.
Reason #2: The whole route to reach it is quite secluded.
Reason #3: Being travellers, we know that paying more money to see or experience something worthwhile is completely justified. Right? I thought the same but when I reached the site, I was shocked to see that there is absolutely nothing. Villagers had kept cow dunk, clothes, spices, etc. over the excavated stones for drying! I couldn't believe my eyes because how can we treat an archaeological site so disrespectfully. But yes, there was a small, dark room that housed the statues of three Buddhist images. It was closed but the auto driver was kind enough to open it for me so that I could see something at least. 
View this post on Instagram
Being an optimist, I was able to look at the bright side of this whole experience. The route to reach Kuruma is scenic. There are huge green fields and clear lakes. I also saw small mud houses with thatched roofs. If it was not for the Buddhist Archaeological Site, I wouldn't be travelling to the interiors of Odisha and thus, probably getting deprived of that natural beauty.  
Also read: Odisha Celebrates A 4-Day Menstruation Festival Where Women Are Pampered With Food & Clothes
Udaygiri and Khandagiri Caves
It's a different kind of happy and mysterious feeling when I visit places that take me to the past. One such place is these caves, which are partly natural and partly artificial. Located near Bhubaneswar, I went to see this place of archaeological, historical, and religious importance because the tangible evidence of our history always fascinates me. Originally, a total of 117 caves were built, but only 33 have survived till this day. Go and invest your time at this astonishing place. 
View this post on Instagram
Shanti Stupa, Dhauligiri 
I have been following Nichiren Daishonin Buddhism for nearly four years now and I don't miss a chance to know about other sects of Buddhism as well. If you are also willing to gather more information about Buddhism, the life philosophy that majorly promotes world peace and love, then visiting this striking white peace pagoda will be a great addition to your existing knowledge. The Buddhist shrine is constructed atop Dhauli Hill from where you can look at the serenity of the Daya River. At this Buddhist temple, I saw a number of edicts promoting, joy, peace, and contentment all across the world.    
View this post on Instagram
Market Building 
It would be great if you could keep an evening free to visit this market area in the capital city. It is a popular place for shopping in Odisha and you can buy almost everything here. However, Sambalpuri silk and cotton, tussar silk, and gold embroidery remain the favorite picks. The market is chaotic, cramped, and noisy but at the same time, it is colorful, vibrant, and appealing as well! Moreover, you can also apply your bargaining skills here (unfortunately, I have none). 
Golden Beach
Also famous as the Puri Beach, a moment's pause at this beach is believed to be a great fatigue-healer. I went there to see the postcard-perfect sunset. Walking on the fine golden sand and letting the undulating waves touch my feet was the perfect amount of rejuvenation that I needed at that time. The beach is dotted with a number of stalls for shopaholics as well as shacks for foodies. You have to try golgappas here. Ten pieces cost Rs.20 and are yum!   
At night, taking a long walk at the grand Marine Drive Road running parallel to the beach was a soothing experience for me. To augment it further, I tried scrumptious food at roadside stalls while listening to the roar of the waters from the Bay of Bengal. 
Also read: Odisha's Talsari & Chandrabhaga Beaches To Become Tourists Hotspots
View this post on Instagram
Shri Jagannath Temple
The temple is famous for being one of the Char Dham pilgrimage sites in India and for the annual chariot festival or Rath Yatra as well. I am not a religious person. I went to see that place owing to its majestic architecture. Also, I believe that such places are filled with holy and positive vibes, and I love getting immersed in such calming energies. Immense gratitude filled my heart when I was there and looked at complete strangers, who were praying with such faith and hope in their hearts.  
This is all about my trip to Odisha. I am glad I was on a solo trip as it let me cover the ground at my own pace. I spent nearly Rs.20,000 in 6 days that included flights, accommodations, local commute, entry tickets, food, shopping, and anything else in case I have missed something. One of the best aspects about Odisha, according to me, is its people whom I found to be very kind and helpful. On an average, I was thanking locals, due to one reason or the other, at least 10 times a day! 
Also read: There Is A Char Dham Temple In Namchi, Sikkim That Has A Huge Shiva Statue
View this post on Instagram
If you want to travel to a place, which is not so much crowded and touristy but worth-visiting at the same time, then I would highly recommend you to explore Odisha. You won't be disappointed.