What if we say you can now enjoy Happy Hours at a posh lounge all day long! Surprised? Don't be, because Dubai has this too! The ICON Bar and Lounge in Dubai Media City has launched an all-day long hour happy hour for those of you who love to have some post-work fun. Running from noon until 2:00 am, visitors can enjoy a wide selection of cocktails, grape and much more!
Meanwhile, men, if you're looking out for the best men's night-out in Dubai, check this out!
What's It?
The ICON Bar and Lounge at Radisson Blu Hotel, Media City has launched a 14-hour long happy-hour and it's one of its kind. Guests can enjoy cocktails, selected hops, grape and short measures from AED 29 onwards. Open everyday from noon until 2:00 am, guests can walk in for a leisure lunch, or stay back and enjoy live sports on its various TVs. As for the food, the bar is known to bake fantastic pizzas, so in case your feeling peckish, this is the best bet.
Meanwhile, did you know Dubai's longest bar is now at DIFC Dubai? The newest addition to the city's lounge scene, A.E.R- An Experience To Remember is docked at Emirates Finanacial Tower in Dubai International Financial Centre. The bar spans a length of 30.5-metres, offering 1,858 square metres of food, drinks, dancing space and a terrace with stunning views. What's not to love!
The Aer Lounge
A.E.R Lounge, the world's longest bar opened doors in Dubai on  27 September. As the 'tag' suggests the bar is the longest one would have seen till date- spanning a length of 30.5-metres. The lavish lounge is dissected into small rooms, each with a theme of its own. On that list is shisha corner by shisha artist Black Ji, classy enough to intrigue you.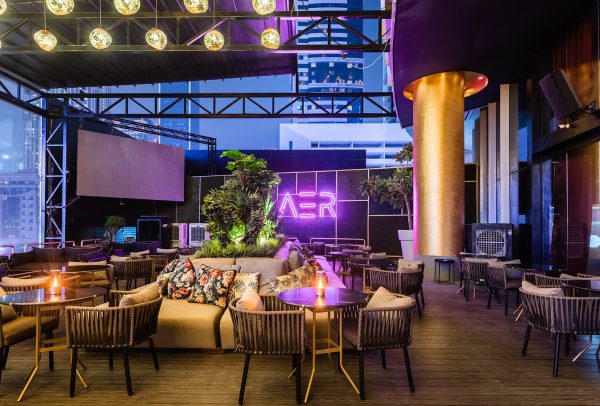 The Food
A.E.R Lounge is a work of gastronomical art. The menu boasts global cuisine with stylish signature dishes including sashimi salad, shredded wagyu kulcha, and an array of flatbreads. And what's a Dubai bar without a dash of gold! A.E.R serves two signature dishes- angus dim sums and gold sushi, so you know what to order if you're in a mood to indulge. Picking a cocktail here can be confusing as the menu offers a cornucopia of options- mixing the spices, homemade syrups and other interesting flavours.
That's not all! Food and drinks aside, the bar also has an impressive line up of events and promotions to fill your weekly calendar! Click here for details.