No, I am not talking about the tax treaty but the locals of Mauritius. Making 68% of the population, Indo-Mauritians are those whose ancestors are from the Indian subcontinent.
British Indians were brought to this island to work in sugarcane fields as indentured labourers and were commonly referred as 'coolies'. They primarily came from the states of Bihar, eastern UP, Odisha and Tamil Nadu.  What baffles me is the fact that today they are more Indian than us. Wonder how?
1. Hinduism – The Most Followed Religion
With a population of about 14 lakhs, Hinduism is followed by more than 50% of the population in Mauritius. This island has the highest percentage of Hindus in Africa and third highest percentage of Hindus in the world after Nepal and India.
2. Little Ganga Talao in Mauritius
This is considered to be the most sacred Hindu place in Mauritius. Named after the holy river of Ganga in India, there is a crater lake found in a secluded mountain area 1800 feet above the sea level which is called Ganga Talao. On all festivals and special occasions, the lake lights up with Hindu rituals that will put the customs we follow to shame.
Maha Shivratri in Mauritius is celebrated like Ganesh Chaturthi in Mumbai. I was surprised to see so many Shiva idols and processions heading towards the Ganga Talao.
In fact, all the religious activities are performed in their mother-tongue which includes Bhojpuri, Tamil, Hindi, Marathi, Telugu and Oriya.
3. Indian Regional Languages in School
All Mauritian kids from age six have to opt for either Hindi, Urdu, Tamil, Mandarin, Telugu, Marathi or Oriya as a third language in school. Mauritian Creole is a widely spoken national language but a minority of Indo-Mauritians still speak their ancestral language at home. They are also the only Indians who can speak French fluently.
Abandoned by the Dutch, this island became a French Colony in the eighteenth century.
Fun Fact: Vikash Dhorasoo, who played for French football team is of the Indo-Mauritian origin.
4. They Dress Like Indians  
Sarees, Salwar Kameez & Dupattas – the locals here dress up like how we did a decade ago, by which I mean, fashion trends. A lady came to me and asked if I was Hindu and if yes, why I didn't wear sindoor or mangalsutra? And I thought this was an island of bikinis. Bummer!
While we tourists lose our inhibitions in Mauritius, its the locals who are often dressed in a conservative way.
Indo-Mauritians Today
A majority of Mauritians are still culturally Indian. I wonder how strong must Indian culture be to have survived that long in Mauritius?!
Most Mauritian women of Indian ancestry aren't much different from their Indian counterparts. Above all they also have a lot of good things to say about India and Indians.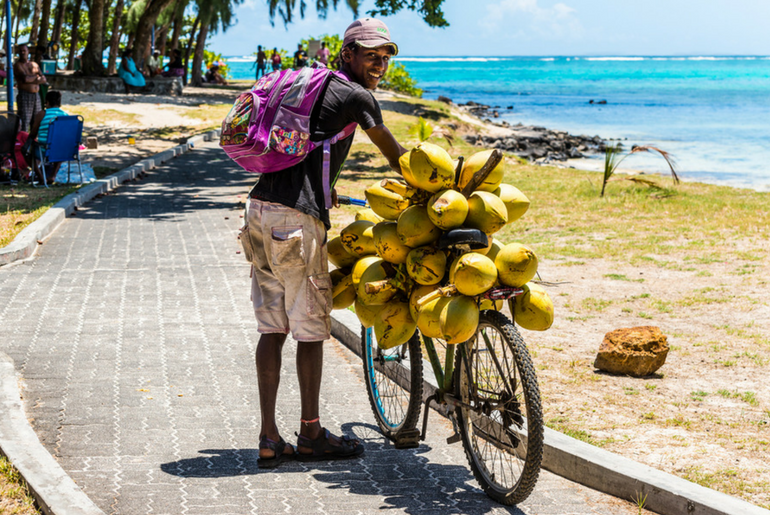 Did you meet anyone interesting from Mauritius? Share with us in comments below.
LIKE Curly Tales on Facebook | Instagram | Twitter
You can subscribe to our newsletters.