Everyone knows that students of Ruia College and Poddar College share a lot of things. Besides having a common wall and a very healthy rivalry, if there's one thing that both colleges agree on, it's that Subhash Sandwichwala makes the best sandwich in all of Mumbai. Having been an alumnus of Ruia, I can vouch for just how delicious his sandwiches are. Super affordable and perfect to snack on, his sandwiches have a legendary status in Matunga. But what sets him apart from other sandwich makers that feed the masses in the city is something quite out of the box.
Chocolate Sandwich At Subhash, Matunga
Famously known for his chocolate sandwiches, Subhash has been making sandwiches at the Ruia Katta for close to 30 years now. Oh, yes, you heard that right. Chocolate sandwiches, that's what he is famous for. But, he puts his own twist to the dessert sandwich. Instead of just adding a humongous amount of chocolate chunks, shavings and chocolate to the sandwich, he goes ahead and adds a dollop of chocolate ice cream on top of it!
How's The Sandwich Made?
When we first saw the sandwich, we were just in awe of it. The piece of art is every chocolate lover's dream. The sandwich is a gift of generosity because I honestly can't imagine someone using that much chocolate without being a bit of a miser. Made using 3 slices of bread, they are first buttered before Subhash Ji adds a liberal amount of chocolate shavings to it. And that is followed by a dose of chocolate sauce (and it is all A-grade material). Once the sandwich is all chocolaty, it is grilled but it doesn't end there. It is topped off with even more chocolate, a dollop of chocolate ice cream and more chocolate sauce and chunks. Phew! And that's how this masterpiece is created.
Also Read: Get Immersed In Chocolate With These Sandwiches!
It is no wonder that this scrumptious creation sells like hotcakes at the stall. Run by Subhash Ji and his son, Rohan, the stall first started off selling sandwiches for ₹2 and now has sandwiches that sell for more than ₹100 too. Generations of college students have grown up eating these sandwiches which are made by Subhash Ji and always served with a smile.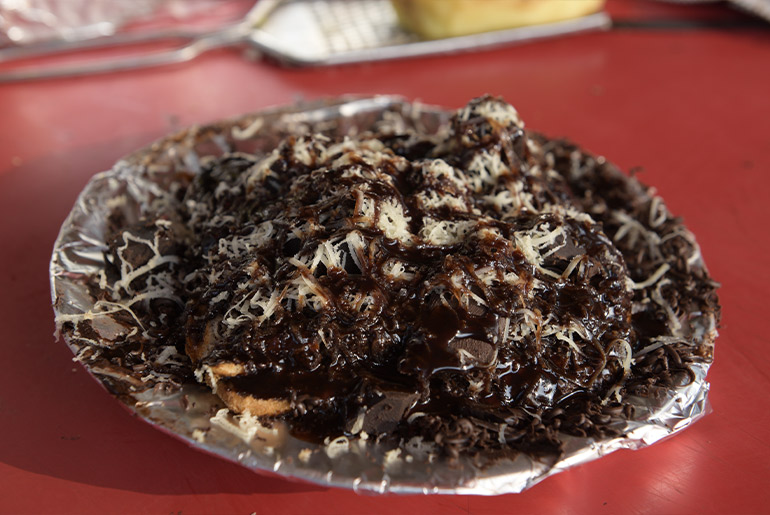 The stall sells approximately 10 packets of bread worth of sandwiches on a daily basis! Originally selling classic sandwiches, the stall has now branched out and sells pretty whacky sandwiches too. One of them is the chocolate and cheese sandwich. This new age sandwich combines the goodness of melted chocolate along with a giant helping of grated cheese on top. Even though the sandwich sounds like a lot, it actually tastes insanely good. The cheese and the chocolate go together like a dream and we can assure you that it is nothing like you have ever tasted.
This sandwich definitely makes it into our list of the best desserts in the city. Once you have had it, I am sure you will agree too.