Did you know that the occasion of Krishna Janmashtami is observed as a National Holiday in Bangladesh? In fact, people celebrate the festival of Janmashtami with much fanfare across the world. Fasting, praying, and celebrating the Lord's birth at midnight: the festival's unique, spirited customs have come to define the joy associated with it. We bring to you 7 interesting facts about Janmashtami which will leave you awestruck. Meanwhile, you can also gorge on these delicious dishes during Janmashtami.
1. ISKCON Has Its Foundations In New York City
The International Society for Krishna Consciousness (ISKCON), a prominent organisation devoted to Lord Krishna, was founded in New York City. Today, there are more than 150 temples maintained by ISKCON in India. Mayapur in West Bengal serves as its headquarters.
Internationally, ISKCON is known by its alternative name, the Hare Krishna movement. This movement is highly characterised by chanting Lord Krishna's name. It's also said to be a spiritually uplifting experience. ISKCON centres all over the world celebrate Janmashtami. This year, the centres in India will streaming the celebrations live.
Also Read: Vrindavan Chandrodaya Mandir In Mathura Will Be the Tallest Religious Monument In The World
2. Countries Outside India Celebrate Janmashtami Too
There's a large community of Hindus that reside in countries like New Zealand, Singapore, Malaysia and Canada. So these countries celebrate Janmashtami for this reason.  The fervour and fanfare of the festival also come to life in London, Poland, and the US on the day celebrated to mark Lord Krishna's birth. Speaking of international temples, here's a unique temple in the Macau Peninsula.
3. Janmashtami Counts As A National Holiday In Bangladesh
This year, the national holiday for the occasion of Janmashtami falls on August 11 in Bangladesh. Keeping the pandemic in mind, our neighbouring country has also kept its celebrations low-key. Accordingly, people are observing rituals with all the necessary precautions in place. The Prime Minister and President of Bangladesh have also wished the people on the occasion of Janmashtami. While celebrations can't be hosted on a grand scale, you don't have to miss out on these dishes prepared on Janmashtami!
4. Lord Krishna Has 108 Names
We all have our nicknames, sometimes one too many! But Lord Krishna has a whopping 108 names. Some of his names are Ghanshyam, Govind, Mohan, Hari, and Baanke Bihari. Vasudeva, Devakinandan, Shyam, Devesh are some others. His numerous names reflect in all the hymns and bhajans devotees sing on the occasion of Janmashtami.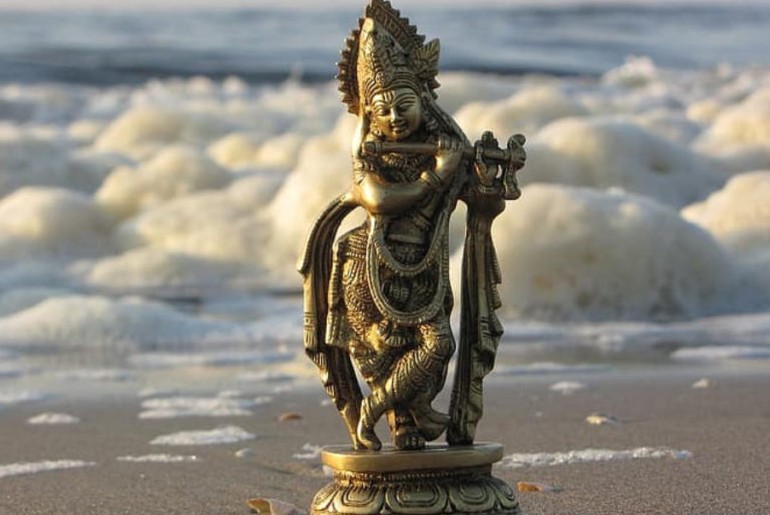 Also Read: Special Trains For Ganpati Festival To Be Arranged For The Konkan Region
5. The Lord Has 16,108 Wives, As Per Legends
The surprising number of facts don't stop at the Lord's name. Lord Krishna apparently has 16,108 wives. Wondering how? Mythology has it that he rescued 16,100 women from the clutches of Narakasura, an evil spirit. Their families did not accept them when they returned. Lord Krishna then married all of them, to keep their honour intact. Speaking of interesting things, have you been to this temple where people worship Bullet bikes:
Otherwise known for his notoriety, Lord Krishna, in fact, has a lot many facets to him. For instance, the Bhagavad Gita beautifully captures his divine teachings. And Janmashtami calls for celebrating everything about the Lord. Happy Janmashtami!