When all of Bollywood is busy taking lazy strolls in parks and canals, Jahnvi Kapoor chose to enjoy a Karaoke night in Amsterdam. And we think her choice is absolutely perfect! Karaoke nights allow anyone and everyone to let loose their vocal cords without being judged. That too in front of a live audience. Imagine the level of confidence you will gain after such a session. Totally worth trying. And Jahnvi did just that. Recently the actor took to Instagram and let her fans have a glimpse of her nightlife in Amsterdam. She has currently wrapped up the Amsterdam schedule of 'Bawaal' and is now taking a breather. Read on to know more about her rendezvous in the city with her co-star Varun Dhawan and others!
Janhvi Kapoor Posts Pictures Of A Dazzling Karaoke Bar After Wrapping 'Bawaal' In Amsterdam
Jahnvi Kapoor and Varun Dhawan are all set to shoot the next schedule of their upcoming social drama film Bawaal. Recently Jahnvi took to Instagram to share the news of wrapping up their Amsterdam schedule. She put up a picture with her co-actor with the caption, "Having a #Bawaal time in Amsterdam. Amsterdam sched wrap, Poland are you ready for us?"And before leaving for Poland the actor seems to be enjoying the night scene in Amsterdam. And what better than a Karaoke night right? Amsterdam has quite a few Karaoke bars but the actor chose Duke in Tokyo. Although the actor didn't reveal much, the pictures of a warmly lit-up Karaoke floor were enough to let us feel the vibe. One of her uploads shows a brightly lit-up purple wall that says, 'In art we trust'. Another one has a floor full of people and a set of lantern lights hanging from the ceiling right above. Must say the actor's choice of place is incredible!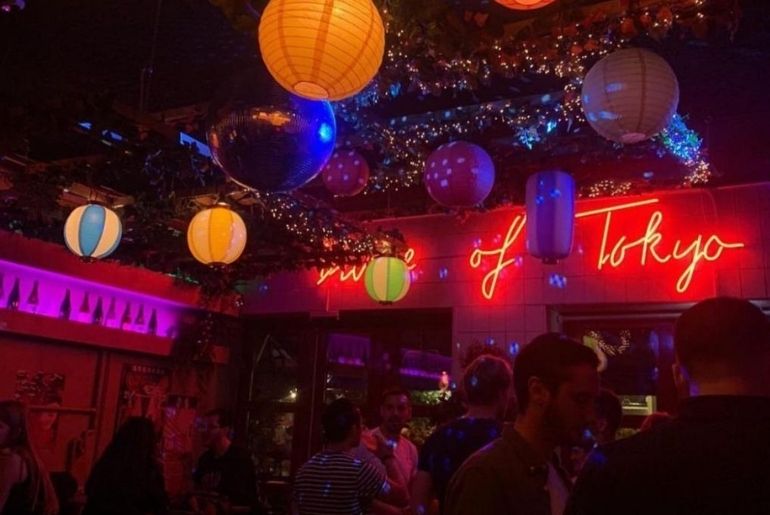 More About Duke In Tokyo
Duke In Tokyo takes inspiration from the buzzing back streets of Tokyo's coolest neighborhoods. The place is a colorful Karaoke and cocktail bar in Amsterdam and is quite popular for hosting hip Karaoke nights. The bar also offers private Karaoke rooms of all sizes and styles where you can let loose. And we can totally imagine Jahnvi Kapoor singing her heart out here. The karaoke bar also features unique cocktails, sakes, & spirits. Some of the best in the business are behind the making of these refreshing drinks. So if you decide to visit the city, do not skip visiting the Duke in Tokyo. The bar also has an extensive menu. Yuzu, refreshing citrus with sweet & sour flavors, is a must-order here. So take the cue from Jahnvi Kapoor. Just grab a drink, sing a song, and immerse yourself in this karaoke paradise!
Also read: Kartik Aaryan Is Living All Our Bachelor Dreams In Amsterdam Right Now
View this post on Instagram