Last week, I told you all about my stay at Mahua Kothi, in the jungles of Bandhavgarh. Today, I'll share why I think Kanha tiger reserve is a piece of heaven on Earth.
Banjaar Tola
The 5-hour drive from Bandhavgarh to Kanha is in itself the perfect idea of a road trip. We passed some four different terrains and for a split second thought that we were on a cross country drive.
Before we could even realise it, we were outside our home for the next two days. Banjaar Tola by Taj is a huge property of around 100 acres, with two camps – a West and East side.
Both the camps have 9 suites, each with a private balcony. Now, these are not your usual five-star rooms, these are tree houses, lavish and splendid rooms among the trees. And that's not all. They overlook a river to give you the ideal #RoomWithAView vibe. Though, when I went the river was dry, which in turn worked out well as we were taken for a sweet little walk in it.
Also read: Planning To Go Wild? Here's Everything You Need To Pack For A Jungle Safari Adventure!
A Tale Of Embarrassment
We walked the dry river, of course after a few snacks. A few of us followed Vipul, one of the naturalists into the jungle along a narrow route from the lodge itself. Every now and then, he would stop and tell us about a particular leaf or an insect that he spotted.
It was such a beautiful walk with a different story at every step that we took. One that stayed with me was when he told us about how termites live their life. Right next to a termite hill, he told us about the various roles they have and what it takes to be the queen.
Trust me, it was like the termites have their own Game Of Thrones script written.
After exploring a little more and thousands of selfie sessions later we came back to the lodge for an interactive session with the naturalists. And God, it was extremely embarrassing.
Why? Because all of us in that stunning lounge realised that our GK sucked big time and the geography lessons in school were useless.
Nara, Yaju, Vipul, Komal and Parth told us about rare animals found in our own country and we were genuinely shocked. Actually, that would be an understatement. From black tigers, panthers, mouse deer, red pandas and more, we have hoards of animals that you and I would have never even heard of.
Also read: Stay At The Mahua Kothi By Taj To Experience The Jungle In A Different Way
The Excitement
Suddenly, one of the staff members came running, informing us that there is some animal movement in the property. Let me tell you it was 11 pm in the night and it was raining.
The naturalists asked us to rush to the jeeps. Oh, it felt like we were living a scene out of an action movie. All of us running, slipping, getting drenched made it to the jeeps with absolutely no visibility.
In that moment, I could feel the excitement all around me. In fact, someone said that is the best surprise of their life. And some 2 minutes later we saw a family of The Indian Gor grazing away just a few feet away from us. More than that sighting, it was that feeling that stayed with me, that stayed with everyone on that trip.
A lovely meal, (especially the fried fish) and heartfelt conversations later we said goodnight. But, not before staring at the lakhs of fireflies that lit up the trees, right before our eyes.
Also read: Dress Up For A Jungle Safari Like A Pro!
Kanha Tiger Reserve
As we entered the Kanha Tiger Reserve, Vipul in his most enthusiastic way, welcomed us to his office. Somehow that gave me goosebumps and I can still hear his voice in my ears.
The forests of Kanha are more dense and lush than those at Bandhavgarh and the rain just added to the beauty in the most magical way. Soon enough we spotted 2 jackals, the most cunning animals of the kingdom. And guess what, they spotted us too because they played a little game of hide and seek with us. TBH it was hilarious.
Next, we saw a pack of wild dogs…. eating a deer. It is said that they are extremely fearless and are not scared of any animal. Also, it is very rare to sight them.
Then we made our way to the deeper ends of the jungle and stopped at numerous places to wait for the tiger. But, we couldn't spot any. And you know what that was completely fine because the stories by Vipul, the sound of the jungle, the amazing drive, all put together made me thank the Lord that I was alive.
In fact, we just asked Vipul to stop the jeep, so that we could take in the scenery and hear him talk.
Once it started raining heavily, out came the ponchos and with that wide grins. A poncho is just like a raincoat but with one hole, for the head to go in. I have never seen adults get so excited by any piece of clothing like I saw it that day. It was priceless.
We went back to the lodge for lunch and after resting for a bit, we were all set for the evening safari. This time it was Yaju who took us and he was equally charming.
This particular game drive was more about the forest than about spotting the tiger. We asked Yaju to take us to the secret places, tough terrains and just really show us the gorgeousness of this forest. And that's what he did.
I still close my eyes to relive those moments and every time I do, a tear trickles down my cheek. I miss that feeling. So, so badly.
Also read: Here's How To Choose The Best Jungle Safari In Madhya Pradesh
The Legendary Hospitality Of Taj
Another day over, another safari done. But, not before experiencing the kindness of Taj. As soon as I came back from the game drive at around 7 pm, all tired and drenched, I was welcomed by a hot bubble bath with rose petals. No one and I mean nobody has ever made me feel so special.


It was my last night in the jungles and to make the most of it, we had the perfect dinner. Chicken cooked in bamboo and scrumptious biryani. The chefs of Taj can make any meal into the best one you will ever have and this one was just a proof of that.
That night none of us could sleep and we spent it chatting about our favourite moments, funny incidents and how much we will miss this great adventure.
With a heavy heart, we said goodbye to each other and the staff next morning and got into the cars to drive back to home.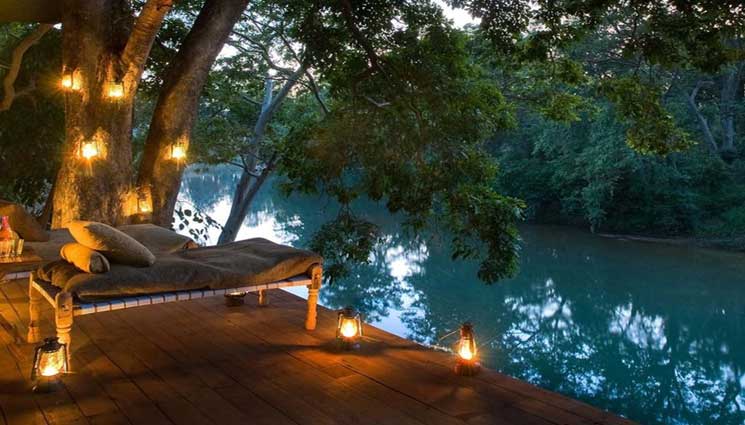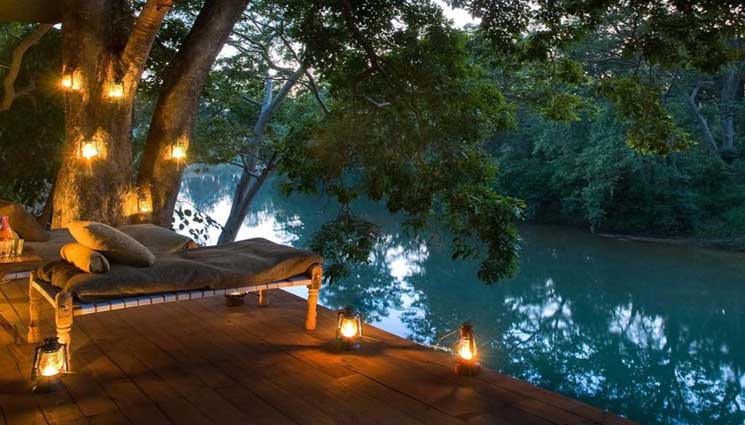 You know, that's the thing. Looking at the genuine smiles of the Taj guys, the honesty in their eyes, the way they took care of us, I didn't know whether I was going back home or leaving home.
I still feel empty and now I know, that Kanha has taken a part of me forever.
LIKE Curly Tales on Facebook | Instagram | Twitter
You can subscribe to our newsletters