Kerala is being hit by incessant rains of late. Landslides and flash floods in the state triggered by heavy rains have killed many in the last few days. Keeping the same in mind, revenue minister K Rajan on Wednesday urged people to strictly avoid going to flooded or restricted areas. He revealed how "flood tourism" has become a growing trend and advised people to not follow it. He explained how it's extremely dangerous to visit flooded areas and try to enter the waters or catch fish. Read on to know more about how Kerala is dismissing flood tourism.
Police Action To Be Taken Against People Following The Flood Tourism Trend In Kerala
Revenue Minister K Rajan appealed to the people of Kerala to not follow the flood tourism trend. He explained how the same should be avoided as it creates an additional burden on the authorities carrying out relief and rescue operations in Kerala. He went on to warn people that necessary legal action will be taken against anyone violating the rules and visiting flooded or inundated areas.
"Such activities in flooded areas would not be permitted at all, and if necessary, police assistance would be sought to remove such persons," said the Minister. Well, Kerala is fighting hard to deal with the dire circumstances caused by heavy rains and as such, taking legal action against people following flood tourism is totally the need of the hour.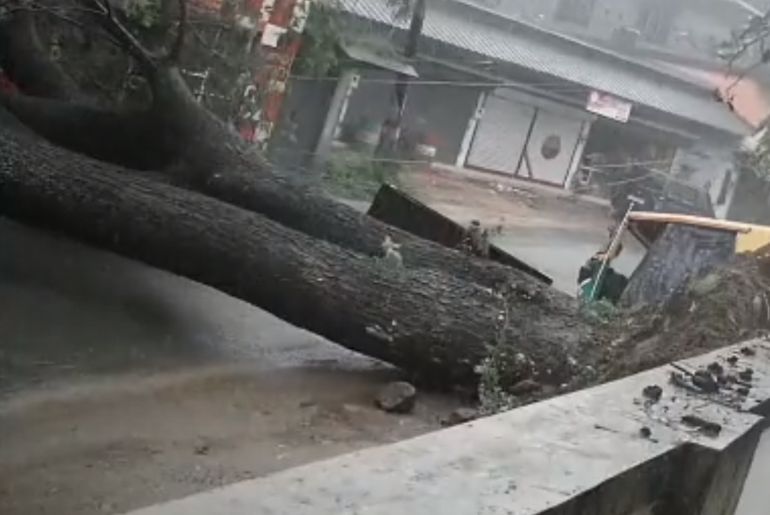 The Current Situation In The State
Just when the inhabitants of Kerala started to enjoy a brief relief on Wednesday, the heavy rains again started taking a toll on the daily life of the state. The government has issued red alerts in eight districts and a number of reservoirs. Water levels in major rivers of Kottayam and Pathanamthitta districts are rising and this has led to people being evacuated to the relief camps. The State has seen more than 12 deaths in rain-related incidents since Sunday and more than 2,000 people are in relief camps. The government of Kerala has informed people to expect extensive rain across the State till August 8. Apart from this,  a video uploaded on Twitter capturing a big tree falling off on the roads of Kerala is gaining the attention of the netizens today. The caption reads, "The tree literally waited for clear the way  A visual from the heavy rain at Kerala Thursday 4/08/2022." Take a look:
The tree literally waited for clear the way 🙌

A visual from the heavy rain at Kerala
Thursday 4/08/2022 pic.twitter.com/t2kkQrJiYG

— vc (@vc_eee) August 5, 2022
Also read: Monsoon Can Be The Worst Time For A Trip To Kerala And Heres Why