The Magnificent Lakshmi Vilas Palace
Located right at the heart of Vadodara is the gorgeous Lakshmi Vilas Palace. The city is a cultural hotspot with lovely people, food and of course the tiny ice-cream stores at every nook and corner.
The only thing that stands stronger and shines brighter than the scorching sun is the Lakshmi Vilas Palace. Here are ten interesting facts we bet you didn't know:
1. The Lakshmi Vilas Palace is four times bigger than the Buckingham Palace in London (Pretty impressive, huh?)
2. It is the largest private dwelling built till date. The palace has 170 rooms and was built for just two people. (Talk about space!)
3. It took 12 years to complete building the palace. Construction started in 1878.
4. The architect of the palace, Major Charles Mant, hung himself before the palace could be completed. He studied his calculations and thought the palace would collapse. However, the Lakshmi Vilas Palace still stands proud after 125 years.
5. The palace is built with a number of local and international resources. Red sandstone was shipped from Agra, marbles of Rajasthan and Italy and blue trapstone from Pune were used in the construction. Take that Ambani!
6. At the time of completion, the palace cost a whopping £180,000. Mind you this was over a century ago where an entire day cost a few annas.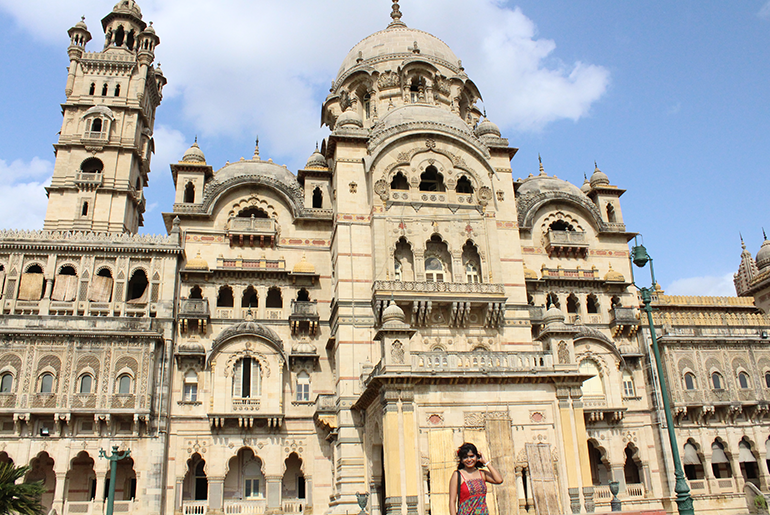 7. The clock tower stands 300ft in the air. However, the bell was never used since it was a nuisance to the residents. Instead a red light would be switched on when the king would be in residence. This practice is followed even today.
8. Lakshmi Vilas Palace has more number of stained glasses than any other palace in the world.
9. The palace was built by Maharaja Sayaji Rao III. He named it after his third wife, Rani Laxmibai from Thanjore. Today, it remains the official Royal residence of the Gaekwads of Baroda.
10. Parts of the palace grounds are now used as a golf course and is accessible to the citizens of Baroda.
Deets
Address: Indumati Mahal, J.N.Marg Gate No.2 J.N.Marg, Laxmi Vilas Palace Estate Opp, Vadodara, Gujarat 390001
Phone: 072279 39902
Watch the video to see how magnificent this palace this!